Posted on April 20, 2012 at 3:05 pm
By Carolyn Yeager
From the website of Chapman University:
Elie Wiesel  will return to Chapman University on April 15-22.  His annual one-week visit marks the second year of his five-year appointment as a Distinguished Presidential Fellow at the university.  While on campus, Wiesel will meet with [selected] students and faculty and be a guest speaker in various classes.

This year, Wiesel plans to present four "Conversations" during his visit.  The moderated discussions (which will be open only to the university community, not to the general public) will focus on themes central to his work and to the university community.   Scheduled topics include:

"Why Study?" (moderated by Daniele Struppa, Ph.D., Chapman University chancellor)
 "Why Write?" (moderated by English professor Patrick Fuery, Ph.D.)
"Why Be Just?" (moderated by Tom Campbell, dean of Chapman University School of Law)
 "Why Believe?" (moderated by Gail Stearns, Ph.D., dean of the Chapman University chapel)

Chapman University President James L. Doti, Ph.D., sees this as another exceptional learning experience for the Chapman community.  "Elie Wiesel challenges us to ask ourselves the big questions," Dr. Doti said.  "He believes that as human beings, we are defined more by the questions we ask than by the answers we give.* I am especially excited that our students will be able to join with Professor Wiesel in a week of questions and conversations.  I know this week will have an impact on their years here at Chapman and on the way they look at the world."

Elie Wiesel first visited Chapman University in April 2005, when he took part in dedication ceremonies for the university's Sala and Aron Samueli Holocaust Memorial Library. His second visit came in April 2010, when he spoke to the university community and was guest of honor at a gala marking the 10th anniversary of the Rodgers Center for Holocaust Education and the Stern Chair in Holocaust Education.  That same year, he accepted a five-year appointment as a Distinguished Presidential Fellow at Chapman University.  In that role, Wiesel is invited to visit Chapman annually to meet with students and offer his perspective on subjects ranging from Holocaust history to religion, languages, literature, law and music.
* Here at Elie Wiesel Cons The World, we have defined ourselves by asking the same question "Where's the Tattoo?" for two years, but have received no answer from the professor. If you pay attention, you will see that Wiesel's whole ploy is to ask questions, while always saying, "I have no answers." Only on the witness stand in a court of law does he have to answer.
That's it, folks. No follow-up stories, no photos,  no comments from students; it's all being kept totally private this year.  
Do you think it's because of our coverage last year? Absolutely, yes! The Wiesel forces, while totally ignoring us outwardly, have changed their tactics and the visibility of "the man" because of our lampooning of his speeches and our use of the school's photos, and comments from faculty and students. Elie Wiesel Cons The World is the only media that has done this.  Thus … no more fun for us.
Even the Panther student newspaper received it's instructions — it had only one announcement article, basically the same as the University website write-up. The Orange County Register had no coverage as it did last year.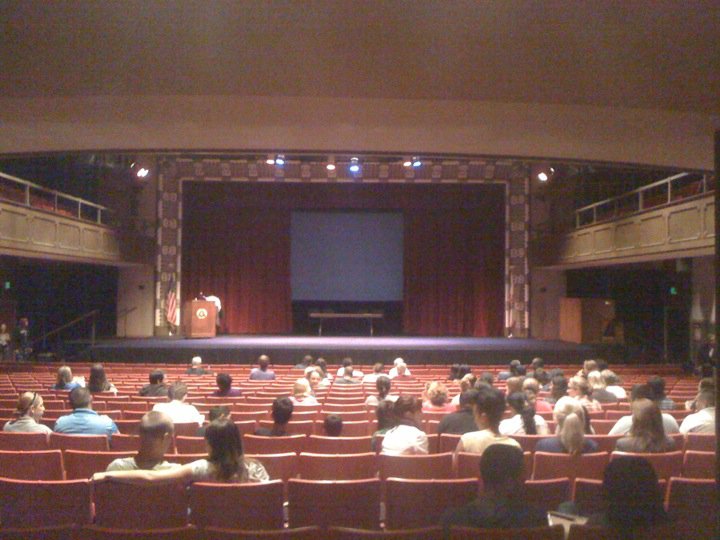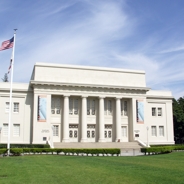 Above: Spacious interior of auditorium in Memorial Hall. Right: Exterior.

What I can tell you is that the Chapman students are also being deprived. Five out of the nine comments to the announcement on the school website (as of this writing) were from confused students wanting to know if they could attend Wiesel's  Thursday night speech at Memorial Hall.  This was the answer they got:
The 7 p.m. Evening of Remembrance  at Memorial Hall is open to the public, but advance registration was required and due to the popularity of this event, all seats are reserved at this time. But there is a chance that some stand-by seating may be available just prior to the start time. Likewise, stand-by seating may be available at Friday's "Conversation with Elie Wiesel" at 11 a.m.  in the Fish Interfaith Center.
I'm sure the majority of students at Chapman don't get even a glimpse of Wiesel during his week-long stay, let alone have the privilege of suffering through one of his "conversations."
Today being Friday, it is all over now.   Even though Wiesel's contract runs through Sunday, he's probably completed all he has to do to earn his … what? $25,000.00? Or more? Maybe 5 times $25,000. Is that possible? Sure it is … with all those rich, uh, Californians.