Wednesday, March 30th, 2011
by Carolyn Yeager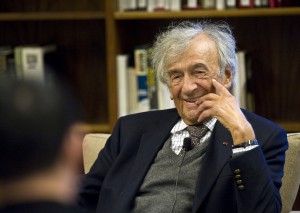 Elie Wiesel arrived at Chapman University in Orange CA on Monday, March 28 in his new capacity as "Distinguished Presidential Fellow" and gave a lecture titled  "Knowledge and Ethics."   He also  spoke to a small class of Chapman Religion students. According to the Orange County Register [photo at right courtesy Paul Bersbach, OCR],  he "answered several questions, but posed many of his own."  This is typically the way Wiesel, 82,  avoids revealing his ignorance of the entire topic of the concentration camps.
 Wiesel's contract with the university, and specifically with the Rodgers Center for Holocaust Education which is the real sponsor and driving force behind the contract, is for five years. Thanks to a bequest from Barry and Phyllis Rodgers, the Rodgers Center was opened in 2000 for the purpose of helping to keep the memory of the holocaust alive, well, and lucrative.
As we reported here last October, each spring semester Wiesel will deliver a lecture and carry on some interaction with students. Don't think he's doing it only in the interest of "keeping memory alive" or for any of the noble reasons suggested by Marilyn Harran, Director of the Rodgers Center and University spokesperson on matters pertaining to Wiesel's fellowship.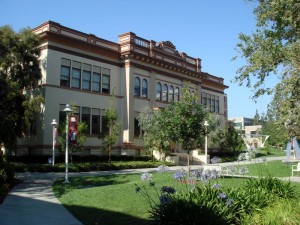 Left: Marilyn Harran. Right: Wilkinson Hall on the Chapman campus. The Rodger Center comes under the aegis of the Wilkinson College of Humanities and Social Studies.
As reported in the Chapman Panther newspaper on March 28, "Harran declined to say how much the Rodgers Center is paying Wiesel for his lecture. Mary Platt, director of communications and media relations, confirmed that the amount is confidential."
It's widely quoted that Wiesel's standard speaking fee is $25,000. We don't know how much he is charging for visiting with students in their classrooms, but it is no doubt substantial. Chapman's wealthy Jewish donors who support activities at the special Rodgers Center for Holocaust Education and the Samueli Holocaust Memorial Library are apparently willing to pay it.
Harran, a professor in both the Religious Studies and History departments, is a devotee of Wiesel and his myth. She tends to speak of Wiesel in worshipful terms, as I reported in my Oct. 2010 blog post. At that time, she included these words in her announcement of his fellowship at Chapman: "We are unbelievably fortunate that he has chosen to return to Chapman and to share with us his knowledge and wisdom.  I am stunned and deeply grateful that he will be with us in this new role as Distinguished Presidential Fellow.  I know our university community will be profoundly enriched and inspired by his presence." This is the cue for students to show the proper respect toward the visiting professor, and hang on his every word.
Harran is teaching a course this semester called "Elie Wiesel: His Life and Work" with Jan Osborn, professor of English. According to The Panther, only eighteen students are taking the course. Harran wrote a March 28th opinion piece for the school newspaper titled "Knowledge, ethics and Elie Wiesel" in which she mentioned his book Night and also said: "Some of you will recall seeing Wiesel visiting Auschwitz with Oprah Winfrey or standing by President Obama's side at a commemorative ceremony in Buchenwald. These are powerful images. Indeed, it is hard to remember when the memory of the Holocaust did not have a place in our American life and culture. There are Holocaust documentaries and films; Holocaust museums in cities such as Chicago, Houston and Los Angeles, and the Sala and Aron Samueli Holocaust Memorial Library at Chapman. And there is the United States Holocaust Memorial Museum in Washington, D.C."
Hurrah, hurrah. Isn't it wonderful. She gives Wiesel much of the credit for bringing this about. She then asserts this historical tidbit: "the  Final Solution was agreed upon in a 90-minute meeting attended by 15 senior SS officials and bureaucrats"—referring to the reputed "Wannsee Conference" in 1942 in Germany. But the meeting minutes show clearly that it was a discussion of the "final solution of the Jewish problem" as a deportation plan, not an extermination plan. So where does that leave Elie Wiesel's story? And Harran is a PhD in History? It's obvious she needs some help with knowledge and ethics herself.
Wiesel told the religion students that he studied literature at the Sorbonne University  in France before he became a journalist for the Israeli paper Yediot Arhronot in Dec. 1949. I have shown in Questions on Elie Wiesel and the Sorbonne that that claim is false. Wiesel also told the students  he cannot answer the questions: Why did the Holocaust happen? and Why did it happen to the Jews? But … "since I have survived, I feel I have a duty to do something with myself."
In all their discussions of ethics, the pressing current persecution and torture of the Palestinians by Israel is never brought up. EWCTW will continue to report to you about Wiesel's activities at Chapman. Contributions sent by readers are welcome.
*    *    *
Also see:  Beyond Sensationalism: Writer Discusses Holocaust Literature.  Ruth Franklin is on the book circuit trying to explain why holocaust memoirs are so full of fiction.
"From the very moment, it is imagina­tion at work," explained the writer.  "There's this myth that Holocaust texts emerged ful­ly-formed from their creators. However, so much rewriting was done to tell the story in a more effective, memorable way."  Uh huh. sure.
Category Featured | Tags: Tags: Chapman University, Distinguished Presidential Fellow, Marilyn Harran, Rodgers Center for Holocaust Education, Ruth Franklin, Sorbonne,
Social Networks: Facebook, Twitter, Google Bookmarks, del.icio.us, StumbleUpon, Digg, Reddit, Posterous.