Waltzer's Boys of 'Buchenwald' book?
by Carolyn Yeager
MSU Prof. Kenneth Waltzer has been promising his book The Rescue of Children and Youth in Buchenwald since 2007. Four years later, he's being very quiet about it.
Here is a timeline of announcements about this work in progress, all taken from his Michigan State University website.
May 2005:  Professor Waltzer presented a paper, "The Rescue of Children at Buchenwald: Behavior in a Grey Area," at the Midwest Jewish Studies Scholars Colloquium, Cohn-Haddow Judaic Studies Program, Wayne State University, Detroit.
March 2007:  Ken Waltzer will present a paper on "The Kovno Boys: Survival at Auschwitz, Buchenwald, and Mauthaussen," at the 37th Annual Holocaust Scholars Conference in Cleveland, Ohio.
April 2007:  Ken Waltzer presents on his book-in-progress, The Rescue of Children and Youth in Buchenwald, at James Madison College.
May 2008:  MSU Professor Ken Waltzer gave the Monna and Otto Weinmann Lecture at the U.S. Holocaust Memorial Museum on the subject of his upcoming book on the rescue operation at Buchenwald that he said saved the lives of hundreds of children and youths.
April 2010:  Kenneth Waltzer, professor of history and director of the Jewish studies program at Michigan State University, is currently completing a book about the rescue of children and youths at Buchenwald. [From the April 16, 2010 The Jewish Daily Forward]
The Elie Wiesel Problem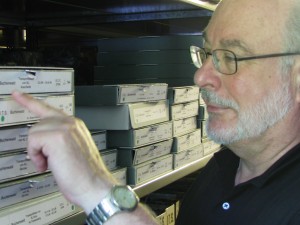 Prof. Waltzer has written and shown pictures of himself (right) doing research at Bad Arolson in Germany, seeking to discover details about the lives and families of the boys of Buchenwald. One of the boys that he may be having trouble with is Elie Wiesel. Waltzer has made a lot of claims and put himself on the line about Wiesel that, in this writer's opinion, cannot be substantiated.
For example, last November Waltzer commented on this website to my article "Signatures Prove Lázár Wiesel is not Elie Wiesel" with the following:
Contrary to Carolyn Yeager's wishful thinking, Eli Wiesel was indeed the Lazar Wiesel who was admitted to Buchenwald on January 26, 1945, who was subsequently shifted to block 66, and who was interviewed by military authorities before being permitted to leave Buchenwald to go with other Buchenwald orphans to France. Furthermore, there is not a shadow of a doubt about this, although the Buchenwald records do erroneously contain — on some pieces — the birth date of 1913 rather than 1928. A forthcoming paper resolves the "riddle of Lazar" and indicates that Miklos Gruner's Stolen Identity is a set of false charges and attack on Wiesel without any foundation. ~~ by kenwaltzer  on November 14, 2010 at 10:34 am
The birthdate on Lazar Wiesel's records is erroneous—that's his answer?  He is going to "resolve" that?  The "forthcoming paper" has not yet appeared 7 months later. His website pages have not been updated for awhile; in fact, they look downright dormant.
Here are the problems I think Waltzer is having, in addition to the birthdate problem:
He has claimed for at least several years that a picture he has placed on his website of the boys walking out of the Buchenwald front gate shows Elie Wiesel "toward the left." [See The Many Faces of Elie Wiesel]  I say it is not Elie Wiesel, and I don't know anyone but Waltzer who has identified this boy as Elie Wiesel. This picture is also shown on the USHMM website, and they make no mention of Elie Wiesel as one of the boys.
In a Power Point presentation that is available on his website, Waltzer shows a group picture of the 'religious boys' out of those who went to France, that he says includes Elie Wiesel. I have studied this picture closely and do not see anyone who resembles Wiesel. If Waltzer knows that Elie Wiesel is in the picture, why doesn't he identify him with an arrow?
Famous Buchenwald Liberation photo is another problem
As I pointed out in "The Many Faces of Elie Wiesel," the pictures that Waltzer claims contain the face and person of Elie Wiesel do not  resemble each other. The famous barracks photo which the New York Times declared to be Elie Wiesel as a 16-year old Buchenwald inmate—and is reproduced all over the world as Elie Wiesel—doesn't look  like the other 16-year old faces.
This writer suspects that Ken Waltzer is having difficulty convincingly incorporating Elie Wiesel into the story of the "boys of Buchenwald" and their rescue. He has been a friend and devotee of Wiesel for many years, they are both strongly associated with the U.S. Holocaust Memorial Museum, and Wiesel has been a part of his Buchenwald story from the beginning. But the real evidence for Elie Wiesel ever being an inmate at Buchenwald doesn't exist. There are no photographs of Elie Wiesel at Buchenwald, and none of him at the Ecouis School in France. There are no photos of Wiesel during his supposed concentration camp period at all.
I think Waltzer believed this slipshod approach he employs would pass without comment, but he didn't count on the appearance of Elie Wiesel Cons the World website. We are a real problem  for Ken Waltzer!