Friday, December 24th, 2010
Fox & Friends lets slip what we all know—Wiesel has made a hugely lucrative career out of being a Holocaust survivor. He 's a Big Winner in this quite competitive arena, where there are also, in fact, many losers.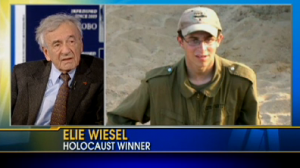 Elie Wiesel is making the rounds to promote his new book, so he showed up on Fox & Friends last week. As he was speaking, at 0:57, the words "Elie Wiesel, Holocaust Winner" appear at the bottom of the screen, and at 1:02 it is changed to "Nobel Peace Prize Winner.  So it took only a few seconds for the no-doubt-panicked technicians to change it. They might have been out of a job! Dealing with Elie Wiesel is serious business in the media.
You can see the entire interview here in this story from Dec. 22, 2010 at Mediaite.com.
Note that the interviewer says that Elie wants us to spend the Christmas season thinking about "those who are imprisoned right now, who were fighting for justice." The first one who is mentioned by Wiesel, showing film of him along with lots of anguished words, is Gilad Shalit, the Israeli soldier who has been held as a POW by Hamas since 2006. Of all the human rights violations being perpetrated in the world today, the fate of Shalit is definitely not the one we should be most concerned with. In fact, the worst human rights abuses are carried out by the Israelis, including by their army which they call "Defense Forces," of which Shalit was a part. Yet, the only "abusers" Wiesel mentioned were the Palestinian Hamas, the Chinese and the Iranians! Is anyone surprised? After that, he talks about his new book which is another one built around the "guilt" of the Germans of the 1940's generation. No surprise here – just more of the same from this "winner."  ~cy