Where is Elie's Tattoo?
Elie Wiesel has said under oath that he has one, and that it is number A7713.
July 8, 2008, Trial of the State of California vs. Eric Hunt: Elie Wiesel made the following statements under oath:
Q. And is this book Night that you wrote a true account of your experience during World War II?

A. It is a true account. Every word in it is true.
[…]
Q. And what was your – what day were you born in Sighet, Romania?

A. September 30th, 1928.
[…]
Q.

And what [number] was tattooed on your left arm?

A.

My number was A7713. My father's number was 7712.
Source: Superior Court of California. County of San Francisco. Before the Honorable Robert Dondero, Judge Presiding, Department Number 23. People of the State of California, Plaintiff, vs. Eric Hunt, Defendant. Testimony of Elie Wiesel, July 8, 2008, p. 7 and 13.
Elie Wiesel has stated it in interviews …
March 25, 2010, University of Dayton: A student asked Wiesel if he still has his concentration camp number and if it serves as a reminder of those terrible experiences. "I don't need that to remember, I think about my past every day," he responded. "But I still have it on my arm – A7713. At that time, we were numbers. No names, no identity."
Source: Dayton Daily News, March 26, 2010, "Elie Wiesel: 'The answer is education … and memory' Holocaust survivor, Peace Prize winner talks to local high school and college students."
By Meredith Moss, Staff Writer Updated 7:56 AM Friday, March 26, 2010 .
Contact Moss at (937) 225-2440 or [email protected].
And in speeches.
Speech delivered by Elie Wiesel in 1995 at ceremony in Poland to mark the 50th Anniversary of the Auschwitz liberation.
"I speak to you as a man who 50 years and nine days ago, had no name, no hope, no future, and was known only by his number A 7713."
Source: KLRN, San Antonio. "Elie Wiesel, First Person Singular" A PBS Production.
But in the 1996 full-length documentary film "Elie Wiesel Goes Home," we see his bare arm, but where is the tattoo?
http://www.ew.com/ew/article/0,,333389,00.html
http://www.amazon.com/Elie-Wiesel-Goes-Home/dp/B000067IX1
http://www.youtube.com/watch#!v=p5zpNNUAjGI&feature=related  –  This film, which was available on Youtube in 2010, no longer is.  Sorry. That is definitely a sign they are hiding these damning pictures wherever they can. You can still buy the documentary film at Amazon.
In March 2010, Eric Hunt used footage from this film to make his own short version sans sound, "Where's Wiesel's Tattoo?"
Eric captured these stills from the video, allowing us all to see for the first time that "the Emperor has no clothes."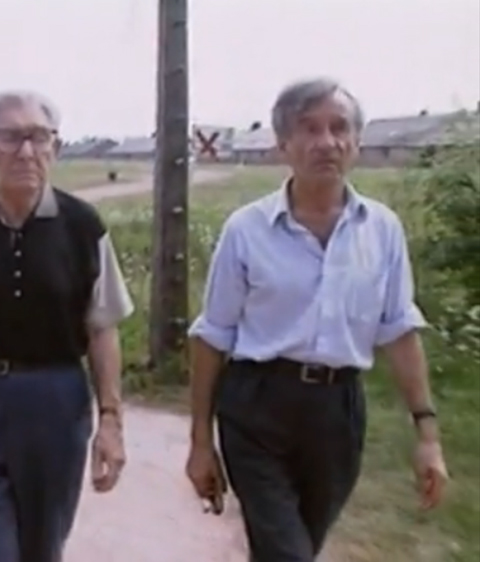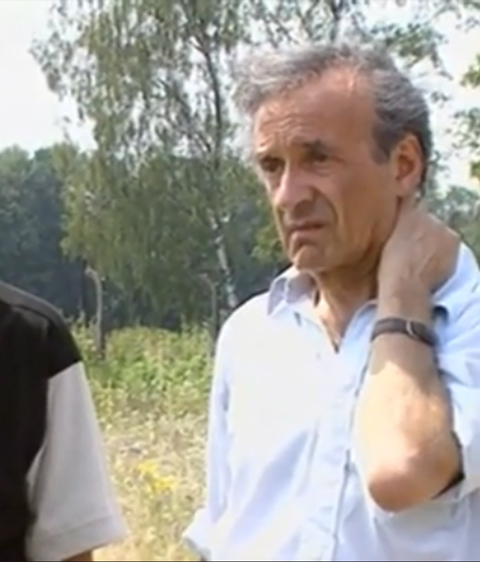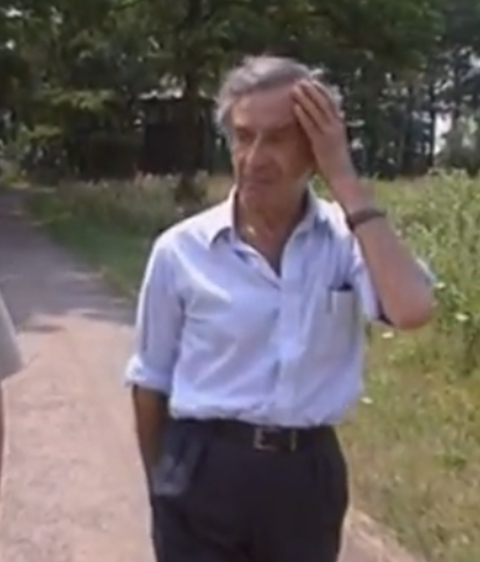 Thus the question we ask: Where's the tattoo?