Monday, September 26th, 2016
By Carolyn Yeager
It's very possible that Wiesel would have gone that far, even though Trump is deferential to Israel. Wiesel would have been on the side of his friend, Barack Obama (image right), and therefore supported Hillary Clinton. Just how sharply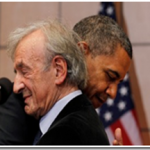 he would have addressed Trump is something we can now only imagine. But we might get an idea from the growing number of 'progressive' American celebrities who are proclaiming their distaste at the possibility of a Donald Trump presidency and their promise to abandon their country if their worst nightmare should come true. A significant portion of those celebrities are Jews, even in the face of his enthusiastic support for Israel and his close connections to Jews.
Among this group, Holocaust historian Saul Friedlander is the latest high-profile Jew to threaten to leave the United States if Donald Trump becomes president. Born in Prague, he now lives in Los Angeles with comfortable dual US/Israel citizenship. That means he can vote in the American election, but he will definitely not be voting for Trump. In a recent interview in Paris, Friedlander told AFP:
"One cannot exclude Donald Trump from winning, even though he is a dangerous crazy. He says whatever comes into his mind. We don't know what he thinks."
Translated: He doesn't follow the Kosher script. He thinks and acts as an independent person, and in the interests of the American nation and people. The politicians Jewry supports are Israel-firsters who can be counted on to defend Jewish interests over the interests of White Americans.
"At the same time, there is a huge swathe of Americans, mostly poor, angry whites, who dream of having him in the White House. He is kind of a release valve for their anger against the 'establishment' represented by Barack Obama and Hillary Clinton. Because she has, unfortunately, a tendency to lie and to hide things. Trump, by comparison, seems totally open and frank, even if he has not published his income tax returns.
Translated: What the 'huge swathe of mostly White Americans' want is not good for Jews, so we prefer the lies and cover-up of Clinton to the open and frank Trump. After all, Jews' first obligation is to look after themselves. In this connection, Friedlander then warned of the rise of anti-Semitism and of Holocaust denial.
"Negationists are, in general, anti-Semites, and I am utterly opposed to debating with them."
He, Deborah Lipstadt and Elie Wiesel have all said this. Because they can't win.
"It gets you nowhere, they will always find a so-called detail showing that all these stories of gas chambers were a joke."
Indeed! Those troublesome, nit-picking details that reveal the gas chambers are a joke. What an admission! He said it.
"They are obsessed by the idea that Jews could have invented the story of their extermination."
That's a big worry. That their invention of the story of the six million will become known to the masses. Its getting closer to happening.
So it couldn't be more clear why Friedlander fears Donald Trump. If Trump does not defend the PC in general, that could put 'the narrative' at risk. He might say anything! Trump is not anti-Semitic himself, but he's not a house-trained politician that can be trusted to toe-the-Jewish-line in every instance. He may leave it up to the Jews themselves to defend it, rather than keeping it a state priority. I can understand some Jews considering moving to where they feel more assured their special benefits and privileges will be fully maintained. Germany perhaps? Many are saying Canada, so they can more easily return if Trump bombs out in four years.
Trump has said he only wants immigrants here who love the people of this nation. Since Friedlander, the immigrant, looks down on "a wide swathe of poor, angry whites" who are "angry at the establishment" (the establishment that protects and coddles him), he certainly does not love average Americans, and may even fear them. If he perceives himself as out of step with the majority of Trump supporters, this would certainly add to his feeling of discomfort with a Trump victory.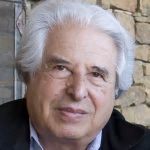 Who is Saul Friedlander?
Friedlander, 83, was born in 1932 in Prague, grew up in France where he was sheltered in a Catholic boarding school from 1942 on, and immigrated to Israel in 1948. He served in the Israeli army. From 1953-55, he studied political science in Paris (should have run into Elie Wiesel at that time) and became very active in the World Zionist Organization and the World Jewish Congress. By 1959 he had become an assistant to Shimon Peres, Israel's Defense Minister, and in 1963 he was granted a PhD from the Graduate Institute of International Studies in Geneva, where he remained teaching until he moved to UCLA in 1988 as a professor of history (Club Chair in Holocaust Studies).
Friedlander's magnum opus came out in 1997 titled Nazi Germany and the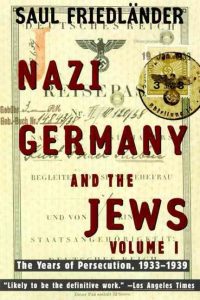 Jews. The second volume, The Years of Extermination: Nazi Germany and the Jews, 1939-1945 appeared in 2007. Friedlander is known as an Intentionalist, although he only goes back to 1941 when Hitler decided to "exterminate the Jewish people" – not earlier as some Intentionalists do (like to the writing of Mein Kampf). He also takes the position that the Jews had no idea what was happening to them and that is why they went to their deaths like 'lambs to the slaughter'. "They simply didn't know what was happening," he argues. Friedlander never lived in Nazi Germany; he was a child in France during the war. So he's simply a historian, poring over documents and reading witness accounts, second hand.
Friedlander says that his parents were gassed at Auschwitz, and that he learned about it in 1946. Since there were no gassings and no records of gassings at Auschwitz – how did he find out about it? He himself revealed that an unnamed Jew (a family friend) wrote to Friedlander's grandmother informing her that his parents had been sent to Germany or to a Jewish reservation in Poland. That's it. That's the proof.
If you watch Friedlander on one of the many videos where he is being interviewed, he comes across as an utter bore who speaks excruciatingly slowly. At least for me he does; I can hardly bear waiting for his next word to come. He is feminine in appearance, in contrast to Donald Trump who is distinctly masculine.
Friedlander had a famous debate with a German historian Martin Broszat. Friedlander argued that the study of the Nazi period was 'global', that it belongs to everyone, and it was a problem when some German historians wanted to focus on everyday life during the Third Reich.  A big part of the discussion was whether the National-Socialist period could be treated as another period of German history – as in, from the Imperial to the Weimar to the National-Socialist to the present day. This was relevant, for instance, in the growth of the welfare state – since the Third Reich did extend welfare programs for its citizens in a responsible and historically fitting way.
Friedlander was totally opposed to any such suggestion. His arguments against it are weak – in fact they are frivolous. For example, he argued his first "dilemma" with it was that such an approach would cause historians to lose their attention to the genocidal politics of the Nazi state. His second major objection was that by looking at the Nazi period as "normal", there was a danger that historians might lose interest in the 'criminality' of the Nazi era. Third, he said if the Nazi era was 'historicized', it might allow historians to advance apologetic arguments about National Socialism, as he said Ernst Nolte and Andreas Hillgruber had already done. Well, we can't have that, can we? – says the Jewish apologist Friedlander.
Actually, all three of his "dilemmas," as he called them, seem to be the same one. It takes away from his reputation as a great thinker, doesn't it? Friedlander is actually a mediocre talent who got ahead with the help of Jewish connections.
Friedlander and Elie Wiesel
Saul Friedlander and Elie Wiesel were friends, born four years apart and their views on Germany and the Holocaust are very close. They both see the "Holocaust" as an event unique in history, impossible to discuss in normal language, and the result of anti-Semitism. Friedlander believes that 'Nazi anti-Semitism' is a distinct form of it that could bring about redemption for the anti-Semite. So Friedlander is a bit of a mystic too.

In his autobiography All Rivers Run to the Sea (p. 329), Wiesel tells a story about Friedlander. He said he saw Saul in 1958 or 1959 in Manhattan when Saul was working for Nahum Goldman and the World Jewish Congress. Saul was depressed and taking Valium because no publisher was interested in his writing about Pope Pius XII and Nazi Germany. Wiesel said he introduced him to publisher Paul Flamand and that was the turning point in Saul's career. Is Flamand Jewish? I can't say absolutely yes, but I'm pretty sure he is. Wiesel wouldn't turn to anyone but a Jew.
Friedlander maintains that the essence of National Socialism is that it "tried to determine who should and should not inhabit the world." Further, it resisted any attempt to integrate it as part of the "normal" development of the modern world. But who is to say what the "normal" development of the world is? Clearly there is a difference of opinion there. But Jews insist there is only one way – their way. So again, the one who insists on how the world should be is the Jew.
Elie Wiesel has already departed this world. If Saul departs from the United States of America, and potentially revokes his citizenship (although he probably wouldn't have the guts to do it), all the better for the United States. Barbra Streisand too, and Jon Stewart, Barry Diller, oh, there is a whole list of them. How we poor, angry Whites will celebrate their leaving. The media will describe it as a blow to our nation, but we Whites know better.