Sunday, December 28th, 2014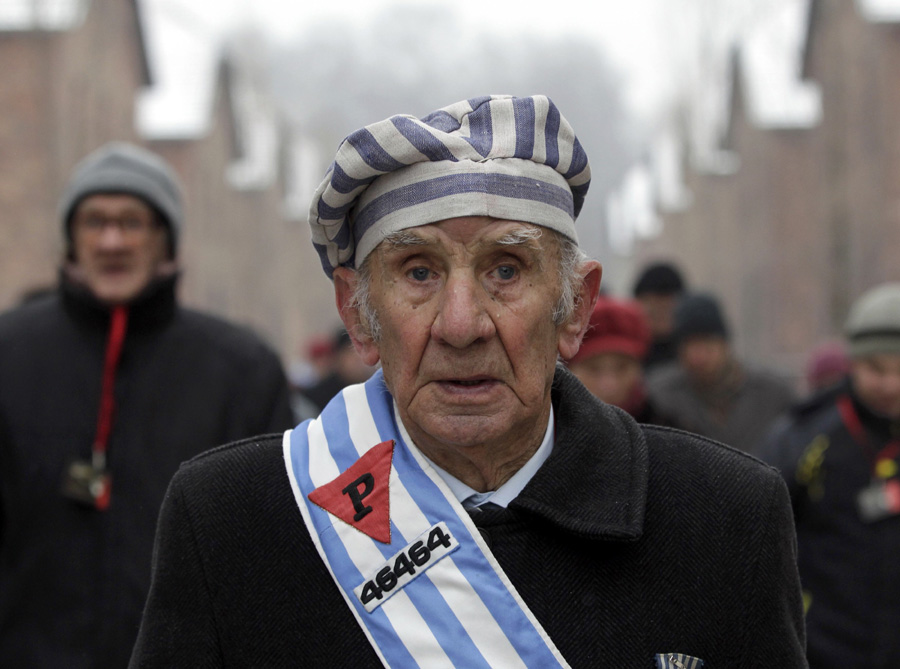 Have we had enough of this theater yet? Do "holocaust" images like this have any effect on our sympathies? This is a well-aged, healthy looking "survivor" at the 69th Anniversary of the Auschwitz liberation on Remembrance Day, Jan. 27, 2014
___________________________________________________________
By Carolyn Yeager
Wiesel: "I thought the memory of the Holocaust would shame those boasting anti-Semitic opinions. I was wrong." … Jan. 28, 2014
It becomes more clear all the time that the massive goodwill that Jews and "Israel" gained from the propaganda hoax they named "The Holocaust" has been depleted, due in large measure to Israel's uncivilized aggressive behavior against its neighbors in the Middle East.
But another major reason for the loss of goodwill is Israel's and world Jewish organizations' insatiable lust for ever more money and arms from Germany, the U.S. and all of Europe and North America. The Jews have played the phony guilt card for all it's worth, and for a long time now (70 years!) – and it is finally wearing out. When Jews tell us that grandchildren of "survivors" are carriers of their grandparents' "trauma," that becomes the straw that breaks the camel's back.
Both Elie Wiesel and Caroline Glick have made statements in 2014 referring to the "Holocaust" as a way – a vehicle – to do away with "antisemitism," i.e. dislike of Jews. They thought the combination of the horrific atrocity stories camp survivors were able to dream up, and the incredible number of 6 million, plus having the governments of America, Britain and the Soviet Union on their side would keep Germans and all European people making amends to them for a good long time – long enough, anyway, for Jewish billionaires to completely consolidate their ownership/control of everything of value in the Western world (just as it's told in The Protocols of the Learned Elders of Zion).
But as it turns out, European men and women are more resilient than that. And then Jews, in their chutzpah, make plenty of mistakes, too. The end result, as we enter the year 2015, is that Jews, rather than feeling victorious, are crying and gnashing their teeth over "the rise of antisemitism in Europe."
Is there a conspiracy going on?
Today, I went  looking for what I remembered as Elie complaining about antisemitism in the same way that Caroline Glick does. I quickly came upon it, and it was from January 28, 2014, the exact same day that Glick's blog post appeared! … the one I wrote about here.  Coincidence?
They are both saying the same thing, each in their own way, on the day after the "International Holocaust Remembrance Day" on Jan. 27, which was not such a big success. The major news story it conjured up was that the Israeli Knesset sent a large delegation that marched around on Auschwitz memorial grounds with giant blue and white flags, while having their picture taken. Elie Wiesel did not show up, which took away some of the news-worthy luster of the 2014 event.
It's interesting that Benjy Netanyahu was saying pretty much the same as Glick and Wiesel just recently:
"We saw today examples […] of European prejudice. In Geneva, they are calling for an investigation against Israel for war crimes, while in Luxembourg the European court removed Hamas from the terrorist list. It looks like there are too many people in Europe, on the [same] ground where six million Jews were slaughtered, who haven't learned a thing. The friendship we see from the United States stands in complete contrast to what we are seeing regretfully in Europe."
Recall that Caroline Glick once worked as an assistant to Netanyahu. She and Elie Wiesel are both long-time Israeli assets, so do they coordinate their message?
What exactly did Wiesel say in this interview of eleven months ago?
"The Holocaust is a unique event, but it has a universal significance which must be memorized incessantly."

"Unfortunately, anti-Semitism still exists. It has been alive for more than 2,000 years, and will likely continue living. I thought that the memory of the Holocaust would shame those boasting anti-Semitic opinions. I was wrong. It still exists in different countries, and it seems people are no longer ashamed to be anti-Semitic."

"The modern anti-Semite is, first and foremost, anti-Israel. It's very difficult to separate between the two." (Anti-Israelism and antisemitism)

"There are anti-Semites who are only anti-Israel. Once I thought that anti-Semitism had ended; today it is clear to me that it will probably never end. It might weaken sometimes, but it will continue existing, because in different countries there is no shame in being an anti-Semite. We must remember that anti-Semitism led to Auschwitz. Without anti-Semitism there would have been no Auschwitz."

"It's clear to me that one can't be Jewish without Israel. Religious or non-religious, Zionist or non-Zionist, Ashkenazi or Sephardic — all these will not exist without Israel. The [Israeli] State's existence is the oxygen of the image and ideas of the new anti-Semitism."

"Recent attacks on Jews in the United States are expressions of anti-Semitism, yet we can't talk about an anti-Semitic movement but about groups of anti-Semites which operate in different places, and we don't know how many members they have. This reality must also concern us, because it could expand."
The difference between Wiesel and Glick is that he did not say the Jan. 27th International Holocaust Remembrance Day made antisemitism worse, not better, but he DID rather dismiss it by saying that in the United States it is only marked with an event held at the UN building.
He agrees with Glick that the real American commemoration is on Yom haShoah, the same day as for the State of Israel. According to Yoel Rappel, the Israeli whom Wiesel appointed to be the director of his archive at Boston University, it was Wiesel who proposed this day to the American Congress when he was chairman of the President's Commission on the Holocaust under President Carter. It has become a "fixed tradition" in the U.S., said Rappel. ~
Category Featured | Tags: Tags: anti-Semitism, Caroline Glick, Holocaust fraud, Holocaust Remembrance Day, Israel,
Social Networks: Facebook, Twitter, Google Bookmarks, del.icio.us, StumbleUpon, Digg, Reddit, Posterous.