The Documents
1) Birth certificate for Lazar Vizel issued by the Romanian authorities on November 27, 1996 [see bottom line], in all likelihood at the behest of Wiesel and according to self-identified information. Such a course of action would not be unexpected given the super-celebrity-status of the subject, the Romanian authorities' willingness to look the other way, and a claim of loss. It is not certain that this is a genuine replica of any original document. The date of October 6, 1928, handwritten at the top of the document and typed in the lower part, represents the date the document was originally issued, not the date of birth.
Wiesel claims in his writings that he was named for his paternal grandfather Eliezer. Eliezer is also the name of the founder of Hasidism, the Wiesel's particular Orthodox branch of Judaism — Rabbi Yisroel ben Eliezer was the son of Eliezer and Sara!  Wiesel also has a cousin named Eliezer Shlomovitz, and probably there are more Eliezers in his family. We don't see anyone using the name Lazar. While derived from Eliezer, to some this is a different name in practice.  So why would Elie Wiesel give his name as Lazar on a new "copy" of his birth certificate … or, if it is indeed a copy of the original, why would his parents give his birth  name as Lazar?
The author of Un di velt hot geshvign (And the world remained silent) is also named Eliezer Wiesel. This makes it even more curious as to why his birth certificate is made out for Lazar and not Eliezer.
Wiesel pronounces his name as Vee-zel, so it's logical that it was entered that way—the same way he spelled his father's name for the Yad Vashem Central Database of Shoah Victims in October 2004. Salomon is the formal name for Shlomo, and Sura is Romanian-ized Sara. By this certificate, Wiesel at least helpfully confirms his acknowledgement of his birth date as Sept. 30, 1928.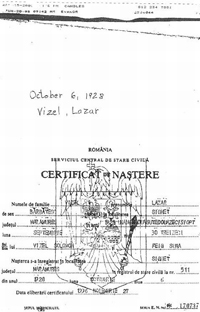 2) A letter dated 8 December 2000, addressed to M. Gruner by the Buchenwald Gedenkstätte (memorial), signed Sabine Stein (fig. 11), contains this information:
Lazar Wiesel, born 4 October 1928, is on a transport list of 16 July 1945 to Paris. The other document is a transport of 26 January 1945 from Auschwitz to Buchenwald, with Viezel, Abraham, born 10 October 1900, Auschwitz Nr. A 7712 and Buchenwald Nr. 123488.
3) A letter dated 15 May 2002, addressed to M. Grüner by the Buchenwald Gedenkstätte (memorial), signed Sabine Stein (fig. 11.1), contains the following information:
Lazar Wiesel, born on 4 September 1913 at Maromarossziget (Sighet), arrived at Buchenwald with a transport from Auschwitz (Buchenwald archives, microfilm Auschwitz, p. 41). On this page 41, under entry number 2438, you will find the data on Lazar Wiesel: Buchenwald number 123565, born on 4 September 1913, Auschwitz number A-7713. These data are confirmed by the numerical file card at the camp office [Schreibstube].(see #5 below)
4) Transport lists,  arranged alphabetically,  confirming a Jan. 26, 1945 arrival at Buchenwald from Auschwitz, with the names of Lazar Wiesel and Abram Viezel, nos. A-7713 and A-7712 respectively. No other Lazar or Eliezer Wiesel appears. (Fig.11.2, 11.3, 11.5)
5) The numerical file card from Buchenwald mentioned above. In its upper left hand corner the handwritten entry "Ung. Jude" (Hungarian Jew); in the center "Ausch. A 7713" (the former Auschwitz ID number); on the right, "Gef.-Nr.:123565", (Detainee number 123565, the new Buchenwald ID number).
This detainee was born on 4 September 1913  at Maromarossziget and was the son of Szalamo Wiesel, who was at Buchenwald, and of Serena Wiesel née Feig, interned at KL Auschwitz . The stamp "26.1.45 KL. Auschwitz" indicates that Lazar Wiesel was registered at Buchenwald on 26 January 1945 coming from Auschwitz.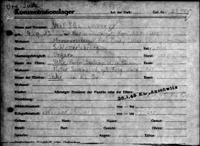 6) A detainee registration card, probably stemming from the Buchenwald memorial archives, has the following data: (Fig. 12.2)
"123565
Wiesel Lazar Polit.
Geb. 4.9.13 Maromarossiget Ungar
Schlosserlehrling Jude
26. Januar 1945"
7) A Buchenwald "Record of changes" on the subject of Abraham Viezel (Fig.11.4). It says that Abraham Viezel died on 2 February 1945 in Block 57, according to the camp record of February 3rd. He was born 10 October 1900, a Jewish political detainee, with the ID numbers A-7712 for Auschwitz and 123448 for Buchenwald.
"Datenbank: Veränderungsmeldungen Buchenwald
Datensatz: 9315
Häftlingsnr.: 123488 [A 7712]
Name: Viezel, Abraham
geboren: 10.10.00
Nationalität:
Kategorie: polit. Jude
Einlieferung:
gestorben: 02.02.45
in: Block 57
Meldung vom: 03.02.45"
8) Death Certificate for Abram Viezel. Date of birth and ID number 123488 correspond. "5514" is the registration number for his death.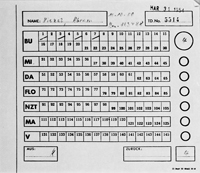 9) A letter from the Auschwitz Museum to Miklós Grüner dated 7 July 2003 (Fig. 18.1, 18.2) which states that detainees ID A-7713 and A-7712 appear in a list (Fig. 19, 19.1, 19.2) of the SS Hygiene Institute dated 7 December 1944-Monowitz and giving the following data:
A-11104 Grüner Miklos, Hungarian Jew, born on 6 April 28 at Nyiregyhaza
A-7712 Viesel Abram, born on 10 October 1900 at Marmarosz
A-7713 Wiesel Lazar, born on 4 September 1913 in Marmarossziget, Schlosser (locksmith)
10) "Concentration Camp Inmates Questionnaire" (front only) of the Military Government of Germany, at Buchenwald in May of 1945, for Miklos Grüner, another proof that he was 'liberated' from there.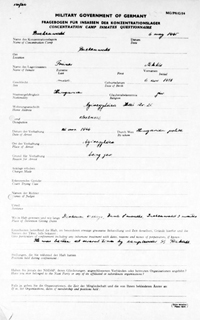 Lázár Wiesel, b. Oct. 4, 1928, enters the picture …
11) "Concentration Camp Inmates Questionnaire" (front and back) of the Military Government of Germany, at Buchenwald in April of 1945, for a Lázár Wiesel (note accented spelling), a Romanian Jew born Oct. 4, 1928, ID number 123165. He was arrested on April 16, 1944. Here, however, there is a disagreement with respect to the numerical file card. The Schreibstube file card numbered 123165 was made out for a Slovakian Jewish detainee, Pavel Kun (Fig.12.1), who died at Buchenwald on 8 March 1945, one month prior to this number showing up as belonging to Lázár Wiesel. This file card has the nr.123165 crossed out. Pavel Kun is also on a transport list (Fig. 12.3) from Auschwitz to Buchenwald, 26 January 1945, in the section headed Slowaken Juden, born on 6 July 1926 at Velka Bytca, registered at Auschwitz as B-14131.
On this Buchenwald questionnaire, answering the question "Give names and addresses, if known, of three reliable persons living in the locality where you intend to go who can vouch for you," Lázár Wiesel wrote: "Ur [Mr.] Ferenc Stark, Ferenc Pollak, Sámuel Jakobovits". This latter person was also at Buchenwald; he had arrived there from Auschwitz in the convoy of 26 January 1945.
12) Buchenwald file card of Samuel Jakobovits indicates that, at Auschwitz, his number had been A-5763, and his Buchenwald registration number was 121761; he was born on 2 October 1926 at Marmarossziget, his mother's maiden name was Pollak, who was probably related to the inmate Ferenc Pollak mentioned by Lázár Wiesel.  (During Wiesel's and Grüner's meeting in Sweden, arranged by the Sydsvenska Dagbladet, after the Nobel Prize had been given to Elie Wiesel, they both told reporters they didn't know each other and had never met in the camp.1)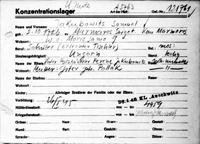 13) "Concentration Camp Inmates Questionaire" for Sámuel Jakobovits of the Military Government of Germany, at Buchenwald, dated 22 April 1945 (front & back).
The references given by Jacobovits are: Hersch Fischmann, Antal Meisner and, specifically, Lázár Wiesel. The front page also gives the date of Sámuel's arrest – 16 April 1944, the same date as Lázár Wiesel's. At Auschwitz, Sámuel received number A-5763, assigned on 26 May 1944: on that day, 2,000 Hungarian Jews were registered under the file numbers A-5729 through 7728. Hence, both Abram Wiesel (A-7712) and Lazar Wiesel (A-7713), born on 4 September 1913, were part of this transport. But how did Lázár Wiesel, born on 4 October 1928, get there, who has no Buchenwald file card, no Auschwitz number and a dead man's  Buchenwald registration number?
14) One page from 11 pages listing children sent from Germany to France, July 16, 1945, that shows Lazar Wiesel, b. Oct 4, 1928 in Marmorossziget, as number 405. (Fig. 12.4, 12.5)
From the above, the first question we must ask is:  Are we are dealing with two different persons in Lazar Wiesel and Lázár Wiesel, or the same person? If the same, why the  different birth dates, and name spelling? The Lázár born on 4 October 1928 does not have any previous history at Auschwitz or Buchenwald. The Lazar with the history,  born 4 September 1913, does not have a "liberation" questionaire. The "new"  Lázár is listed on the transport to France in July 1945.
These are the questions and quandries we are working with.

Endnote:

1) "After Auschwitz —  Birkenau, Buna, Nikolaj, Gleiwitz and Buchenwald awaited both Elie and Michael. To Buchenwald they arrived in February 1945. (It was a January 26 transport.  Did Elie say February?-cy) They found themselves in Block 51. (Childrens' Block was 66-cy) Do they remember each other? – No, both of them reply."
"Lägerfångar möts efter 42 år" (Camp inmates meet after 42 years), Sydsvenska Dagbladet, 15 December 1986, p. 6.