Thursday, February 2nd, 2012
By Carolyn Yeager
New information has come to the attention of this site about the Yad Vashem "Page of Testimony" (PoT) filled out for Shlomo and Mendel Wiesel by their cousin Yaakov Fishkowitz in 1957.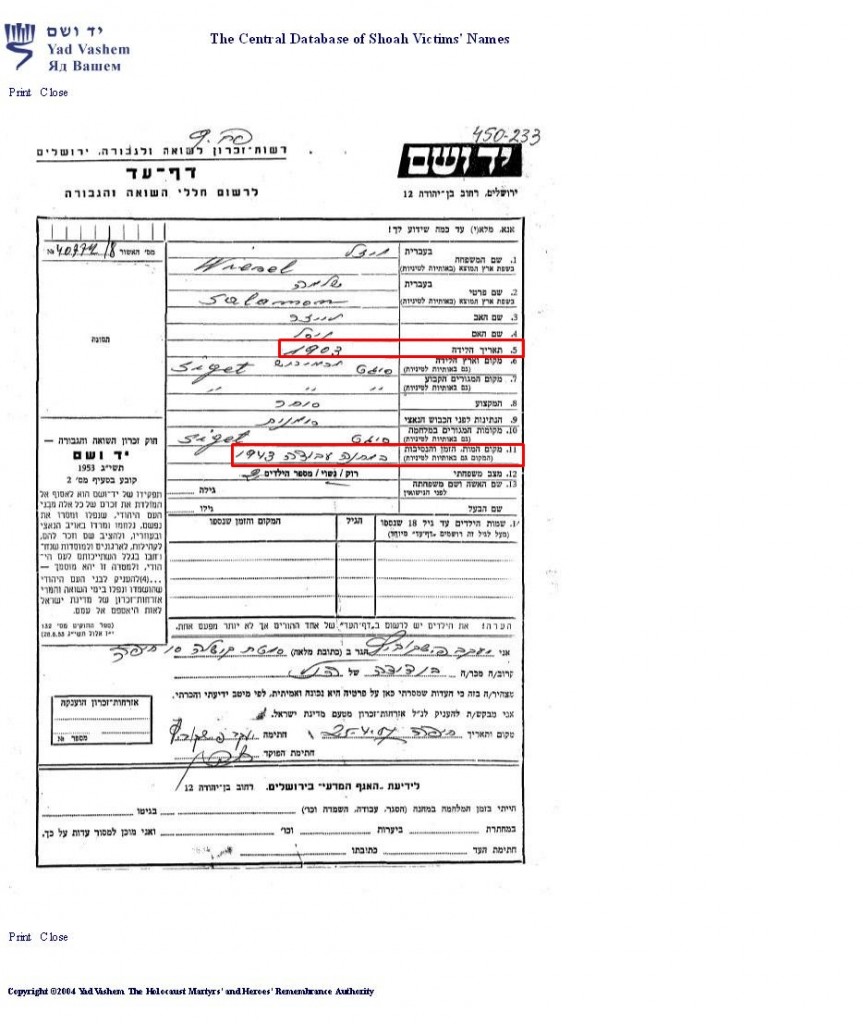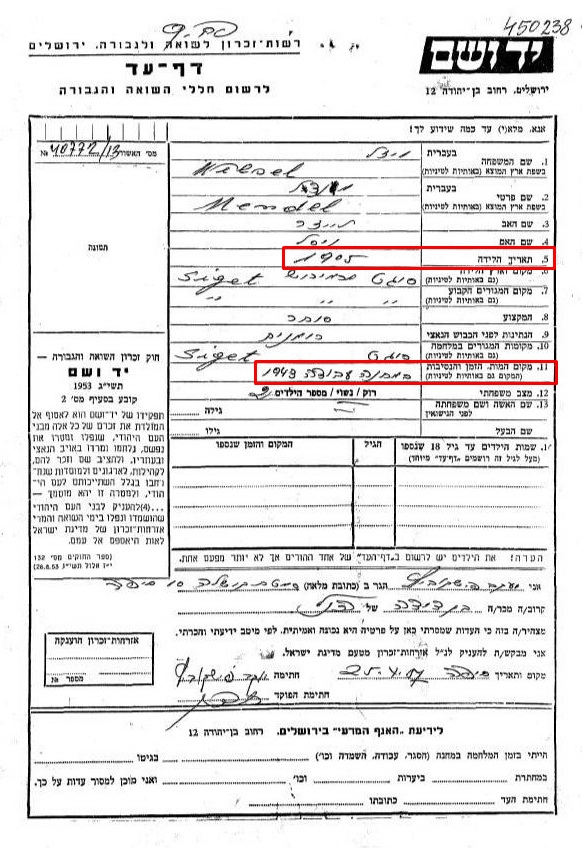 Our previous description of these pages was done without knowledge of Hebrew; thus we erred in one instance dealing with the place of death of Shlomo and his brother Mendel Wiesel. Note on the forms above that "Sighet," on line 10, refers to the "Place of residence during the war," not to the place where death occurred.
Going to line 11, the instructions written in Hebrew on the right of the page read (right to left):
11. Place of death, time and circumstances (Place also in Latin alphabet).
To the left of that Fishkowitz has written (also right to left): in camp / labor / 1943
This gives quite a different picture than we had before! According to Yaakov Fishkowitz, his cousins Shlomo and Mendel Wiesel were both in a camp performing labor in 1943, where they both died in that year. Fishkowitz obviously did not know what camp.  Sighet was located right on the border with what had been Czechoslovakia, but was at that time more of Hungary until 1945. [See map in Shadowy Origins of Night II] Today, that area is Ukraine, and Sighet is once again in Romania. If the brothers had gone north on some kind of mission, toward Poland, they could have gotten arrested and placed in a camp as labor. But, in any event, Fishkowitz may not have had actual information that they died, only that they didn't come back to Sighet and he didn't see them again. The same goes for all the rest of his family—they were deported to Auschwitz, he says, and he never saw them again … so he declared them dead. But what about Yaakov Fishkowitz, himself? Was he also at Auschwitz? Why did he survive?
What kind of credibility can we assign to Yaakov Fishkovitz?
Fishkowitz filled out ten pages of testimony (PoT's) on the same day, April 25, 1957,  for ten relatives. Of the ten, only the two brothers were said to have died in 1943. All the others, including his aunt Nisel Wiesel, Shlomo and Mendel's mother, he presented as perishing in 1944, all but one at Auschwitz. It doesn't seem that he would have differentiated a totally different fate for Shlomo and Mendel if he didn't have reason to think that it was different.
According to Fishkowitz,  seven members of the Basch and Fishkowitz family died at Auschwitz in 1944—two uncles and a cousin, Naftuli Basch, 39 yrs.; Nisel Basch Wiesel his aunt, 64;  his mother Mentza Basch Fishkowitz, 65; his father Fishel Fishkowitz, 66;  his 29-year-old sister Shewa Fishkowitz Kohen. Yaakov's 20-year-old brother Shlomo Fishkowitz died in 1944 "at labor" but Auschwitz is not mentioned. Could he have been one of the young men who were taken off to work on infrastructure construction for the Germans?
Yaakov's father was born in Strimtura, another town in the Maramures district. His mother was born in Sighet but lived in Strimtura after her marriage and their children were born there. In 1944, only his father, mother and younger brother Shlomo lived in Strimtura; the other seven relatives who "died" lived in Sighet, which was clearly the "big city" of the district. Was Yaakov living in Sighet at that time, too? When he filled out the PoT's in 1957 he was in Haifa, Israel, which he listed as his permanent address. Did he leave for Israel immediately after the "liberation" and have difficulty tracking down his family members after that?
According to Yaakov, not only the old, but the young and those in the prime of life were murdered! Why was the 14-year-old Elie Wiesel spared from "extermination" by claiming to be eighteen1, but his 20, 29 and 39-year-old relatives were not spared? And why would 20-year-old Shlomo Fishkowitz die from "labor" when 14-year-old Elie Wiesel did not? Wiesel's two sisters, age approximately 19 and 22, were sent to a work camp affiliated with Dachau and survived. Shewa, Yaakov's 29-year-old married sister, is said to have been a seamstress. Surely the SS could have found plenty of work for her to do, and no doubt did! At Auschwitz, there was a workshop full of sewing machines where female inmates constructed German military uniforms, along with whatever other sewing projects were carried out.
Another legitimate question is why some of these relatives were not met by Shlomo and Elie early on during their stay at Auschwitz but relatives Asher Stein and Hersh Genud, plus hometown friend Meir Katz, are?
[In fact, if Hilda and Batya Wiesel stayed at Auschwitz until August '44 (according to Hilda's testimony), wouldn't their father and brother have gotten word of it—in the same way that Asher Stein learned that Shlomo and his son Eliezer were there, even before they were transferred to Monowitz (that is, in the first 3 weeks)? In Night, Stein was always seeking word of his family; others do also, but Shlomo and Eliezer never once mention those two daughters/sisters after arrival.]
Elie Wiesel tells of father's imprisonment in his memoir
When Elie Wiesel filled out a Page of Testimony for his father in 2004 at the Yad Vashem Memorial in Israel, at the request of Avner Shalev, Chairman of the Yad Vashem Directorate, it was filmed as a publicity tool to persuade more Jews to submit these PoT's. (see film here). In the short film, Wiesel mentions briefly that his father had been arrested and detained for a spell. He said more about this in his memoir, All Rivers Run to the Sea, writing that his father was arrested for helping Polish refugees and "spent weeks in prison, first in Sighet, then in Debrecen," and was released because of help from "his friends in Budapest." Wiesel fails to give a date for this. It all takes place in Hungary, however, not in Poland. But Hilda Wiesel doesn't mention it at all in her Survivors of the Shoah testimony.
Was this what became a "camp" to Yaakov Fishkowitz? When he heard that Shlomo Wiesel was dead, did he put it together in his own mind later that his cousin died during that short imprisonment? But why include Mendel in the event; he was not included by Elie. If Yaakov Fishkowitz' testimony is completely wrong, it means no PoT at Yad Vashem is worth the paper it's written on. Even Elie Wiesel's PoT for his father does not include a birth date, though a Yad Vashem representative was sitting right there with him (as seen in the film) and should have encouraged Wiesel to complete the form fully! I'm being a bit facetious here. Does not a son know his father's  date of birth? In Night, Elie wrote that Shlomo is 50 years old—in 1944. So why didn't he use that on the PoT?
Another point is: wouldn't the Page of Testimony by Fishkowitz for Elie's father have been shown to Elie Wiesel? Would they not have searched through the testimonies to find what had been submitted for Wiesel's family? I'm sure they did. Both PoT's cannot be correct! Yet they both remain in the database. This is a serious criticism of the integrity of the Yad Vashem Memorial and of the Elie Wiesel support team.
As we know, a distinctive feature about the Elie Wiesel story is that there is no consistency to it and no one seems to want there to be any.
In 1957, no book had yet appeared
Yaakov Fishkowitz was not writing these Pages of Testimony to fit in with a book written by Shlomo's son. We don't know his reasons for writing what he did, but he would not have been concerned with fitting in with any particular family story. He probably put down what he thought had happened to these persons, given the political atmosphere of the time, or what he wanted the world to believe about them. All I can say is: He did place Shlomo Wiesel and his brother in a labor camp in 1943, and said they had died there. If true, Elie Wiesel's story is completely fabricated, or based on someone else's story.
More serious discrepancies will be brought forth in the next article. Stay tuned.
Endnotes:
1. Elie Wiesel, Night, 1960, p. 41. "How old are you?" he asked, in an attempt at a paternal tone of voice. "Eighteen." My voice was shaking.
Category Featured | Tags: Tags: Elie Wiesel, Mendel Wiesel, Shlomo Wiesel, Yad Vahshem Database,
Social Networks: Facebook, Twitter, Google Bookmarks, del.icio.us, StumbleUpon, Digg, Reddit, Posterous.