Tuesday, July 5th, 2016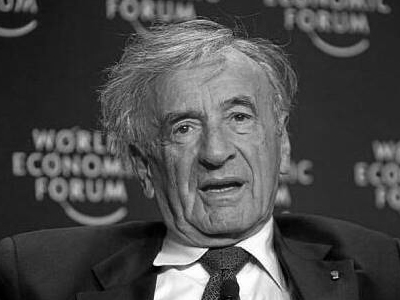 July 2, 2016 marked the death of Elie Wiesel, who was probably second only to Anne Frank as the name most associated with the Holocaust. The timing was a little eerie, because I was hard at work on my series Jews 101 when I learned of Wiesel's passing. It gets weirder still because another famous Holocaust survivor is currently making headlines — the famous Nazi-hunter, Simon Wiesenthal.
Wiesenthal died several years ago, but the city of New York recently cut off its "spigot of funds" to the Simon Wiesenthal Center, which is at the center of some huge scandal, like most Jewish "charities." Speaking of corruption, did you know about Elie Wiesel's connections to Bernie Madoff, who could be called the Elie Wiesel of fraud?
It all started with one of Elie Wiesel's scams, the Elie Wiesel Foundation for Humanity, which he established in 1988. Like a number of other well-known Jewish "charities," the Foundation was easy pickings for Uncle Bernie, the financier who was arrested in late 2008 and accused of running a $50 billion Ponzi scheme. Wiesel said he ended up losing $15.2 million in foundation funds, along with his and his wife's own personal investments. He probably hated Bernie Madoff more than anyone except Adolf Hitler. The irony is that Hitler would have taken care of Madoff if he was still alive.
You see, Wiesel, Wiesenthal and Madoff are all Jews, and Madoff isn't necessarily the worst of the three. Wiesel and Wiesenthal are both widely regarded as liars, and that's just the beginning.
Wiesel and Wiesenthal both claimed to have spent time in Nazi concentration camps, and both milked their misadventures for all they were worth. Ironically, some people suspect that neither one ever set foot in a concentration camp. Indeed, Wiesel is perhaps the most popular poster boy for the Holohoax camp. Others believe there was a Holocaust of sorts and Wiesel and Wiesenthal really were caught up in it, but they greatly exaggerated the horrors they witnessed.
As I researched Elie Wiesel, I discovered a story so remarkable I'm amazed Hollywood never turned Wiesel into a movie star. The story is complex, too; Wiesel was a man who could be loved or hated, depending on one's perspective.
So I decided to write two eulogies for Wiesel. The first is written from the perspective of an anti-Zionist or an anti-Jewarchist who hates Jewish corruption in general. The anti-Jewish/NeoNazi crowd will enjoy it, too. The second is written for the Elie Wiesel fan club, which includes people involved with the Holocaust Industry as well as Microsoft shareholders and the Andy Warhol cult.
1. The Bill Gates of Holohoaxers
Just for argument's sake, suppose Wiesel wrote and spoke the truth, and the Germans who gave us the Holocaust were just as evil as he claimed. Suppose they were as twisted as Obama, who flaunts his Nobel Peace Prize even as he slaughters innocent people with unmanned drones and continues callously torturing people. I would still despise Elie Wiesel (who was also awarded the Nobel Peace Prize in 1986). Why?
[…]
Elie Gates, meet Bill Wiesel
However, a better comparison would be Elie Wiesel and Bill Gates. Combine Woody Allen's forlorn face with Bill Gates' famously untamed hair, and you might have an Elie Wiesel lookalike. But beauty is more than skin deep.
Like Bill Gates, Elie Wiesel was a con man. Like Gates he claimed to care about humanity while really advancing his personal agenda. Wiesel even attended the World Economic Forum in Switzerland, an event perhaps most closely associated with Bill Gates.
Oprah Winfrey, too!
Another person I'd like to weave into this story, just for the Hell of it, is Oprah Winfrey. Like Wiesel, she's a media whore, though the similarities pretty much end there.
Oprah once declared that anyone who criticizes Obama must be racist, just as people who criticize Israel are racist. Obama, who has all but transformed into a Jew himself, showed his appreciation by giving Oprah the Presidential Medal of Freedom. Next thing you know, Oprah will follow Obama's lead and start wearing one of those stupid Jewish prayer caps.
On second thought, Oprah does resemble Elie Wiesel in another important respect; she exploits child abuse the way the Weasel exploits the Holocaust. Which isn't to say Oprah wasn't really a victim of child abuse. Who knows?
Oprah once accompanied Wiesel to Germany, where they toured the concentration camps Wiesel once called home. Maybe some day she'll visit Gaza.
The Arm Mystery
Elie Wiesel may have a secret in common with former Seattle Mayor Norm Rice. Rice was allegedly shot by his wife after she caught him in bed with another lover (a man). I always wondered why Rice didn't shut critics up by just rolling up his sleeve and showing them a scar-less arm.
Similarly, Wiesel claimed the Nazis tattooed A-7713 on his left arm, but some critics claim he lied. The world's most famous tattoo can't even be seen in photos of Elie wearing short-sleeved shirts.
The Two Faces of Elie Wiesel
Wiesel did his part to prevent Iran from making nuclear weapons, though he apparently had nothing to say about Israel's illegal nuclear arsenal. The Times (London) refused to run his ad condemning Hamas for the "use of children as human shields" during the 2014 Israel-Gaza massacre (when Israeli storm troopers killed a helluva lot of children, shields or not). He also declared that "Jerusalem is above politics . . . it belongs to the Jewish people." Screw the genuine Semites who have lived there for centuries.
Elie Wiesel blasted Fidel Castro, ranting about political prisoners, yet never missed a chance to be photographed with Obama, who's still torturing people on some island in the Caribbean…could it be Cuba?
No hypocrisy there! And for good measure, Elie hammed it up with George W. Bush, too. Indeed, he supported George W. Bush's invasion of Iraq as a necessary moral act.
I'll shed no tears for Elie Wiesel, who was obvious a RACIST LIAR AND HYPOCRITE.  More at governor5.com/Statement on Elie Wiesel
Category Featured | Tags: Tags: Bernie Madoff, David Blomstrom, Elie Wiesel, Simon Wiesenthal,
Social Networks: Facebook, Twitter, Google Bookmarks, del.icio.us, StumbleUpon, Digg, Reddit, Posterous.