Monday, April 4th, 2011
By Carolyn Yeager
 Cliches are all Chapman students get from the Master of Platitudes'much-ballyhooed visit.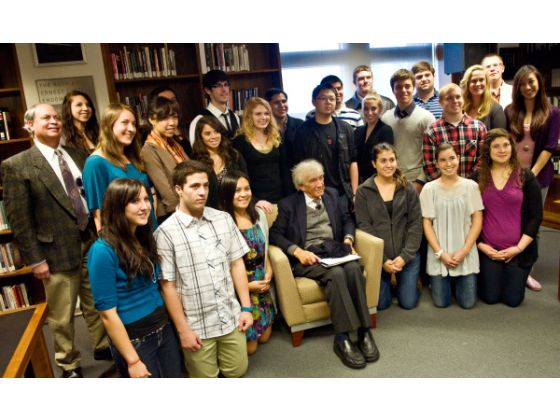 Above: Elie Wiesel looks frail in this group photo taken after he spoke to students at the Sala and Aron Samueli Holocaust Memorial Library at Chapman University. (Photo credit: Orange Country Register)
The Los Angeles Times sent its own reporter to cover the Holocaust Hero's grand arrival at Chapman University during the first week of April. The Local section of the newspaper had a report on Wiesel's visit with 21 students in the specialized Holocaust  Library on the campus.
Wiesel has fewer answers these days (not much is expected of him) and speaks in a sort of cliché-language that he has mastered. He can be confident his listeners will supply a profound meaning to any utterance that comes forth from his mouth. For example:
One (student) wanted to know how Wiesel managed to overcome the memories of the deaths of his father, mother and sister to write his first book, "Night," an autobiographical account of … Nazi concentration camps.

With deep sadness in his eyes, Wiesel replied, "Only those who were there know what it was like. We must bear witness. Silence is not an option."
Wiesel did not really like this question and gave a short answer that was not an answer at all. The question was: How did he overcome the [painful] memories in order to write his book? His actual answer, interpreted, was: "I won't, or I can't, answer your question." We can ask why he won't answer that question, and also why  he has not ever answered that question. Could it be because he has no idea how to answer it since such a thing did not actually happen to him?
To make it sound like he's giving some kind of answer, he adds two things that have nothing to do with the question: "We must bear witness" and "Silence is not an option." These are both favorite sayings typically associated with him. Upon hearing him say them, his listeners are satisfied that they are hearing the real Wiesel, that they are blessed by a "transforming" moment.
Another question was more to Wiesel's liking. "How can this generation preserve what you learned there?"
Wiesel brightened as he said, "Listen to the survivors. They are an endangered species now. This is the last chance you have to listen to them. I believe with all my heart that whoever listens to a witness becomes a witness. Once we have heard, we must not stand idly by. Indifference to evil makes evil stronger."
More platitudes. But a reader brought to my attention that Wiesel is contradicting something he said on another occasion. Even though we know contradictions are the usual fare from this man, it's of note that in a 1978 interview with the New York Times, Wiesel pronounced:
"The Holocaust [is] the ultimate event, the ultimate mystery, never to be comprehended or transmitted. Only those who were there know what it was; the others will never know."*
This fits his first answer, but not his second. So, is it that "only those who were there know what it was like" (meaning it's impossible to transmit to others), or is it that we can all "become a witness" (and speak with authority about what it was like)?
If you really want the truthful answer, dear readers, it is whatever benefits the Holocaust Industry. That is the whole reason Elie Wiesel goes to Chapman University—to create publicity for Holocaustianity—since he adds no real value to the students' learning. Still, it's all taken very solemnly by the faculty, the mainstream media, and the impoverished students themselves, who don't realize how they're being cheated. In a university setting, they are expected to swallow whole whatever they hear from iconic sources re the holocaust. The real questions they have are not answered. It is a farce of education. This Presidential Fellowship shows us once again, when it comes to Elie Wiesel it is always "much ado about nothing."
*Elie Wiesel, "Trivializing the Holocaust", New York Times, 16 April 1978, p. 2:1 [Article written in response to the original airing of the NBC miniseries The Holocaust]; quoted in Peter Novick, The Holocaust in American Life, 1999, p. 211.
Category Featured | Tags: Tags: Chapman University, Distinguished Presidential Fellow, Elie Wiesel, Sala and Aron Samueli Holocaust Memorial Library,
Social Networks: Facebook, Twitter, Google Bookmarks, del.icio.us, StumbleUpon, Digg, Reddit, Posterous.