Monday, April 1st, 2013
By Carolyn Yeager
copyright 2013 Carolyn Yeager
Updated April 7th
Kenneth Waltzer is a professor of history  at Michigan State University since the early 1970's. He helped to create the Jewish Studies program which opened in 1992, and which he heads. Waltzer has been researching into evidence of a special 'boy's protection program' run by prisoners at Buchenwald for going on 10 years now. As an "approved" researcher, he is allowed to peruse all the files at the International Tracing Service in Bad Arolsen, Germany,  something that is made much more difficult, if not impossible,  for revisionists.
Waltzer is considered one of the top scholars in the U.S. of the ill-named holocaust but his work has been sloppy, and his attempts to cover up the sloppiness amount to fraud. This, along with his continual promotion and defense of Elie Wiesel as a Buchenwald survivor, is what has drawn me to study him ever more closely.
Because of the seriousness of the charge I am making against him, I will list right up front my reasons for thinking it is time for such a call. They are:

Waltzer habitually tells fibs in the form of false information which is intended to mislead. When called out for it, he tells more fibs to cover for the first ones.


He has been in the service of the "Holocaust Industry," not academic rigor and fair-mindedness, from the very start of his career.

He knowingly defrauds his students, his university and the public (you and I) with his dishonest "holocaust scholarship."

While he is drawing high pay as a tenured American professor of history at MSU, he is working to advance the State of Israel.
I am going to show that these charges have a strong basis in fact. Fraud is commonly understood as dishonesty calculated for advantage. A person who is dishonest may be called a fraud. In the U.S. legal system, fraud is a specific offense with certain features. (see here)
Legally, fraud must be proved by showing that the defendant's actions involved five separate elements: (1) a false statement of a material fact, (2) knowledge on the part of the defendant that the statement is untrue, (3) intent on the part of the defendant to deceive the alleged victim, (4) justifiable reliance by the alleged victim on the statement, and (5) injury to the alleged victim as a result.
I am not intending to bring legal charges of fraud against Prof. Waltzer, but to try him in the court of public opinion. Therefore, it will be up to Waltzer to defend himself against my charges.
*     *     *
Two years ago, I asked the question on this web site:  "What happened to Ken Waltzer's book about the boys of Buchenwald?" It was claimed to be, at that time, in it's final stages. Eight years after he publicly announced he was researching for a book about the so-called children's barracks at Buchenwald (Barracks #66 ), it still has not materialized. Five years after his book was described as "upcoming," it still has not materialized. During this time, he has not produced another book, or any major work that would have taken precedence over this book. So what is the delay?
It's pretty plain that the book's thesis has shifted considerably since 2005, when his MSU website featured Elie Wiesel as the most recognizable and famous child survivor from Buchenwald. That website was taken down between one and two years ago and is completely wiped clean from the Internet. The banner on all the six to eight  pages that were included showed a photograph very similar to the one below of the "boys" being marched out of the main Buchenwald camp to temporary quarters at the former SS barracks.
The USHMM (national holocaust museum in D.C) website dates this picture as being taken on April 17, 1945, six days after liberation.1 At this time, Elie Wiesel, by his own account in two books, was laying in a hospital sick almost unto death  from food poisoning. Details like this don't deter Prof. Waltzer from backing up in every instance the standard holocaust narrative. "Elie Wiesel in Buchenwald" is the standard narrative, so evidence must be found for it.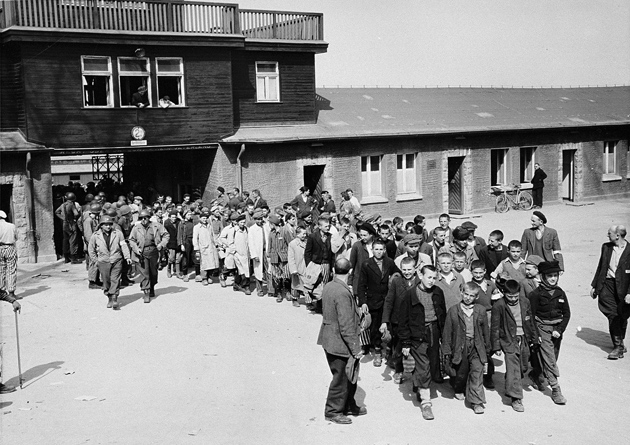 Ken Waltzer claimed for years that one of these boys was Elie Wiesel. But Wiesel is not in this picture!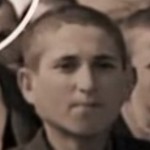 From at least 2005 (eight years now), Waltzer has identified the boy third or fourth from the front (hard to tell) in the left-side column (dressed in a black suit and in front of the tall boy wearing a beret) as Elie Wiesel, based on nothing but his own fraudulent intention that there was enough resemblance that people would believe it if he said so. In this article , I exposed this lie. Waltzer has never admitted that he was mistaken or was perpetrating a falsehood that he intended to put into his book. Instead, what he did when his fabrication was sufficiently exposed was to take the entire site down and not mention it again.
Left is a close-up of the boy Waltzer has maintained for several years is Elie Wiesel. Anyone can tell it is not and that's why no one else ever publicly agreed with him.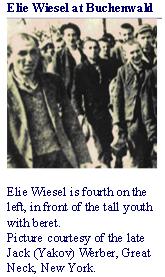 I have some of what was on that site copied into articles here at EWCTW and also in my files. At left is the cropped section of the photo that Waltzer used on the banner of his MSU-Newsroom/Holocaust website that was very much dedicated to Elie Wiesel. (Another reader, Chris,  informed me that he had found pages from the site using the Way Back Machine. Many thanks to him.) This shows that Waltzer definitely identified the boy in the black suit as Elie Wiesel. In addition, Jack Werber, a known dishonest survivor, was the supposed supplier of the picture.
Below right, a screen shot of one of the pages as it existed then, sent by a friend of EWCTW. It shows more of the emphasis on Elie Wiesel.
When I pointed out much of this in a podcast of March 25th, Waltzer sent me an email on March 28th stating,
My websites at UM FLint are down because I was appointed there one year and am now back at Michigan State.
Of course I never mentioned UM Flint and never even saw his website there. I was speaking about his MSU website, which was titled something like Ken Waltzer's "MSU Newsroom Special Report." It was full of information about his projects and especially what he calls "the rescue operation of children at Buchenwald."  It was up on the Net since at least 2008 2, then suddenly disappeared, with not even cache pages to be found.  Did Waltzer tell me a fib, or did he just read the podcast program description and misinterpret what it said about "taking down web pages?" By now, he will know what I mean and may answer.

I think it is very possible that he timed the take-down of his MSU "Newsroom" site with his one-year visiting professorship at UM Flint — putting up a temporary website there which he could take down when he left.  This is a way of confusing the picture in order to distract as much as possible from his more recent decision to put more distance between himself and his prior (false) assertions about Elie Wiesel.
His intention was and is clearly to deceive.  The harm is caused to ordinary people who believe and trust that they are getting knowledgeable answers from a professor of history and a holocaust scholar. In this particular case, all five of the elements necessary to prove fraud are there.
First, he sets up a University-sponsored website maintaining falsely that Elie Wiesel is the boy in the photograph of youthful "survivors" marching out of the camp (1). He knows it is false because he has no evidence or proof, only his own "wishful thinking." The USHMM never identified Wiesel in that group of boys, nor did anyone else (including Wiesel himself), unless they did so from following Waltzer's example (2). Waltzer's intent was to make the public believe something that was not true – that he had proof of Elie Wiesel being one of the "rescued children" (3). Because Waltzer is a Professor of History and "holocaust expert" at a major university, and is at all times written up very favorably in the media, the public (you and I ) and his students will rely on his statements (4). These same students and public are injured when photographs are mislabled in order to foist on them a certain belief about an influential  historical event that affects their entire world view (5).
*      *      *
This is just one instance of the untruths that Ken Waltzer has told over the years. Another tactic he uses is to promise an upcoming answer to your doubts which he cannot or does not produce now. As we have seen, we continue to wait as he continues to promise. Still another tactic is to accuse others of lying when it is he who is doing so. But only people who are knowledgeable enough about these complex and purposely obscured issues can see who is doing the lying. In this same email, he wrote:
The book is on track, and I have also completed a separate essay to be published on Elie Wiesel and Buchenwald.
Completed, he says. And separate. Why separate? I wrote back to him asking where I could find his essay because I wanted to read it. No reply – which is typical because factual information is not his forte, emotional rhetoric is. I feel it's quite possible he wrote a separate essay on Elie Wiesel so as not to tarnish his book with the false "facts" about Wiesel in Buchenwald. He can always get rid of an essay, if necessary, later – but not his entire book. What might there be in this essay? Will it be the same or quite different from what he wrote in a March 6, 2010 comment at Scrapbookpages Blog, when he said [my underlining-cy]:
For the skeptics [I was using the name skeptic then -cy] and know-nothings who have written in suggesting Eli Wiesel was not in the camps, that Night is purely fiction, you are all dead wrong. The Red Cross International Tracing Service Archives documents for Lazar Wiesel and his father prove beyond any doubt that Lazar and his father arrived from Buna to Buchenwald January 26, 1945, that his father soon died a few days later, and that Lazar Wiesel was then moved to block 66, the children's block in the little camp in Buchenwald. THese documents are backed up by military interviews with others from Sighet who were also in block 66, and by the list of Buchenwald boys sent thereafter to France. All of this is public domain.

Wishful thinking by Holocaust deniers will not make their fantasies true. While Wiesel took liberties in writing Night as a literary masterpiece, Night is rooted in the foundation of Wiesel's experience in the camps. The Buchenwald experience, particularly, runs closely to what is related in Night.

Comment by kenwaltzer — November 14, 2010 @ 6:57 am
How much untruth is contained in this, in order to defraud us all in his devoted service to the "Holocaust Industry" and the state of Israel? Plenty. As proof that Elie Wiesel was in Buchenwald, he points to documents for Lazar Wiesel and "his father." It is even more absurd because Lazar Wiesel's relative was only 13 years older than Lazar – it was in fact his brother Abram! Waltzer is passing off Lazar for Elie simply on the basis that Lazar also came from Sighet, Elie's hometown and carries the same name. Sighet was a city of 50,000 or so with a very large Jewish population, and Wiesel was a common name. But the "scholar" who has taken years to research this and still isn't finished, wants us to believe there can  be only one Lazar Wiesel, who is Elie. He attributes the difference in their birthdates to bureaucratic error.
Previously I may have called this stupidity, but now I'm calling it fraud, based on the above-given definition. Of course Waltzer can see the discrepancies here, but he hopes he can convince you not to see them. The Military Interview mentioned with Lázár Wiesel's name on it also does not have the right birthdate for Elie Wiesel, nor does the signature match Elie's well-known signature.
Will Waltzer repeat this nonsense in his latest "completed" essay? Notice that Waltzer never fails in the name-calling department, here  calling his critics names such as "know-nothings" and "Holocaust deniers." Several months later,  he wrote a similar comment at EWCTW to the blockbuster article: "Signatures Prove Lázár Wiesel is not Elie Wiesel"
On November 14, 2010 at 10:34 am

Contrary to Carolyn Yeager's wishful thinking, Eli Wiesel was indeed the Lazar Wiesel who was admitted to Buchenwald on January 26, 1945, who was subsequently shifted to block 66, and who was interviewed by military authorities before being permitted to leave Buchenwald to go with other Buchenwald orphans to France. Furthermore, there is not a shadow of a doubt about this, although the Buchenwald records do erroneously contain — on some pieces — the birth date of 1913 rather than 1928. A forthcoming paper resolves the "riddle of Lazar" and indicates that Miklos Gruner's Stolen Identity is a set of false charges and attack on Wiesel without any foundation.
The promise of a forthcoming paper turned out to be a fib. From Nov. 2010 to now, there has not been any paper. Maybe it's the essay he mentioned in his March 28th email? "Forthcoming" to Waltzer means up to two and a half years, it seems. That in itself is the sign of an unreliable person.
There can be only one reason Ken Waltzer allows himself to look like a buffoon and a shyster. He doesn't need to do it to keep his position at Michigan State University. He does it because it is his larger job to keep the Buchenwald atrocity stories and Liberation lies, including the Elie Wiesel myth, alive and well in the mind of the public. He works for purely Jewish interests – I will be writing a future article on the priority, meaning and funding of Jewish Studies programs in American universities. For now, I can add that Waltzer is more of a public relations (PR) worker for the Holocaust Industry, the State of Israel and maybe AIPAC, than he is an honest-to-god academic. Another organization connected to Israel that he serves is Scholars for Peace in the Middle East. He has written four attack-dog articles for them since 2009, functioning in a sort of Abe Foxman-pitbull style.
In Nov. 2009, he attacked Alison Wier as another "know-nothing" because she speaks up for Palestinian rights on college campuses, where she is popular.
In May 2010, he went after John Mearsheimer for calling Israel "an apartheid state" and also took out after Noam Chomsky, Norman Finkelstein, and "the crackpot Phil Weiss."
Also in May 2010, another target was Judith Butler, who campaigned at the Berkeley campus for the university "to divest from companies making military weapons which Israel employs to commit war crimes."
In August 2011, he wrote on the Israeli-Palestinian peace process, arguing for Israel's interests to be well and strongly presented on college campuses.
But this is only the tip of the iceberg when it comes to Walzer's pro-Israel activities. I will be writing further articles that present the evidence for Ken Waltzer being guilty of fraud in his public writings and during his entire career. Much of it revolves around Elie Wiesel and the Industry's  need to place him at Buchenwald. My position, if you have somehow missed it, is that Elie Wiesel was never at Buchenwald. I am also saying that Waltzer is backing down or "stepping back" from his blatant, dishonest claims about Wiesel, but he can't back down altogether.

Endnotes:
1.  I have also seen it dated April 27 at the USHMM and have used that date in other articles here.  Now I have only found this one picture which is very officially dated the 17th.  There may have been an attempt to move the date to the 27th so that Wiesel could be in the picture (though he supposedly would not have been released from the hospital until the 28th).  It is really too bad the USHMM cannot be relied upon; nor can Yad Vashem. When the museum "researchers" are involved in lying or in complacency, one really has nowhere to turn.
2.  http://msutoday.msu.edu/news/2008/mapping-the-holocaust-archive-msu-prof-explores-records-of-nazi-atrocities At bottom of article, it reads "For more information, and to follow Waltzer's research and read his journal as he participates in the workshop, visit the special report at: http://special.newsroom.msu.edu/holocaust." This is a link to the website that no longer exists, as you will see if you click it. Now he seems to be pretending it was never there.
Category Featured | Tags: Tags: Abram Vizel, Buchenwald camp, Buchenwald liberation, Elie Wiesel, Holocaust Industry, Israel, Ken Waltzer, Lazar Wiesel, legal definition of fraud, M. Grüner, Michigan State University, Night, Scholars for Peace in the MIddle East, USHMM,
Social Networks: Facebook, Twitter, Google Bookmarks, del.icio.us, StumbleUpon, Digg, Reddit, Posterous.