Posted on September 6, 2011 at 6:03 pm
Edited on Sept. 8, 2011, 4:30 p.m.
By Carolyn Yeager
Another official transport list of  the youths sent to France from Buchenwald in summer 1945 has come to my attention. Can it possibly be the "smoking gun" to prove that Elie Wiesel in not one of the "boys of Buchenwald?"
On June 14, I posted a blog on this site questioning "What Happened to Waltzer's Book about the 'boys of Buchenwald?'" Professor Ken Waltzer of Michigan State University wrote a comment to that blog  in which he stated, "Elie Wiesel was there (in Block 66 at Buchenwald) with other boys from Sighet, who knew him; he was interviewed by military authorities after liberation, in order to permit departure from the camp; and he went after liberation in early June, 1945, to France, to Ecouis…. one among 425 boys who did so."
Prof. Waltzer has for years been firm in his insistence that Elie Wiesel was on the transport to France from Buchenwald, as one of the "boys of Buchenwald," a legend in the making. This is largely based on a document containing the name of Lazar Wiesel of Sighet, born Oct. 4, 1928, on the transport list of  over 500 Jewish "orphans" from Buchenwald to Paris dated 16th July, 1945. (Note: Elie Wiesel's official birth date is Sept. 30, 1928)
Page 9 of this list, as well as the cover page, as received by Myklos (Michael) Grüner from the Buchenwald Gedenkstätten (Archival Records Office) is viewable on Elie Wiesel Cons The World under "The Evidence"  on our menu bar (click on "The Documents" and then the link at #14). You will notice on that page that number 405 is WIESEL, Lazar.
HOWEVER … it has come to my attention from a helpful, dear reader that at the website of the American Jewish Joint Distribution Committee (http://www.jdc.org) (AJJDC) we find the same list  only now it is titled "Orphan Children from Buchenwald now in Paris" –Convoy of 8th June, 1945."
Here we see number 405 listed as WIEZEN instead of WIESEL. To get two letters in a single surname wrong seems unlikely, especially when it's connected to a birth date that is not Elie Wiesel's.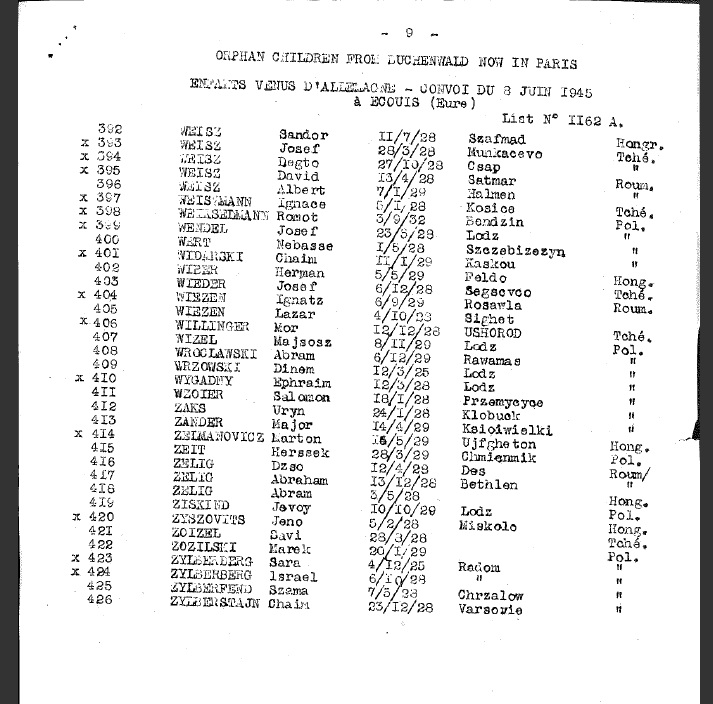 Wiezen or Wiesel?
That the documents are not the same is borne out by the fact that the AJJDC page 9 document above begins with #392 WEISZ, Sandor, while the Buchenwald/Grüner page 9 document begins with #398 WECHSZLMAN, Remet. In addition, there are other differences on this page in name spellings and two in birth dates.
The nature of these differences suggest to me that they may be corrections made in France to the mainly minor mistakes on the list from Buchenwald. This idea is bolstered by the probability that the AJJDC and the Jewish personnel at Ecouis had more interest in and time to spend in learning about each youth's  personal information than did the American Military personnel at Buchenwald, plus they would be more familiar with Jewish/Yiddish names and they would be more concerned with accuracy. There is good reason, when you closely compare the two documents, to speculate that the latter document was typed up in France (AJJDC version shown above) and is the more correct one.
We also have to consider how unlikely it is that the AJJDC would want to tamper with the list to change WIESEL to WIESEN, thus denying that a Wiesel was transported to France from Buchenwald. If any tampering were done, it would more likely be at the other end, at Buchenwald. But I am not charging that … yet.
Confusion over Lazar Wiesel
That said, let's consider some other aspects. In light of the utter confusion of records for Lazar Wiesel, who arrived at Buchenwald from Auschwitz on Jan. 26, 1945 with a birth date of Sept. 4, 1913 and was given ID number 123565, but who then either got lost or was "reassigned" ID number 123165, which had belonged to Pavel Kuhn, a Slovenian Jew who arrived on the same transport from Auschwitz in January and died on March 8. (See The Documents, # 11, fig. 12.1) The name belonging to this ID number was then given as Lázár Wiesel (with accented "a's") who signed the Military Government questionnaire on April 22,  giving his birthdate as Oct. 4, 1928 (See The Documents, #11). This is said to be the 16-year-old Lazar Wiesel coming from Buchenwald to France and arriving in Paris on June 8.
This is not at all clear! But now add to it that this person was named Wiesel when he left Buchenwald, but Wiezen after he arrived  The rest of his information remains the same. Note also that the signature of "Lázár Wiesel" on the Questionaire is totally different from the signature of Elie Wiesel that is well-known. In addition, the only photograph that claims to be of Wiesel at Buchenwald is provably not Wiesel.
Everything points to an answer that Elie Wiesel was not the one who was at Buchenwald and who traveled to France in summer 1945. As I suggested in a following blog "New Photo of ElieWiesel in France?" he could have arrived in France sometime during the war—helped by the Jewish network and placed in the children's welfare institutions there.
The ubiquity of the names Lazar and Shlomo Wiesel
I wrote briefly in The Shadowy Origins of Night, Part II that Sighet, Elie Wiesel's birthplace, had a large Jewish population and that I had counted 19 Eliezer or Lazar Wiesel's or Visel's from the small Maramures District of Romania listed as Shoah victims on the Yad Vashem Central Database.  Nineteen who died in the "Holocaust"!  Just think  how many survived and continued to carry and pass on this name. Some were no doubt relatives of Elie's family. The same is true for Shlomo Wiesel/Vizel—there  are many of them in the Yad Vashem database also.
The lesson of this, of course, is that simply seeing the name "Lazar Wiesel" doesn't mean it is the one and only Elie Wiesel. That different birth dates are given for "Lazar Wiesel" fits this reality perfectly. It's also true that Elie went by the name of Eliezer, his grandfather's name, a distinction not without meaning. This will come up again, when I write about Wiesel's family.~