Posted on February 7, 2012 at 9:12 pm
by Carolyn Yeager
As expected, a judge in a Budapest court has rejected a lawsuit brought by Hungarian-born Nikolaus (Miklós) Grüner against Chabad rabbi Slomo Köves for helping to arrange Elie Wiesel's "Homecoming Tour" to Hungary in 2009. Grüner maintains that Elie Wiesel is not Hungarian  and not a holocaust survivor.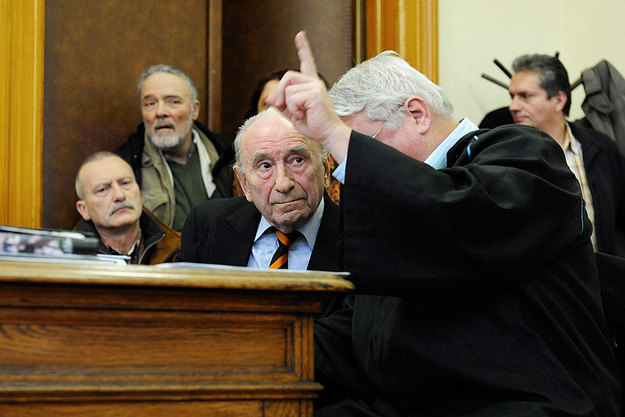 Nikolaus Grüner, center facing camera, watches as a barrister makes a point in court during his January 27th hearing.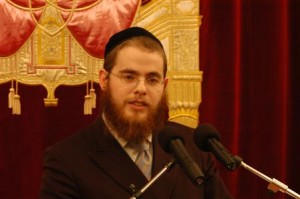 The lawsuit was brought against Köves, described as the rabbi of  the Chabad community in Budapest, (pictured right)  rather than Wiesel because of the lack of jurisdiction over an American citizen by a Hungarian court. Grüner's personal dispute with Köves now seem to have taken precedence; he is complaining that "The rabbi basically called me a liar in his statement."
According to Bos-News Life Christian news service, Gruner said he was angered by the court's statement Monday, February 6 that it wasn't able to rule on whether Wiesel had lied about his Holocaust past because he lives in America. "I never wanted the Hungarian court to rule on that issue. However I wanted the court to give an opinion about the unjustified statements made by the rabbi."
The rabbi had called the 83-year-old Grüner "an elderly man with some kind of complex" and accused him of  "falsifying history" by claiming Wiesel is not survivor of Auschwitz and Buchenwald. Köves also publicly likened Grüner to American author Norman Finkelstein, who wrote The Holocaust Industry. Finklestein is considered something of a "holocaust denier" by Jews even though he is simply critical of the way it has been marketed for immense profits to Israel.
Grüner says that these kind of remarks from Köves could undermine his plans to directly sue Wiesel in the United States;  he  wanted the court to rule against Köves for making these remarks. He told Bos-News Life that he would "appeal the ruling and court procedure and demand a new trial"  later this month. The news service also reported that  Grüner plans to travel to the United States this month to demand that American authorities extradite Wiesel to Hungary and to meet a lawyer representing Holocaust survivors.
This last appears to Elie Wiesel Cons the World to be a 'mission impossible.'  However, we applaud Mr. Grüner for doing his best to keep the Elie Wiesel hoax issue alive in the public mind and wish him well.