Posted on February 6, 2013 at 1:53 pm
By Carolyn Yeager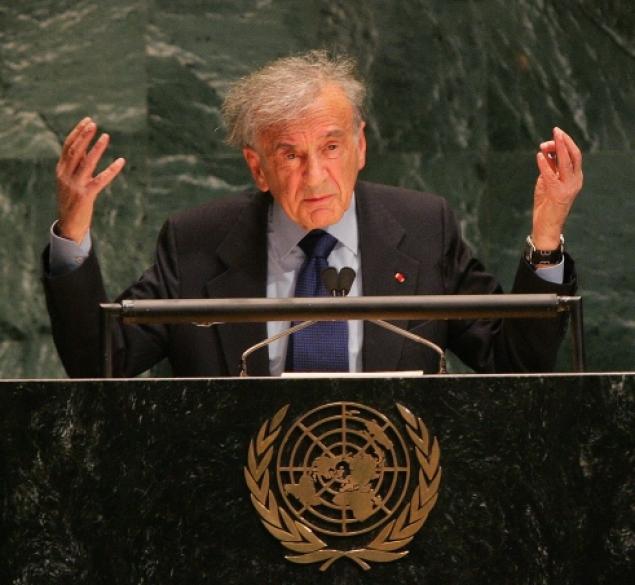 Elie Wiesel at the United Nations in January 2005. This is the photo accompanying his gun control comments in the New York Daily News.  If he looked this bad then, what does he look like now, 8 years later. Is that why we don't see him any more?
If Massacre of 20 children in Newtown doesn't bring gun control, what will? by Elie Wiesel
So reads the headline in the New York Daily News on Dec. 17, 2012 – just three days after the Sandy Hook, CT,  shooting event. Okay, I'm pretty late in commenting on this Elie Wiesel story but I just now happened upon it.  The Daily News is as Jewish as it gets for a "mainstream" paper and we know (or can see) that removing American's constitutional gun rights is part of the Jewish agenda that it is promoting.
We can see that the Jewish Mafia that runs this country put their big gun Elie Wiesel on it from the get-go. Even though Wiesel's byline is attached to this story (he's a journalist, remember), I suspect the words have been partially scripted for him and he just adds  his own flavor and style to them. The news story reads (my comments in blue):
Disbelief, horror, revolt: This is what we all felt when the news arrived. By its magnitude and cruelty, it surpassed everything else. We were not ready for it. Earlier tragedies should have immunized us. But they didn't. Not to this violence, to this bloodshed. Oy vey, The Children!

A young man assassinates his mother with her own weapons. Then, he goes to an elementary school and murders 20 children, one after the other, firing more and more bullets into their small bodies.  Just three days after the event, he is sure of this. The story was prepared ahead of time, and was given out almost one hour after the deed supposedly occurred. Wiesel, of course, doesn't question any of it.

Why?

The need, the desire to understand is as strong as the pain itself.  Wiesel's trademark is 'trying to comprehend the evil.'

Propaganda inserted here:

Today, the Daily News is launching a petition to call for the ban of assault weapons. To participate, print and send in the form at the bottom of this page, or SIGN ONLINE HERE.

Somehow, in spite of the lost lives that we read about in street fights, in poverty-stricken neighborhoods, in faraway war regions such as Syria and Afghanistan, we were unprepared to see this kind of evil in action.  Since there is obvious evil everywhere by highly armed men, especially in Gaza, ,Elie has to help us to see that THIS is an even worse evil. It's always about evil, and Elie is the one we can depend on to point it out to us.

EDITORIAL: THE NRA'S COMEUPPANCE

HAMMOND: HOW NEW YORK CAN LEAD THE WAY  … more propaganda

What does it say about the world, the culture we live in, the ideas we cherish and the education we receive? Yes, what? He always asks the question; never gives the answer.

In the most passionate address of his life, President Obama spoke for all of us when he said that his heart was broken. So was ours. Oy vey. Other areas of our being were also affected. If the death of one child is a tragedy, the murder of 20 is a scandal of outrageous proportions. Oy vey!

Beliefs and certainties are to be reexamined, habits and values reevaluated. In the face of so much pain and mourning, we must not ignore the question: Where did society go wrong? What made humanity so frail, so blind? Where did education fail? What does such an outburst of anger say about our generation's hopes and ideals? Oy vey! But where are the answers?

In other words: Is there anything we can learn from this event? That all murder is evil but that of children is seven times seven more? That the ease of acquiring a weapon is no longer acceptable. If this tragedy does not produce universal gun control, what can and what will? What else do we need for preventing further horrors such as this? Oy vey. Finally an answer: We should no longer be able to acquire weapons. That will do it.

And what do we know about the perpetrator? We know he didn't finish college and struggled socially. But what did he do in his spare time? What books did he read? What music did he listen to? What was he dreaming about? What made him laugh or weep? Double Oy vey.

We must discover, to the extent possible, what his secret ambitions were. Why? We must remember: He was not a stranger from another planet.

He was one of us. Oy Vey!! Was he Jewish?