Posted on November 20, 2012 at 12:11 pm
By Carolyn Yeager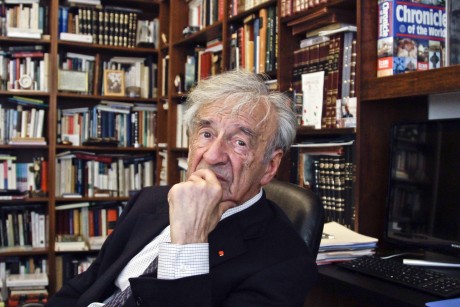 Elie Wiesel photographed in his New York Office on Sept. 12, 2012, by AP photographer Bebeto Matthews. Notice how well covered his left arm is … how does he " pull back his left jacket sleeve" to reveal his tattoo to reporter Verena Dobnik?
*   *   *
Repeated attempts to get a response from Associated Press reporter Verena Dobnik, or any Associated Press representative, about Dobnik's questionable Oct. 8 news story that she saw a tattoo on Elie Wiesel's arm have failed to bring forth any response. (See prior blog post dated Nov. 7:  "False report that Elie Wiesel showed reporter "his tattoo?")
Telephone calls to the New York office of the Associated Press (212-621-1500), where Dobnik is assigned, along with two emails to the address the AP gives out for "feedback and comments" ([email protected]), which they say they welcome,  have not been answered.
A pleasant young  man in the Dallas office of the AP, whom I talked to some days ago, assured me that comments about stories are relayed to the reporter who wrote them. I believe that is probably true so I put the fault on Verena Dobnik. I just now called and reached another voice mail at the New York office, but this time it belongs to a man in the communications department, so perhaps I will hear back from him.
On November 14,  I sent the following email to [email protected]
To:  Associated Press and Verena Dobnik
Re: Verena Dobnik, New York based AP reporter and her article of Oct. 8, 2012, "Elie Wiesel survives Bernie Madoff, heart by-pass"
The Associated Press New York office is responsible for allowing a blatant example of journalistic fraud to go unchallenged. Ms. Dobnik writes in her story:
He pulls back his left jacket sleeve to reveal a Nazi death camp number tattooed on his forearm as he sits comfortably in his Manhattan office for an interview.

"Usually I don't show it," he says.
This either never happened or should not be included because:
We are not told what Dobnik actually saw. Does she know what a "Nazi death camp number" looks like? This is too vague a "description" for a professional reporter to use.

There is no such thing as a "Nazi death camp number" … only numbers allegedly tattooed on prisoners at Auschwitz. This reveals the propagandistic nature of the reporter's intent. (I will not spend time belaboring the facts that there can be no purpose in tattooing prisoners in a "death camp", and that Elie Wiesel was never scheduled for death.)

Elie Wiesel has NEVER shown a tattoo on his arm to any camera, even though there is a long history of questions stating doubts that he actually has one and challenging him to show it to the public. A cameraman (Bebeto Matthews) may have accompanied Ms. Dobnik on that occasion to Wiesel's NY office and took some photos – Wiesel is seen wearing a heavy suit and long sleeved dress shirt in photos taken on Sept. 12, making it hardly possible for him to just "pull back his sleeve" to reveal a tattoo on his forearm. He would have had to unbutton his shirt cuff and roll it back, an unlikely gesture as Wiesel is not known to have done it for any other reporter.

Without a corroborating witness or a photo taken of Wiesel actually baring his arm with a tattoo present on it, there is no reason to believe the reporter's casual interjection of this event.
Further, because of the controversy about Elie Wiesel's "tattoo" it is natural to suspect this was added by Dobnik to her article to try to give some credence to Wiesel's claim that he has a tattoo even though no one has ever seen it. The Associated Press is thus being USED by Dobnik to disseminate lies in order to further what is false propaganda about "the Holocaust" in general and Elie Wiesel in particular. The Associated Press needs to take this very seriously by questioning Verena Dobnik about this interview.
Dobnik followed up with this sentence in her article:
One of the exceptions was a 2009 visit to the Buchenwald death camp Wiesel survived, with President Barack Obama and German Chancellor Angela Merkel.
This is equally questionable. In the first place, it is very vague – it actually makes no sense, but the reader is left with the impression that Wiesel told Dobnik that he showed his tattoo to these two world leaders at that time. However, there is NO statement from Wiesel himself that he showed a tattoo to Obama and Merkel in 2009 at Buchenwald. Also none from Obama or Merkel. This absolutely smacks of fabrication on the part of the reporter to make her interview more interesting, and maybe more important and noticeable. However, NO OTHER PUBLICATIONS or writers picked up on this astounding news that Wiesel had made this gesture to two world leaders at Buchenwald! Why not? Because it is not corroborated and no doubt could not be corroborated.
Also, Dobnik is stating falsely that Buchenwald was a "death camp." It has been admitted for many years by official Holocaust historiography that Buchenwald was not a so-called death camp, and that there were no "death camps" in Germany. According to the official version of the Holocaust, there were only five "extermination camps," all in Poland.
Verena Dobnik is guilty of (1) interjecting false propaganda into her reports for the purpose of misinforming and inciting hatred against Germany in the minds of her readers. If she is ignorant about the facts of the Holocaust, the editors at the Associated Press should not be. But worse, she is guilty of (2) LYING about what took place during her interview with Elie Wiesel.
I am serious as a heart-attack about this blatant case of journalistic fraud carried out under the nose of the Associated Press, and approved by you. I demand that you reply to this email within a few days time and give me whatever explanation you have. If you find that my complaint has legs, you need to issue a public retraction and an apology. I intend to pursue this issue vigorously.
Very truly yours,
Carolyn Yeager