Blog
Written on May 19, 2015 at 8:54 pm, by Carolyn
Warren B. Routledge, author of the new unauthorized biography of Elie Wiesel, Holocaust High Priest, has thankfully CORRECTED some statements made by Israel Shamir in an email to Michael Santomauro referring to my May 11 interview with Routledge.  The Shamir comment  was posted at Santomauro's Reporter Notebook Yahoo Group.
Shamir wrote that he knew Wiesel had spent time in Auschwitz because "a good personal friend, a French writer Piotr Ravich (spelling?)," said he did. It doesn't seem to bother Shamir that this is hearsay, nor that he doesn't know the spelling of his good, personal friend's last name! He made some other errors of fact in his email. Here is the full text:
From: ReportersNotebook@yahoogroups.com <ReportersNotebook@yahoogroups.com> on behalf of Israel Shamir adam@israelshamir.net [ReportersNotebook] <ReportersNotebook-noreply@yahoogroups.com>
Sent: Thursday, May 14, 2015 1:00 AM
To: ReportersNotebook@yahoogroups.com
Subject: Re: Listen to The Heretics' Hour Monday night

There are many funny and dubious points about Wiesel, but he definitely was an inmate in Auschwitz. I had a good personal friend, a French writer Piotr Ravich (spelling?), who won the prix Goncourt. He committed suicide in 1970s, was a wonderful man, quite cheerful. So this Piotr Ravich had spent four years in Auschwitz, as much as anybody, and he knew Wiesel there. They belonged to the elite of the prisoners. Ravich was a translator and interpreter for the administration. Anyway Wiesel was there.

Mauriac played a very important part in Wiesel career, I do not know whether he lusted after him and I do not know whether Wiesel was a gay, but Mauriac's Catholic faith  played a very important part in the story. This is well described in many texts.
I next heard from Warren Routledge informing me that Shamir had made a number of  errors in what he had written, and he, Routledge, intended to answer him. Here is Routledge's response:
This is a follow-up to Israel Shamir's friendly post in response to Frank Scott's negative comments about my unauthorized biography of Elie Wiesel, entitled Holocaust High Priest.

I would just like to add a few comments to what Shamir wrote. His statement that his friend, Piotr Rawicz, "knew Wiesel there," [Auschwitz] and the assurance he gives us that "Wiesel was there" [Auschwitz] are simply not true.

It is possible, however, that Wiesel and Rawicz could have met at some point, however briefly, after the war, when they had each established themselves in the mainstream media as Holocaust camp veterans within just a few years of each other.

Ravicz published his one and only novel Le Sang du ciel, a modernist work in the surrealist vein, in 1961, and received the Rivarol Prize (awarded to a writer born in a linguistic framework other than French) for it in 1962. Shamir also states erroneously that Rawicz received the highly-prestigious Goncourt Prize, which is not the case. Wiesel published La Nuit in 1958 and he also received the Rivarol Prize in 1963 for that work and several other short novels published in the early 1960s.

Each first novel was translated into English, Wiesel's as Night in 1960, with another one, by his wife in 2006, which is discussed in great detail in my book. Likewise, Rawicz's novel was translated as Blood from the Sky in 1964, with another, completely separate, translation in 2004.

Shamir states that Rawicz spent "four years at Auschwitz, as much as anybody," yet Rawicz and his commentators actually only make claims for him being there for two years, from 1942 to 1944, when he was transferred to Terezin.

Rawicz, both in his novel, and in his later life as a literary critic in France, was always very vague, even elusive, about his time spent in Auschwitz. To my knowledge, he never divulged his ID number, date of arrival, block assignment, or other personal information relating to his work duties other than to say he served as a translator while there.  In this regard, his friend, the British literary critic and author of the 2004 translation of his novel, Anthony Rudolf, has written of him: "Rawicz was the first to admit that his experience of Auschwitz was not the worst possible."

What does this mean?

Such reserve is very strange indeed for someone whose career benefited immensely from his aura as a "survivor." It also stands in opposition, by its prudence, to the outright mendacity and chutzpah of Wiesel who claimed in Night to have seen two massive flaming pits in close proximity to the main gate into which dump trucks were unloading living adults (Pit 1) and living children (Pit 2).  

Rawicz's "silence" about his claimed stay at Auschwitz was such that, before his suicide in 1982, he never described what his life was actually like there. Nor did he ever provide any eye-witness information about the alleged German policy of "extermination" there. 

Warren B. Routledge
Written on May 12, 2015 at 10:03 pm, by Carolyn
To listen to the program, go here
What does it take to light a fire under the guardians of the fixed "Holocaust" narrative and their major champion survivor, the "Holocaust High Priest" Elie Wiesel? If anything can do it, it will be Warren B. Routledge's just released, almost 500 page book titled, HOLOCAUST HIGH PRIEST: Elie Wiesel, Night, The Memory Cult, and The Rise of Revisionism.
In this book, Routledge shatters the myths surrounding Wiesel that are not allowed to be questioned in the mainstream media. Herein the familiar "Holocaust" narrative is protected as the crown jewel of the New World Order regime that was put in place after 1945 by the victors of World War II.
But among all the revelations that occur throughout the book – and there are many, many – none is more shattering to Elie Wiesel's image than the author's belief that he was NOT an eyewitness to the "Holocaust" at all. Wow! How to get that across to the American and world public?
There is an important Appendix at the end of the book which contains an essay by Italian revisionist Carlo Mattogno, translated into English as "Elie Wiesel – The "Symbol of the Shoah." Following that are the important documents and some photographs that show the reader WHY Elie Wiesel was NOT in the Auschwitz-Monowitz or Buchenwald camps. These documents can also be viewed here on Elie Wiesel Cons The World by clicking on "The Evidence" on the top menu bar.
Written on April 25, 2015 at 5:04 pm, by Carolyn
By Carolyn Yeager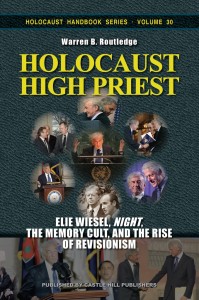 We finally have it and you can finally read it. Now only $29.95 at Amazon. enlarge image
There is no one more famously connected to "The Holocaust" than Elie Wiesel. No one whose association with "The Holocaust" does more to keep its believability alive in the minds of millions, even hundreds of millions, of people worldwide. When it comes to "The Holocaust," he's the man!
And now comes a lavishly illustrated, unauthorized biography by Warren B. Routledge,  who has been studying Wiesel the Myth and Wiesel the Man for many years. This one is not like those "conformist" (as Routledge calls them) bios that we're so sick of being presented with. This one tells all the truth that he is capable of gathering at this time.
But will you learn anything in this book you don't already know from reading the website you are now on for free? Yes! Because I have already learned things from just the first four chapters, mainly about the time that's been most shrouded from view – Wiesel's ten years in France between 1945 and 1955. In addition, the author Routledge, by using his critical thinking and deep knowledge of French culture, puts the puzzle pieces together in a way that adds greater understanding, even in areas where we don't have exact knowledge of Wiesel's actions or motives.
I'm naturally pleased to report that I am mentioned five times in the book – most especially encouraging was the author's reference to me in his Introduction on page 18:
With regard to Elie Wiesel, Carolyn Yeager's blog site, "Elie Wiesel Cons the World," has played an enormous role in recent years by bringing to light a great deal of valuable information about Wiesel. I hope that her work, and that of other revisionists, will continue to flourish.
Even though I have not yet completed the book, I didn't want to wait until I had carefully read it's entirety before announcing it here on Elie Wiesel Cons The World. (Don't want to be falling behind the pack!) I have poked ahead though, to find out whether Routledge might have concluded that Wiesel was not an inmate of either Auschwitz or Buchenwald, as I have gone out on a limb (in most people's view) and stated here on "Elie Wiesel Cons The World." While I know already that Routledge has presented a great deal of evidence that suggests Wiesel was not, in the end he is not willing to conclude as much. *see comment #2 below
He does, though, end with a short chapter titled "Conclusion: What Is Needed To Happen Now" in which his eighth and final point is that Elie Wiesel should allow the public to see whether he has a tattoo on one of his arms showing his Auschwitz registration number, OR provide a comprehensible (lol) explanation why not. In this, Warren B. Routledge is clearly in agreement with Carolyn Yeager and EWCTW.
Much to my delight, I will be interviewing Warren Routledge on The Heretics' Hour on Monday, May 11. I may get into the issue of Wiesel being a complete fraud vs only a partial fraud then. In any case, I'll be writing more about Wiesel here on this website based on the contents of this book. And may even be fortunate enough to have some follow-up programs with Mr. Routledge. So buy the book and start reading. You won't be disappointed, of that I'm sure. He's a very good writer, with a gift for organizing his vast knowledge of all things Wiesel in a way that's easy to follow, without leaving anything out. ~
Written on February 14, 2015 at 12:15 pm, by Carolyn
By Carolyn Yeager
Elie Wiesel is featured in a new full-page ad placed in The New York Times and the Washington Post that is headlined: Iran's Plan for the Jews, Ancient and Present.

The ad is was organized, produced and paid for by New Jersey Rabbi Shmuley Boteach's "This World: The Values Network.US, an organization of which Boteach is Executive Director. The theme, text, politics and intent of the ad are all so Jewish as to give the message: We don't need you ordinary non-Jews to attend this speech; we're only addressing the voting members of Congress and the Jewish community.
The ad uses the totally fictional biblical Book of Esther as the backdrop for the storybook approach to presenting Iran as a wicked nation and the world's greatest enemy of the Jews. The story goes that a  "wicked man" named Haman, a minister of the Persian King (whose biblical name is not mentioned in the ad since it is not historical) was discovered as having a plan to kill all the Jews in the kingdom. But a beautiful Jewish girl in the royal harem got word of it and told the King, who then discovered the plot to be true and hanged the wicked Haman and all of his accomplices. This has become the Feast of Purim celebrated every March 5 when "Jewish children in synagogues around the world will shout down the name of Haman when it is pronounced in the Book of Esther." After which each good little Jewish child receives a cookie in the shape of Haman, encouraging them to destroy Haman all over again by eating the cookie.
The moral of the story: As the brave Esther saved all her people then, the brave holocaust survivor Elie can do no less today. Netanyahu's speech on the day before Purim (scheduled for March 3) is presented as "an urgent message" on "the catastrophic danger of a nuclear Iran" that America needs to hear.
Though the ad is directed at President Obama, Vice President Biden and members of Congress, I think it is mainly directed to American Jews and  Christian Zionists because Jews are divided over Netanyahu's visit – divided between Republicans and Democrats, between conservatives and liberals. Abe Foxmann of the Anti-Defamation League (ADL) denounced a petition drive opposing Netanyahu's speech by the Democrat-leaning pro-Israel J Street as "inflammatory and repugnant." It's clear to me that Wiesel and Boteach both work for Israel – Wiesel since 1948. The prose of the ad is written in 4th – 6th grade level, which is the level of newspaper writing in general.
Text of the Ad:
Many centuries ago a wicked man in Persia advised: "There exists a nation scattered and dispersed among the others … it is not in our interest to tolerate them."

And the order went out to all the provinces "to annihilate, murder and destroy the Jews, young and old, children and women.

Now Iran, modern Persia, has produced a new enemy. The Ayatollah Khamenei has been as clear as his predecessor in declaring his goal: the "annihilation and destruction" of Israel. He is bent on acquiring the weapons needed to make good on the deadly promise.

The disaster of ages past was averted, but the event is remembered in the holiday of Purim. On March 5 Jewish children in synagogues around the world will shout down the name of Haman when it is pronounced in the Book of Esther. They understand a simple truth that at times eludes world leaders. [Oh brother, they just do what they're told without understanding a thing. -cy] When someone in power threatens your destruction, you must loudly condemn him.

On the day before Purim, the prime minister of Israel will address Congress on the catastrophic  danger of a nuclear Iran. I intend to be there. Should we not show our support for what might be the last clear warning before a terrible deal is struck? Santayana wrote that those who cannot remember history are condemned to repeat it. I believe that those who deny history – specifically the Holocaust – are determined to repeat it.

President Obama, Vice-President Biden, distinguished members of Congress, I ask you – as one who has seen the enemies of the Jewish people make good on threats to exterminate us, how can I remain silent? [No you have not seen that. You lie. This whole website devoted to you proves it. But you are unwilling to answer a single question. The first one is: Why won't you show us your Auschwitz tattoo? It's not because of "privacy." It can only be because you don't have one but claim to have one. Which makes you quite a reckless liar. -cy ]

As Queen Esther said when addressing her King: "How can I behold the destruction of my people?"

I plead with you to put aside the politics that have obscured the critical decisions to be made.  Surely it is within your power to find a solution that will permit Israel's Prime Minister to deliver his urgent message.

Will you join me in hearing the case for keeping weapons from those who preach death to Israel and America?

In traditional Jewish families we close the Sabbath with the lighting of the Havdalah candle and a quote from the Book of Esther retelling how danger was replaced by light and happiness, and the blessing: "And so may it be for us."
End of text
Written on December 28, 2014 at 10:53 am, by Carolyn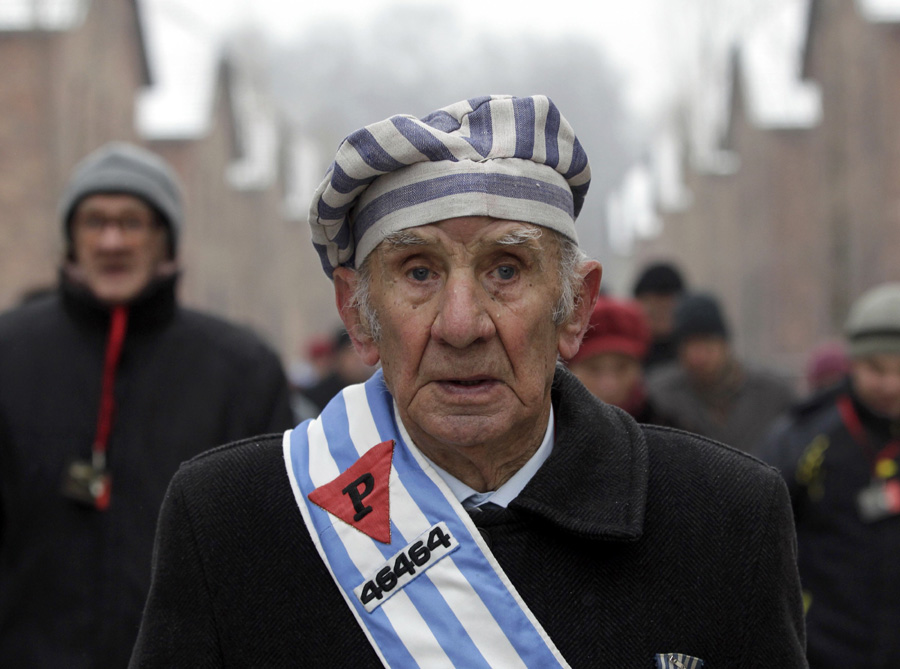 Have we had enough of this theater yet? Do "holocaust" images like this have any effect on our sympathies? This is a well-aged, healthy looking "survivor" at the 69th Anniversary of the Auschwitz liberation on Remembrance Day, Jan. 27, 2014
___________________________________________________________
By Carolyn Yeager
Wiesel: "I thought the memory of the Holocaust would shame those boasting anti-Semitic opinions. I was wrong." … Jan. 28, 2014
It becomes more clear all the time that the massive goodwill that Jews and "Israel" gained from the propaganda hoax they named "The Holocaust" has been depleted, due in large measure to Israel's uncivilized aggressive behavior against its neighbors in the Middle East.
But another major reason for the loss of goodwill is Israel's and world Jewish organizations' insatiable lust for ever more money and arms from Germany, the U.S. and all of Europe and North America. The Jews have played the phony guilt card for all it's worth, and for a long time now (70 years!) – and it is finally wearing out. When Jews tell us that grandchildren of "survivors" are carriers of their grandparents' "trauma," that becomes the straw that breaks the camel's back.
Both Elie Wiesel and Caroline Glick have made statements in 2014 referring to the "Holocaust" as a way – a vehicle – to do away with "antisemitism," i.e. dislike of Jews. They thought the combination of the horrific atrocity stories camp survivors were able to dream up, and the incredible number of 6 million, plus having the governments of America, Britain and the Soviet Union on their side would keep Germans and all European people making amends to them for a good long time – long enough, anyway, for Jewish billionaires to completely consolidate their ownership/control of everything of value in the Western world (just as it's told in The Protocols of the Learned Elders of Zion).
But as it turns out, European men and women are more resilient than that. And then Jews, in their chutzpah, make plenty of mistakes, too. The end result, as we enter the year 2015, is that Jews, rather than feeling victorious, are crying and gnashing their teeth over "the rise of antisemitism in Europe."
Is there a conspiracy going on?
Today, I went  looking for what I remembered as Elie complaining about antisemitism in the same way that Caroline Glick does. I quickly came upon it, and it was from January 28, 2014, the exact same day that Glick's blog post appeared! … the one I wrote about here.  Coincidence?
They are both saying the same thing, each in their own way, on the day after the "International Holocaust Remembrance Day" on Jan. 27, which was not such a big success. The major news story it conjured up was that the Israeli Knesset sent a large delegation that marched around on Auschwitz memorial grounds with giant blue and white flags, while having their picture taken. Elie Wiesel did not show up, which took away some of the news-worthy luster of the 2014 event.
It's interesting that Benjy Netanyahu was saying pretty much the same as Glick and Wiesel just recently:
"We saw today examples [...] of European prejudice. In Geneva, they are calling for an investigation against Israel for war crimes, while in Luxembourg the European court removed Hamas from the terrorist list. It looks like there are too many people in Europe, on the [same] ground where six million Jews were slaughtered, who haven't learned a thing. The friendship we see from the United States stands in complete contrast to what we are seeing regretfully in Europe."
Recall that Caroline Glick once worked as an assistant to Netanyahu. She and Elie Wiesel are both long-time Israeli assets, so do they coordinate their message?
What exactly did Wiesel say in this interview of eleven months ago?
"The Holocaust is a unique event, but it has a universal significance which must be memorized incessantly."

"Unfortunately, anti-Semitism still exists. It has been alive for more than 2,000 years, and will likely continue living. I thought that the memory of the Holocaust would shame those boasting anti-Semitic opinions. I was wrong. It still exists in different countries, and it seems people are no longer ashamed to be anti-Semitic."

"The modern anti-Semite is, first and foremost, anti-Israel. It's very difficult to separate between the two." (Anti-Israelism and antisemitism)

"There are anti-Semites who are only anti-Israel. Once I thought that anti-Semitism had ended; today it is clear to me that it will probably never end. It might weaken sometimes, but it will continue existing, because in different countries there is no shame in being an anti-Semite. We must remember that anti-Semitism led to Auschwitz. Without anti-Semitism there would have been no Auschwitz."

"It's clear to me that one can't be Jewish without Israel. Religious or non-religious, Zionist or non-Zionist, Ashkenazi or Sephardic — all these will not exist without Israel. The [Israeli] State's existence is the oxygen of the image and ideas of the new anti-Semitism."

"Recent attacks on Jews in the United States are expressions of anti-Semitism, yet we can't talk about an anti-Semitic movement but about groups of anti-Semites which operate in different places, and we don't know how many members they have. This reality must also concern us, because it could expand."
The difference between Wiesel and Glick is that he did not say the Jan. 27th International Holocaust Remembrance Day made antisemitism worse, not better, but he DID rather dismiss it by saying that in the United States it is only marked with an event held at the UN building.
He agrees with Glick that the real American commemoration is on Yom haShoah, the same day as for the State of Israel. According to Yoel Rappel, the Israeli whom Wiesel appointed to be the director of his archive at Boston University, it was Wiesel who proposed this day to the American Congress when he was chairman of the President's Commission on the Holocaust under President Carter. It has become a "fixed tradition" in the U.S., said Rappel. ~