Blog
Written on October 18, 2013 at 5:46 am, by Carolyn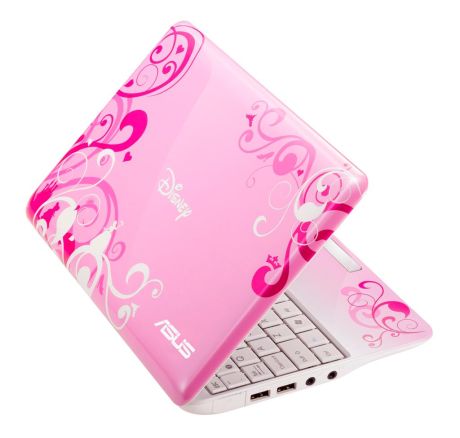 By Carolyn Yeager
In January 2011, I featured a Letter of the Week from Hailey S. In November the same year I featured two more, from Shelby and Sarah. Now I have received three more complaints about this site from (another?) Hailey, a Katie and a Lauren — right in a row.  Thank you ladies!
But it's an odd thing — the latest three were all sent from the same computer. And with an email address that ends in the same edu., which I won't reveal. I'm not even sure it's legitimate … that is, a real school.  Could these young ladies be friends conspiring together in writing their comments? Could they even be the same person using different names and slightly different email addresses?
The content and point of view is similar, but written in different ways. You will find that "belief" and "believing"  are the major basis for, well, believing the "holocaust." These comments are also similar to the earlier ones I published from Hailey S, Shelby and Sarah, although better written and thought-out. So I could reply to them all together, but since they are written to three different blog articles they appear on different pages. This is why I decided to reply to them here, under the title of "More Letters of the Week."
First, from Hailey, who sent her comment to "Elie's Adventures in Buchenland" on Oct. 14:
I find the trivialization of the Holocaust extremely disgusting. It maybe that some don't believe that Elie Wiesel was an actual part of the Holocaust, but that does not mean anyone has the right to make fun of or make light of a horrific historical event. An event that almost entirely wiped out an entire group of people. There is an amount of dignity that must be maintained when dealing with this horrific time in history.
I already replied to Hailey on that page, so I'll just say here that she's free to express her feelings but I hope she understands that that is all she's doing. Hailey has been indoctrinated into believing that "Holocaust survivors" are telling the truth about their "horrific" suffering and that "an entire group of people [by which she means Jewish people] were almost entirely wiped out." Honest research has shown otherwise, but Hailey prefers to ignore this research.
The second comment is from Katie, who sent her comment to "Elie Wiesel Was Not in Buchenwald Made Simple" on Oct. 16:
I think that there could be a logical explanation to explain the holes in Elie's story. I cannot bring myself to believe that someone would fictionalize a story on the holocaust and its terrible events. When someone under goes a traumatic event they will most likely not be able to remember every detail perfectly therefore he may have been confused on the dates and times. Elie has also grown older in age which also may make it difficult for him to remember. His book Night, is very detailed and descriptive which makes it difficult to believe that he could make those events up. This blog also states that Elie has not been asked to explain his discrepancies in his "tale". Could it possibly be because there is no solid proof to question his story? And if he wasn't actually a survivor than his book is still an incredible account of a Jewish person in the Holocaust and is still educational and provides people with an insight to the terrible things that happened.
Poor logic here. Katie says, "I cannot bring myself to believe …" — she is also putting her belief first. How many times can we repeat that reality is not about belief.  It's about facts and evidence. Belief belongs in religion — in this case the religion they have all been brought up in: Holocaustism.
Katie brings up belief a second time, saying in essence that after reading  Night, she finds it "difficult to believe that he could make those events up." But Wiesel is primarily a fiction writer and has made up lots of stories about Jews; in fact Night was for a long time listed and sold as fiction! Good fiction makes us believe it's real even when we know better.
As to the "logical explanation" Katie thinks could be found, she doesn't come up with one. Illogically, she says that Elie was traumatized and thus not able to remember well. But Elie has always said he waited for 10 years to write his book so that he would have a clearer mind about it. Her other "logical explanation" is: Elie is now elderly and has a poor memory, thus he gets mixed up on dates and times. But Elie wrote Night in 1955, and it is in this book that the problems exist — the book itself is inaccurate and inconsistent. Since that time he has continued to say different things — inconsistent things.
Katie's final remark falls back on what the bulk of "Holocaust" defenders come up with: Even if he wasn't a survivor, it's still an "incredible [fictional] account" providing an insight into the terrible things that happened. How does he know what happened if he wasn't there? He made it all up, taking the framework for what others had already said about it.  Stop defending this multi-millionaire shyster, Katie.
Third, is Lauren, who sent her comment to "Ken Waltzer inadvertently supplies proof that Elie Wiesel was not at Buchenwald" on Oct. 16:
I find this constant speculation about the validity of the Holocaust and its survivors extremely disturbing. The Holocaust was not a glamorous event, therefore, I find it hard to believe that someone would make up a story about being a victim of such tragedy. While I realize that many people would consider my opinion to be a 'too optimistic' view of human nature and morality, there is a lot of information to support the fact that Elie Wiesel was at the camp without the information that Mr. Waltzer is supposedly with-holding.
Once more, we find the belief mode: "I find it hard to believe that someone would make up a story…" Why? Hundreds of fake survivors have done so. What does it take for you to give up this childish belief in a religion of sadistically persecuted Jews?
You say it is not a glamorous event … but for ordinary "non-glamorous" Jews it is the ultimate stardom, and a very lucrative source of money too. Not only from the books they write, but also from the talks they give on the "speakers circuit" — and how they love all that respectful attention. They also love fooling so many Gentiles.
You say "there is a lot of information to support the fact that Elie Wiesel was at the camp …" No, there isn't! This entire web site is devoted to showing that the alleged "information" is false or simply does not exist. Yet you cling to your belief in the non-existent. That is religion, not history, Lauren.
You are also mis-stating the case when you say Mr. Waltzer is withholding information. He is withholding nothing, for he doesn't have the information he claims. Your Mr. Waltzer is another fraud who's been caught in his frivolous promises. I know it's tough for you to accept. But logic should tell you that if Waltzer had the information he would have put it out there already. He is embarrassing himself as a university professor by remaining silent and not publishing it. In failing to do so, he is proving my point  …  not yours.
Well, young ladies, thanks for your written words. They are a treasure. You are of course welcome to write again, but I caution you that I expect you to address my replies to you in some way. If you just write more of the same I probably won't publish it. I don't want to bore the readers. So step up to the plate!
Written on September 8, 2013 at 7:02 am, by Carolyn
By Carolyn Yeager

Above: Ken Waltzer's now notorious signature photo connecting him to his claim, for years, that Elie Wiesel was in this photograph of  youths from the Buchenwald children's barracks being marched out of the camp after so-called liberation.
We have further proof that Elie Wiesel was not at Buchenwald because Prof. Ken Waltzer is still unwilling to publish his book about the "rescue of children from Buchenwald," a book which has always included the "Nobel Laureate Elie Wiesel"among the children.
Since Waltzer is the only holocaust "historian" I know who is still on record as saying he can prove that Elie Wiesel was a prisoner at the Buchenwald concentration camp—and that his father Shlomo died there—I think that makes Waltzer a fitting subject for this website. And the 84-year old Wiesel himself is not doing anything that I can find news of these days, so I'm a little hard up for inspiration.
Thus I ask: What is Waltzer up to? Well, he has been heading a group of Michigan Jews in creating a traveling exhibition that is meant to remind Jews, and convince if necessary, of all the poisecution they experienced during the WWII years and to celebrate how extraordinarily well things have been going for Jews since (while, of course, still having to be on guard against new poisecution).
Thus, the exhibition is titled Uneasy Years: Michigan Jewry During Depression and War. Michigan Jewry! How many Jews are in Michigan? According to a Jewish website, in 2012 there were 82,270, which is 0.8% (8/10 of 1%) of the total Michigan population. But that is enough for Ken Waltzer and other Jews to build an entire traveling exhibition for.
Or could the reason really be that Waltzer,  as a professor at Michigan State University, must always show that he is active and contributing scholastically in his area of expertise. Since his book on the "rescue of children at Buchenwald" continues to be in a state of "research"—after all these years—he must find other projects to work on. 1 Last year he was consultant on a Jewish film project about holocaust survivors. This year he's got the traveling exhibition.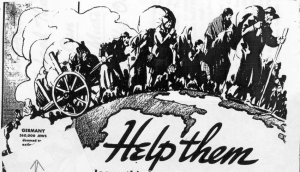 What is learned from the exhibition
The 21st Century Jews of Michigan are told that in past times they had to join together to help needy fellow Jews. The message is conveyed that they still need to do so because Jews are always in need, as "anti-Semitism" is always a threat—somewhere. Hasn't it always been so? Elie Wiesel would approve of this message! [Right: Theme image for the Allied Jewish Campaign, 1938]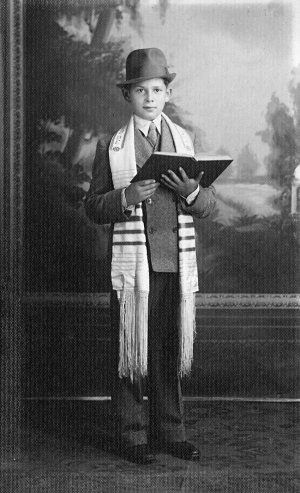 The main thing I notice about this exhibit is that it is totally, 100% about Jews and specifically Jewish concerns. The few non-Jews mentioned are enemies of the Jews. While it starts out saying that by the 1930′s Jews were increasingly comfortable with American ways, it shows nothing about Jews integrating socially with American gentiles and Christians, but only sticking closely with their own kind, their own organizations, their synagogues and businesses. Jews want to be accepted by the majority Gentile culture as "just like them," but they do not want to participate in the majority Gentile culture, except politically and financially. [Left: Bar Mitzveh Day for Harry Klein]
It tells us that Michigan Jews were terribly affected by the war in Europe—the spread of Nazism in Europe brought rising "anti-Semitism" in the U.S, and Michigan was not spared! Evil people like Catholic priest Father Charles Coughlin were openly "anti-Semitic" and 30 million non-Jewish Americans listened to his weekly radio broadcasts. [Shown at right speaking over WJR radio in the 1930s]  The exhibit particularly excoriates Father Coughlin simply because he warned about excessive power of the Jews. The exhibit shows that Life and Time magazines, and the powerful Detroit Free Press were all on the side of the Jews against Father Coughlin … so where was the problem? Are we dealing with a real threat or with some kind of Jewish agenda here?

At the same time, Jews like  Lauren Bacall [at left as a young woman at home - look at the nose on Mom! Was Lauren given a nose job?] and baseball player Hank Greenberg were given great, positive media attention.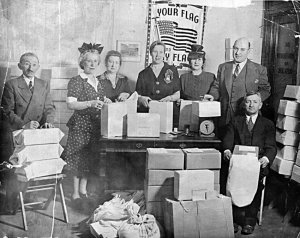 The exhibit tells how the Jews of Michigan supported the war. America's participation was a wonderful thing. Helping the European Jews was what we should all be doing. Jews like young Harriet Fields collected 381,000 pounds of household waste fat! The Federation of Polish Jews in Detroit [shown right, publicizing their war service] sent packages to the men and women of the Armed Services. The Jewish-owned Paramount Coffee Company of Lansing sent out New Year's Greeting flyers about the importance of helping one another (without mentioning the war at all, though). The Temple Beth El Bulletin encouraged people to buy war bonds!
Jewish organizations made sure they offered social and spiritual support for specifically Jewish soldiers. Beginning in 1942, Jews began protesting a "Nazi Holocaust" of European Jews in Detroit newspapers and in public meetings. The exhibit shows pictures of two whole Michigan Jews who had fallen … they are portrayed as heroes. And it doesn't leave out that America did not want to take in all of Europe's Jewish refugees who wanted to come here. It points out everything that the Jews did to help other Jews, and how they got non-Jews to help Jews too.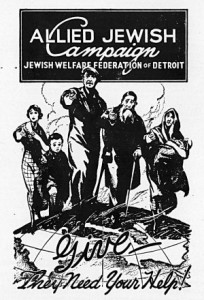 The Allied Jewish Campaign raised money to help Jews. Wow, what sacrifice! "Between 1932 and 1940, its theme shifted from taking care of the needy Jews in the United States to supporting rescue and survival of Jews abroad." It's fundraising goal rose from $165,000 to $925,000. Guess who they got most of the money from?
And, of course, "Michigan Jews, especially in Detroit, were active on behalf of building a Jewish homeland in Palestine." Finally, the stories of four Jewish children who came to the U.S as refugees and are such treasures. Then, MSU's Jeanette Abeles , Ken Waltzer and Michael Seadle tell stories, with pictures, of their Jewish family history, though none were connected with Michigan. Have we heard enough about Jews yet?
From whence the money comes
This traveling exhibition was made possible with financial support from Congregation Shaarey Zedek of East Lansing, Michigan State University Jewish Studies Program (that's Waltzer's domain), Michigan State University Museum, the Michigan Humanities Council, the Ben Teitle Foundation, the Michigan Council for Arts and Cultural Affairs and private donors.
For a fee of $800, plus shipping, the exhibition has been displayed at the following sites so far (according to the website): Northern Michigan University, Marquette, MI; Macomb Community College, Clinton Twp, MI; and Kalamazoo Valley Museum, Kalamazoo, MI.
This "anti-anti-Semitism" project extolling the virtues of Jews is what Ken Waltzer has kept himself busy with in 2013, instead of finishing his book on the children of Buchenwald. What will he come up with next? It's been clear for some time that the main guiding force for Waltzer is the promotion of Jewry, in whatever way best achieves that goal. Holocaustianity is certainly one way. Heading a Jewish Studies program at a university is another. Working in conjunction with the U.S. Holocaust Memorial Museum is another. And certainly, protecting and promoting the image of Elie Wiesel is also one.
It's possible, however, that he's run into a brick wall on Elie Wiesel.
Endnotes:
1. Waltzer admittedly relies on survivor testimony – the least dependable form of "evidence." In this 2011-2012 Q-A session linked to above, he says:
… my own book, Telling the Story: The Rescue of Children at Buchenwald, will be finished in about a year and will tell the story in much greater detail and more attention to complexity, drawing on information obtained from nearly 200 of those who were helped to survive at the Nazi camp. It will say more about who these boys were, what their experiences were both before Buchenwald and then inside Buchenwald, and where they went and what they did with their memory of experience after liberation. A second book, to be prepared thereafter, will be called Children's Stories, and will pull together many distinctive stories I've been told or have encountered while working on the collective story.
Note that Waltzer is "telling a story" that has been told to him by old men about what happened to them as children. Realize what "story" means to Jews – one is freed from all necessity of accurate fact.
Written on July 28, 2013 at 3:01 pm, by Carolyn
By Carolyn Yeager
Copyright 2013 Carolyn Yeager
(last edited on 7-30-13)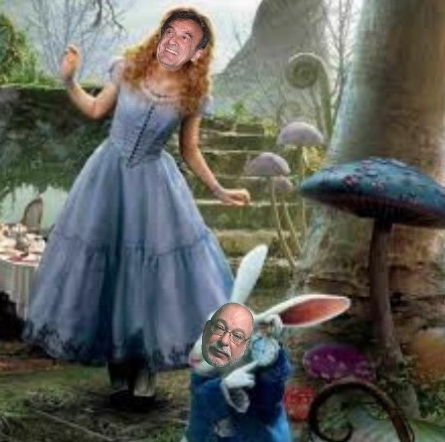 "How puzzling all these changes are! I'm never sure what I'm going to be, from one minute to another."
― Lewis Carroll, Alice's Adventures in Wonderland
Introduction: In Elie Wiesel's book Night, we find the scenario and characters changing often, and in many cases, with little rhyme or reason that is apparent to the reader. One easily concludes that, like Alice's Adventures in Wonderland, it is a work of absurdity.
In Lewis Carroll's classic, nothing makes sense because nothing has to make sense – the intention was to be a "childish" type of foolishness or make-believe from the start. It is an example of literary nonsense1 genre. Interestingly, we find similar examples of nonsense and absurdity in many of the stories and writings of self-proclaimed "holocaust survivors" – and we put Elie Wiesel into this category. This is why Alice's Adventures in Wonderland is such a good fit for a parody of Elie Wiesel's Night.
Cast of Characters:
Elie = Elie Wiesel
White Rabbit = Ken Waltzer
Father = no such person has been found

The King and Queen of Hearts = SS-Totenkopfverbände (SS-TV)
The Duchess = Hilda Wiesel
The Cheshire Cat = Carolyn Yeager
The March Hare = Antonin Kalina, Czech communist block leader
The (Mad) Hatter = Gustav Schiller, Polish Jew block leader
Elie is quite bored one warm afternoon at the Jewish orphan's mansion in France where he lives. This is not unusual for Elie, who has absolutely nothing to do all day but play chess or study the Talmud or other holy texts of which he is known to be almost fanatically fond. Today, though, no one was around the chess table that had been set up outdoors under a large tree, and Elie becomes a bit dreamy, maybe even sleepy. He is suddenly brought wide awake again when he sees a White Rabbit run by, looking at its pocket watch and muttering "Oh dear, oh dear, I'm going to be late!"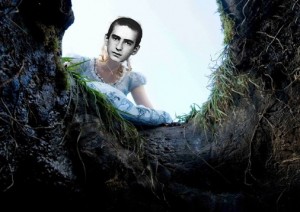 Elie, having never heard a rabbit speak to itself before, let alone have a pocket watch, impulsively runs after the comical creature right into a large rabbit hole. He feels himself slowly falling a long distance before he comes to solid ground. When he does, an unrecognizable landscape of trees, shrubs and creatures such as he has never seen before greets his blinking  eyes, and a feeling of being an innocent young girl in an enchanted garden comes over him.
Before he can wonder too much at this, he catches sight of the White Rabbit again and follows him until he is stopped by a barbed wire fence. Standing before it, just the thought of how he might squeeze through the wires to the other side as the rabbit did causes him to shrink to just the right size to step through. As he does—suddenly—he is in a closed railway car with many other people, Jews like himself.
Elie is so unhappy at this turn of events he begins to cry. He cries so much and so hard his tears flood the rail car, making all the others inside very angry, including his own late father whom now, however, seems to be very much alive. As the water made up of Elie's tears rises closer to the top of the boxcar, the door opens and the inhabitants swim out with the rushing flood.
Appearing for all the world like a catch of wet fish flapping on the platform, the unfortunates find themselves being questioned by a large Caterpillar-looking officer seated on a high stool smoking a hookah. But not one of them is able to answer the officer's questions as to the particulars of who they are.
"I'm afraid I can't explain myself, sir. Because I am not myself, you see?"
― Lewis Carroll, Alice in Wonderland
The Camp Buchenland

The hookah-smoking officer tires of their inability to name themselves and, pointing in a certain direction, tells them to march that way to a camp where they will get dry clothes. Once there, the group lines up in an open assembly area and is told they are in Buchenland, the kingdom of the Queen of Hearts who, in spite of her kindly-sounding name, gives orders that must be obeyed. Ordered to now go to the showers where they would also receive the promised new clothing, Elie and Father already fail to obey.
The entrance to the showers is crowded with pushing, shoving people. Father sits down on the ground outside, "I can't go on anymore; I'll wait here until we can go into the showers." As the two lose themselves in an argument over the subject of impending death, the electric lights go out and a loudspeaker commands that all must now be in their assigned barracks.
In haste, Elie follows a crowd into a nearby barracks, where, still unshowered, he falls to the floor and sinks into a dreamless sleep. It is only in the morning that he realizes he is alone; he must have lost his father in the rush to the barracks, and then forgotten about him! Going in search, he wanders about the camp for hours, unmolested by any officers or guards of the Kingdom. Happening upon a place where coffee is being distributed, he gets in line for a cup and magically hears the voice of his father calling to him.
From then on, for the next 7 days (as well as days can be counted in Buchenland), Elie keeps coming back to his father, looking after him in a rather haphazard fashion. Father is not well, not well at all, and Elie, "for a ration of bread," is able to secure a cot next to his father in the barracks.(2) But a few days later, Elie is sleeping on the upper bunk, above his father, because of his (Elie's) bandaged foot.(3)

The time comes that Father passes his last breath in his bunk during the middle of the night. According to Elie's reckoning, it is February 8th-9th, 1945. But elsewhere, Elie states his father died on the night of January 28-29, and again on the 18-19 of Shevat, 5705, which corresponds to February 1st.(4) Elie is both secretly relieved and personally devastated over the loss of Father and blames it on the cruelty of the officials of the Kingdom of Buchenland, calling it murder.
The Queen of Hearts learns about young Elie's defamations against her health care system, and at the same time the multiple death dates he asserts for his father, and proclaims with great indignation that this cannot be allowed in her Kingdom. The King agrees and they summon the culprit to their presence. After listening to Elie's disconnected narrative of how he came to be in Buchenland and how he lost his father, she loses patience with the constantly changing versions of his story and shouts "Off with his head!"
Elie is put on trial
Elie is taken to court to be tried for the offense of butchering his father's date of death. The King and Queen are seated on the high bench. Elie is formally charged with reckless endangerment of the facts of his father's death. To everyone's surprise, The Duchess arrives at the court, accompanied by her cat, and asks to testify for the accused. She is granted her request and takes the stand.
You know, [father and son] did a long march from Auschwitz, then they put them on the train to go to Buchen[land]; [Father] died gasping for air. When he stepped off the train, he died gasping for air; at Buchen[land]. But [Elie] knew the date. (5)
The Queen frowns; she is impatient of such testimony that adds even another version of the death in question—what can The Duchess be up to anyway? Then the Duchess' Cheshire Cat begins to speak, saying the entire court is out of order because the father of the defendant is not the same as the 44-year old man who actually died and is listed in the Buchenland death records; therefore the date that Elie's father died is irrelevant. Angered to hear it said that her court is out of order, the Queen shouts "Off with his head!" pointing to the Cheshire Cat. As the Queen's guards move toward the cat to seize him, he cleverly disappears his body, leaving only his head for the spectators to see. How then can his head be chopped off?
Realizing she has been outwitted by a cat, the Queen then turns to Elie and declares him "Guilty! Off with his head!" As Elie is being escorted to the place of execution, he and his guards meet up with the Cheshire Cat again, now sitting in a tree. The Cat advises them to go to the March Hare's house instead, warning, however, that the Hare is quite mad. "But then, everyone here is mad," the Cheshire Cat adds with a grin, before he disappears altogether, leaving only his grin still floating in the air.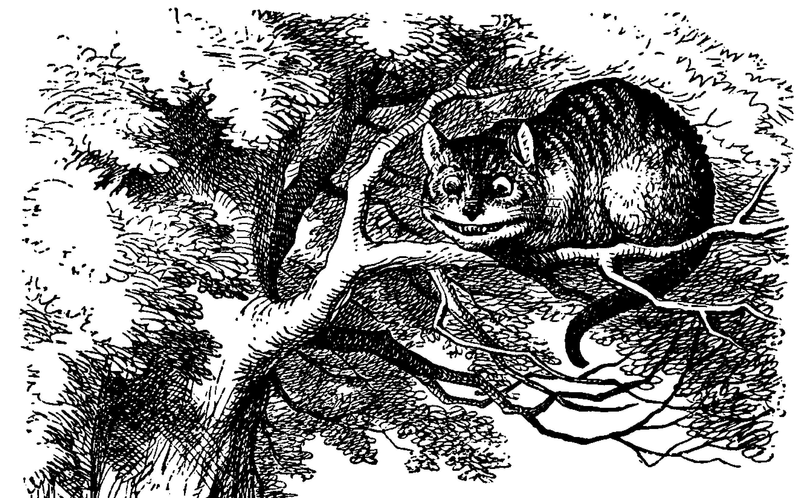 "Who in the world am I? Ah, that's the great puzzle."
― Lewis Carroll, Alice in Wonderland
The Hatter's Tea Party
The White Rabbit is again spotted running ahead as if leading them to the house of the March Hare, which turns out to be another barracks, this one called the "Children's Block." Inside, the Hare and his companion The Hatter (also mad—in fact "mad as a hatter") engage the children in a continual tea party intended to take their minds off the dreariness of their surroundings.
Elie, feeling grateful (for a change) to still have his head on his shoulders, takes a place at the tea table. He is hoping for something good to eat, as he has now lost interest in everything around him except food. But while the Hare and the Hatter provide nothing in the way of food themselves, Elie still finds the tea party routine—one of constantly changing seats, asking unanswerable riddles and reciting nonsensical poetry— much to his liking.
The Hatter has red hair, carries a big stick and likes to boss the children around in his Polish Yiddish. The March Hare is actually of Czech origin and is known to be at his most mad during the month of March, which it happens to be at this very time. Thus do the days pass in the children's block.

The overthrow of the Queen
However, when the month of April rolls round, the Queen of Hearts discovers that Elie has been hidden in the house of the March Hare and commands the whole place be evacuated. Every day, for several days, Elie is marched to the camp gate with the other children—rumor has it either to be taken away and disposed of or to be given bread and marmalade outside the gate—but every day he is stopped right before the gate and returned to the March Hare's house. No marmalade and no explanation given.
On the 11th, the enemies of the Queen from outside Buchenland arrive in such great numbers that all the King and Queen's guards are forced to flee, leaving Buchenland in the hands of the Mad Hatters and the March Hares. In their celebratory mood, on the third day of what they term the "liberation," they throw open the Queen's royal pantries and a real party begins. Elie greedily gorges himself on whatever comes first to hand, causing a poisonous shock to his system. He falls unconscious, is taken to a hospital and doesn't recover for two weeks.
Buchenland doesn't even notice Elie's absence. The new owners are busy taking photographs(6), writing publicity propaganda and giving tours of the place. Hunting down every last subject of the former Queen also occupies their attention. The non-descript intruder named Elie (not the only one so named!) is quickly forgotten.
But for this particular Elie, when he awoke again, it was like being reborn. The absurd world he had found himself in after following that White Rabbit down the rabbit hole existed no more; he was back at the mansion in France, unthreatened by any harm. It must have been a dream, he thought. But then, "I shall write about what I remember—now, before I forget. Even though it didn't really happen, perhaps it could have happened. And since it's there in my mind like a memory, that makes it real enough! Plus it's a jolly good story." So, going inside the mansion, he found paper and pencil and began writing of his amazing adventure in Buchenland, as he remembered it. And he called it Night.
"Why, sometimes I've believed as many as six impossible things before breakfast."
― Lewis Carroll,  Alice in Wonderland
Endnotes:
1.  Literary nonsense (or nonsense literature) is a broad categorization of literature that uses sensical and nonsensical elements to defy language conventions or logical reasoning.
Nonsense is distinct from fantasy, though there are sometimes resemblances between them. Everything follows logic within the rules of the fantasy world; the nonsense world, on the other hand, has no system of logic, although it may imply the existence of an inscrutable one, just beyond our grasp.
2.  "For a ration of bread I was able to exchange cots to be next to my father." Night, Marion Wiesel translation, 2006, p.108.
3.  "The sick stayed in their bunks [during roll call]. My father and I thus stayed inside. He — because of his dysentery and I — because of my bandaged foot. Father was lying in the lowest bunk and I — in the uppermost." Un di Velt hot geshvign, 1955, p.235.
The bandage refers to the foot operation the fictional Eliezer had before he left Monowitz on or about Jan. 15-16. Could he still be wearing the same bloody bandage he arrived with? Of course not—which means he received treatment that he doesn't want to tell about.
 There is no mention in Night that Wiesel's foot was still bandaged after 7 days in Buchenwald, and that he could be considered "not fit" for even the ordinary routine. After the march on foot to Gleiwitz, from Auschwitz, Elie never again refers to his foot in Night.
4.  http://www.eliewieseltattoo.com/night-1-and-night-2%E2%80%94what-changes-were-made-and-why-part-two/
5.  From Hilda Wiesel's testimony to the Shoah Foundation in 1995. According to the time line in Night, she is speaking of February 1, 1945. According to the official time line, it is Jan. 26, 1945. http://www.eliewieseltattoo.com/night-1-and-night-2%E2%80%94what-changes-were-made-and-why-part-two/
6. Including the Famous Buchenwald Liberation Photo, taken on April 16, 1945 in Barracks #56 while the fictional Eliezer was in the hospital recovering from his fictional food poisoning.
Written on June 29, 2013 at 11:35 am, by Carolyn
By Carolyn Yeager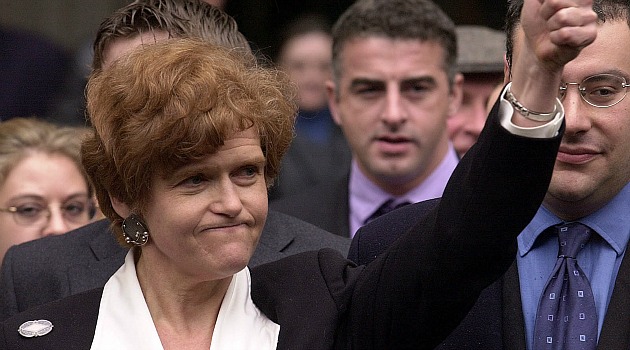 Deborah Lipstadt slammed leaders of the Claims Conference on June 26, 2013. (Getty Images)
Prof. Kenneth Waltzer used to be the man to go to when the press wanted to know what to think about any "holocaust" scandal. An example is the book, that was ready to be made into a movie, by Herman and Roma Rosenblat, Angel at the Fence.  Waltzer gained a lot from his role in debunking the story (even though it was easy to do),  receiving attention in the press as an "honest holocaust historian. "
Waltzer teaches German history at Michigan State University and is also director of its Jewish Studies Program since 1992 (with some time off).
When he was interviewed by Harper's magazine about the Rosenblat fraud in December 2008, it boosted his reputation and standing.  But for some time now, the only one getting the media attention is Deborah Lipstadt, professor of Jewish Studies at Emory University. I have not seen a word written, nor any kind of announcement from Waltzer about his main project for months.  He spent 2011-2012 as the Winegarden Visiting Professor at UM-Flint during which time he worked with students creating their own papers to add to the overabundance of holocaust lore & trivia already in existence. [An interesting sidelight is that his students were directed to use "testimonies and memoirs"  as primary sources, and "books and articles" as secondary sources. There is obviously no need for original documents  in Prof. Waltzer's classes.]
I have been scrutinizing Waltzer on the pages of Elie Wiesel Cons The World (EWCTW), not only for mistakes in his holocaust historical account,  but also for deception and cover-ups. Can it be that, from this, Ken Waltzer has come to be seen as more of a liability than an asset to other holocaust historians? I can only say it is possible, and Deborah Lipstadt is one who would make such a determination faster than many others.  Lipstadt is like a pitbull when it comes to fighting to keep her Jewish Holo Legend afloat; like a hound dog when it comes to sniffing out dangers to it.
Could it be that she has smelled a bad odor coming from Waltzer's repeated screw-ups as revealed right here at EWCTW, and perhaps has even had a private "scholar to scholar" meeting with him?
Imagined Scenario
"You're going on the sidelines, Kenny,  and I will take over. I don't want to hear a peep from you until I can assess things and come up with the way forward. Because of your stupid "Rescue of the Children of Buchenwald," Elie may now be damaged beyond repair … and even he is not more important than preserving the integrity of our sacred Holocaust narrative. If Elie Wiesel is not more important – then you, Ken Waltzer, are certainly not!"
Lipstadt's special relationship with the Claims Conference
In any event, Lipstadt has taken it upon herself to go after the Jewish Claims Conference officials who handed out hundreds of millions of dollars of German taxpayers' money to fake holo survivors for 8 years before they "discovered" in 2009 what they had been warned about  in 2001.
You can read about her reaction here. The failure on the part of the Claims Conference is certainly bad,  but my concern here is more with why Waltzer has nothing to say about it, or why news reporters are not seeking his remarks on Lipstadt's comments. Has Kenny been put in the dog house?
Lipstadt has come out slugging as the "honest holocaust historian" on a new "Jewish Facebook" page on June 26.  She is listed as a poster on this page, along with Rabbi David Wolpe.
She wrote dismissively of the Claims Conference, saying that "No one will resign. No one will admit that they screwed up… big time."  This informs us that in spite of her show of outrage, she considers it just a screw-up … not a crime! (Jews don't commit crimes.)
But still and all, she remains a "great fan" because of  the CC support of survivors and historians. Historians?
Lipstadt said the Claims Conference funded the translation of portions of her website, Holocaust Denial on Trial, into Arabic, Farsi, Russian, and Turkish. "I remain tremendously grateful to The Claims Conference for this and other important educational and humanitarian work it has done," Lipstadt said.
So the Claims Conference, that was instituted to provide a lifetime allowance for "holocaust survivors" who allegedly meet the requirements, also gives German taxpayer money to historians for their websites on which they promote a pro-holocaust narrative and belief. And attack those who are skeptical about it, as Lipstadt does on her "Holocaust Denial on Trial" website.
Is the Claims Conference to be a supporter of pro-holocaust propaganda, or is it to be the administrative arm for determining who is an eligible survivor? It seems to me that Deborah Lipstadt is as guilty of mishandling these funds as anyone! However, on the Claims Conference web site on the "What We Do" page we find:
We fund social services that assist elderly, needy Nazi victims, and allocate limited funds to support Holocaust education, documentation and research.
They have snuck those words into the third item of the four, after the part about funding social services for elderly, needy victims. If it's legitimate, why do they have to sneak it? Why not make it an item of it's own.
Lipstadt's relationship with Ken Waltzer
On Dec. 28, 2008, Deborah Lipstadt wrote this on her blog about Waltzer's work:
"Professor Ken Waltzer, who did the research that essentially confirmed that Herman Rosenblatt's memoir was fabricated, has issued the following statement. It is exceptional in its sensitivity and its focus on the real culprits in this entire messy saga.
    I have learned tonight that Penguin Berkley Press has pulled the memoir, Angel at the Fence, which I and others have been investigating, from publication. Herman Rosenblat has shared the news that he invented the false story with Harris Salomon, president of Atlantic Overseas Pictures, and Harris Salomon has told the publisher. Penguin Berkley Press will seek restitution.  [The second sentence is awkwardly written, something that is common in Waltzer's writing, showing he was not well educated before his admission to the graduate History program at Harvard. You decide for yourself how he got in. -cy]

I am saddened by the whole thing. First, Herman and Roma Rosenblat are of course to be faulted for making up a Holocaust love story and seeking fame and public attention, but their lying and dissimulating are actually understandable. Less understandable is the widespread belief in their story by the culture makers, including the publisher and movie maker and many thousands of others who have encountered it over a decade.

Second, such belief suggests a broad illiteracy about the Holocaust and about experience in the camps — despite decades of books, serious memoirs, museums, and movies. This shakes this historian up.

This memoir was at the far end of implausibility, yet until yesterday, no one connected with packaging, promoting, and disseminating it asked question about or investigated it. It is same with Elie Wiesel, exactly! Some actively resisted such investigation and tried to shut mine down. [Yes, indeed, investigation into Elie Wiesel's Night is just as necessary as into the Rosenblat story.-cy]

The idea of a prisoner autonomously going to the fence daily, every day, in a Nazi concentration camp and meeting a young girl at the guarded, electrified fence who was allegedly hiding under false identity with her family in the nearby village and who threw him food beggars the imagination. Prisoners in konzentrationslager could not approach guarded fences; persons in hiding with a primary family group would not risk detection by going daily to a camp where SS guards were concentrated. The actual fence in Schlieben was right next to the SS barracks.

So Herman and Roma overreached and actually demeaned their own Holocaust stories — Herman forgot his brothers who kept him alive in the camps, Roma forgot her own remarkable and sad family story hiding not in Schlieben but elsewhere more than 200 miles away.

But where were the culture makers on this one? What kind of questions did Penguin Berkley Press bring to bear regarding a memoir about a love story set in a concentration camp? What kind of strategy did Harris Salomon embrace to elevate a candy coated Holocaust love story to bring Holocaust education to Middle America? This was not Holocaust education but miseducation. Holocaust experience is not heartwarming, it is heart rending. All this shows something about the broad unwillingness in our culture to confront the difficult knowledge of the Holocaust. All the more important then to have real memoirs that tell of real experience in the camps. [But real memoirs are called Holocaust Denial by D. Lipstadt! -cy]

I want to thank those who have worked with me – particularly forensic genealogists Sharon Sergeant and Colleen Fitzpatrick, and amateur Schlieben historian Uwe Schwarz and his associate Jean-Luis Rey.  I also want to thank the many survivors, including Ben Helfgott and Sid Finkel, who put their trust in me and shared their knowledge. Gabe Sherman's reportage at the New Republic has been remarkable, and there will be more to say in the coming days. [See all the help he needs! LOL -cy]
Ken Waltzer
Director, Jewish Studies
Michigan State University
Finally,  a podcast produced by Lipstadt's denial website:
It carries no date, but would be from 2008-09, or early 2010 at the latest! The interviewer's name was Leshem.
Q. [Leshem]
Finally, finally, can you just tell us what the title of your forthcoming book is and when we might expect it?
 A. [Waltzer]
Well, I've got probably another year of writing to go. [At that time! So what happened? Give an explanation please. Where is the book?] The current title is The Rescue of Children and Youths at Buchenwald, and it tells the story of the communist-led underground in the camp who in '43 and '44 evolved a response to the rise of young children and youths inside Buchenwald. They tried to protect them; they tried to increase the likelihood or probability that they would endure until the end of the war. They did it in an ad-hoc (very specific) way because they didn't have control of the transports and they didn't know who, or what number, would be coming.   And initially they didn't save very many. Many were sent to the outlying camps and died doing harsh work. [How does he know?] But from summer of  '44 on, against the backdrop of the Allies coming closer from both East and West, which the underground knew about, the underground kept large numbers of boys inside the camp, kept them from being sent out to the outlying sub camps, sheltered them in barracks under underground control — a kind of tough love disciplined control — and gave them access to extra clothing and food, and even in a couple of cases in some barracks conducted schools that lifted their minds beyond the everyday nastiness of the camp. [This all comes from testimony - not under oath - of communists, jews, and communist Jews, not from records. Furthermore, it would not have been possible, and also was not necessary.]
And as a consequence, that helps answer the question how it is that there were 904 boys alive to be liberated  when Patton's army showed up. They had been nurtured, protected, and helped to be made safe by older men, including Communists from Germany, Czechoslovakia, and Hungary, and a Polish-Jewish element that worked with the underground to help save the boys. [You see how they have to credit themselves for the survival of youngsters because it doesn't fit their overall extermination narrative. Yet, the youth were looked after because the German camp administration saw to it that they were looked after. Following the "liberations," all the German personnel were killed or arrested or were forced to flee, thus the "victims" could tell any story they wished. If there were any honest ones, they were soon silenced. -cy]
Written on June 11, 2013 at 12:14 pm, by Carolyn
[Part 2 of "Is it time to call Ken Waltzer a fraud?"]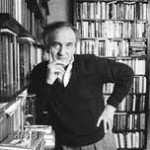 by Carolyn Yeager
copyright 2013 carolyn yeager   [last updated 6-16-2013]
"In literature, Rebbe, certain things are true though they didn't happen, while others are not, even if they did." -Elie Wiesel speaking of his book Night, from his Memoir: All Rivers Run to the Sea
For the skeptics and know-nothings who have written in suggesting Eli Wiesel was not in the camps, that Night is purely fiction, you are all dead wrong. The Red Cross International Tracing Service Archives documents for Lazar Wiesel and his father prove beyond any doubt that Lazar and his father arrived from Buna to Buchenwald January 26, 1945, that his father soon died a few days later. -Kenneth Waltzer in a comment at Scrapbookpages Blog, March 6, 2010.
The story that Michigan State University history professor Kenneth Waltzer has told us about Elie Wiesel in Buchenwald, based on Wiesel's book Night, is not true.1
Elie Wiesel was not incarcerated at Buchenwald.
He was not liberated from Buchenwald.
He was not a victim of the "Nazis" there.

How do we know that?
Well, how do we know that Elie Wiesel was at Buchenwald?
1.  We have a numerical file (registration) card for Lazar Wiesel from Sighet, born 1913.
2.  We have a questionaire (Fragebogen) made out for and signed by a Lázár Wiesel, a 16-year old Jew from Sighet.
3.  We have a transport list from Buchenwald to France with the name Lazar Wiesel, born Oct. 4, 1928.
4.  We see a picture of him in the famous photograph taken in Barracks #56 on April 16, 1945.
5.  We have a death report for Abraham Viezel on 2-2-1945, in Block 57.
6.  We have a transport list from Auschwitz to Buchenwald with the names Lazar Wiesel, #123565, born 4 September 1913 and Abram Viezel, #123488, born 10 October 1900.
7.  We have a photo of the "rescued children" marching out of the Buchenwald main gate on April 27, 1945.
8.  We have the book Night, in which he says he was.
*      *      *
The above list is ordered according to its perceived importance in proving Wiesel was at Buchenwald, so I'll start from the bottom (least important) in showing that they don't prove any such thing.
8.  The persuasiveness of the book Night has been dealt with in several other places, for example here and here, and is not considered evidence.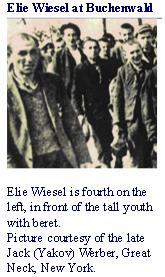 7.  Photo of Buchenwald Boys (scroll down a bit). The boy that Ken Waltzer has identified as Elie Wiesel (who was identified to him as such by Jack Werber of Great Neck, NY, a "holocaust survivor" activist) is clearly not Wiesel and has not been identified as Wiesel by anyone other than Ken Waltzer. Waltzer had this image/blurb at right on his MSU website for years [the site was removed sometime in 2012], making him look foolish. Will Waltzer admit that he was wrong all this time, or try to sweep it under the proverbial rug?
6.  The Transport List to Buchenwald only proves that Lazar Wiesel, age 31  (a locksmith by trade) and Abram Viesel,  age 44,  arrived at Buchenwald on January 26, 1945 from Auschwitz. See here and here. Lazar had been given the Buchenwald number 123565, while Abram had 123488. There is no honest way to turn these two into Eliezer Wiesel and his father. The birth dates and the names are wrong. It only proves that Elie Wiesel claimed for himself the Auschwitz prisoner number (A7713) of another man. Where is the tattoo on Elie's arm that reads A7713?
5.  The Death Report for Abraham Viezel, Buchenwald prisoner number 123488, same as on the transport list. His death is recorded as taking place in Block 57 on February 2, 1945, not Jan. 29, 1945 as is clearly stated in Night for Eliezer's father.2
4.   The Famous Liberation Photo taken at Buchenwald on April 16, 1945 is said to show Elie Wiesel among the men in the bunks. Beside the fact that the face pointed out as Elie's doesn't look like him (for reasons which have been made clear here and here) and that he did not identify himself in it until 1983 when the campaign to get him a Nobel Prize began, there is also his hospitalization which began on April 14th.3 He could not have been near death in a hospital and in the picture at the same time! Ken Waltzer took the liberty of changing the date of the photo-taking to April 12 or 13th to get around that inconvenient fact.4
3.  The Transport List to France. When did Elie Wiesel's birthday change to Oct. 4th from Sept. 30th? A majority of boys on this list share the birth year of 1928. The person listed as Lazar Wiesel is the same Lazar Wiesel that the Questionaire refers to, but we have determined that this person could not have been Elie Wiesel. It is true that Elie Wiesel went to France, but how he got there, and when, is not clear.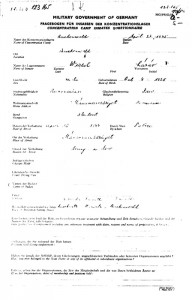 2.  The Questionaire (right – click on image to enlarge) was apparently prepared for and signed by every prisoner prior to their release. It is dated April 22, 1945; the prisoner number is 123165, different by one digit from our previous Lazar Wiesel #123565, and is the number belonging to a recently deceased inmate, Pavel Kun,5 whose death is recorded as March 8, 1945. It would seem from this that Lázár Wiesel is a newcomer who had been given a number that had just been released.
The name  Lázár is spelled with distinct, heavy accent marks; the birth date given is Oct. 4, 1928 (Elie's is Sept. 30); date of arrest is April 16, 1944 (Elie's family's deportation was at the end of May/early June – see here); the signature on the back does not match Elie Wiesel's known signature or handwriting.  The signature is also written with accents over the a's in Lázár, implying that the accenting originated with Lázár and not with the official person who filled out the form.6 For the back side, see here and scroll down.
But, beyond all this, on April 22 Elie Wiesel was in a hospital in or near Buchenwald camp "hanging between life and death" after coming down with severe food poisoning. He was taken to the hospital on April 14 and not released until April 28, according to his own words in his "autobiographical" Night and his 1995 memoir All Rivers Run to the Sea. Therefore, he could not have been interviewed or signed the document. (See Endnote 3)
1.  The Numerical File Card (below), made out at registration, is for Lazar Wiesel from Maromarossziget, born Sept. 4, 1913, making him at the time 31 years old. His Buchenwald prisoner number 123565 is written on the upper right. The card indicates his father, Szalamo Wiesel, was also at Buchenwald, while his mother, Serena Wiesel, nee Feig was currently interned at KL Auschwitz (at the time of Jan. 26, 1945).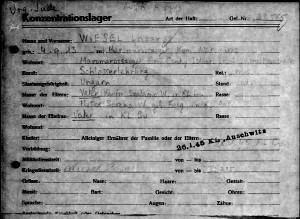 This registration card is the only item that casts some doubt7 over Nikolaus Grüner's account of Lazar and Abram. But it does not prove that this Lazar Wiesel is Elie Wiesel. It does not make any sense that all the birth dates for the same person would be different! It makes more sense that there were several persons with similar names.
Note that this card identifies Lazar Wiesel as a locksmith (Schlosserfehrling), something the 15-year-old Elie Wiesel never would have identified himself as. In Night he identified himself upon entry to Auschwitz as "a farmer" (p. 32, MW translation) and continued not to boast of any skill (of which he had none anyway)  so as not to be sent out for work.
*      *      *
So we end up realizing there is no evidence that Elie Wiesel ever set foot in Buchenwald in 1945. What's more, he and others (including Ken Waltzer) have actively and knowingly lied about photographs, dates, times, names, etc. This has gone on with the blessing and support of Yad Vashem Holocaust Memorial in Israel; the US Holocaust Memorial Museum in Washington DC; the New York Times Company, Associated Press,  and other establishment media; and the multitude of Jewish/Holocaust-promoting organizations across the globe. It is a giant criminal conspiracy when one really takes a look at it. The ramifications are immense.

Someone, preferably Elie Wiesel, needs to explain all the discrepancies in his tale. He has never offered to and never been asked to. If Wiesel won't attempt an explanation, then Ken Waltzer the Historian with the PhD from Harvard University must do so. In his scholarly studies, Waltzer includes Elie Wiesel as one of the "Rescued Children of Buchenwald. " One duty of a scholar is to answer serious and justified questions about their work. Elie Wiesel Cons The World is asking such questions and so we await an answer.
Update 6-15   Great idea from a reader:  Write to Prof. Ken Waltzer at waltzer@msu.edu and ask him politely to answer the questions raised in this article.
More to come …
Endnotes:
1.  Prof. Kenneth Waltzer has removed this article from the Internet, along with his entire website which the article had been a part of for several years, and says he has written a new separate article on Elie Wiesel in Buchenwald. 
The book is on track, and I have also completed a separate essay to be published on Elie Wiesel and Buchenwald. -Ken Waltzer to me, Carolyn Yeager,  in an email, March 2013
He obviously doesn't want comparisons made between his old and new article and is waiting as long as possible to make it public. Or is he still reworking it?
2.  "Then I had to go to sleep. I climbed into my bunk, above my father, who was still alive. The date was January 28, 1945. I woke up at dawn on January 29. On my father's cot there lay another sick person. They must have taken him away before daybreak and taken him to the crematorium." -Night, 2006 Marion Wiesel translation, p. 112
The Yiddish original, Un di Velt Hot Gesvign, says Father's death occurs on the 18-19 of Shevat:
For a couple of hours I stayed by him and looked at his face long and well […] Then they forced me to go lie down to sleep. I climbed up to the uppermost bunk and I did not know that in the morning, on awakening, I would find my father no more.

It was the eighteenth of Shevat, 5705.  

Nineteenth of Shevat.  Early in the morning.

 I got up and ran to my father.  Another sick man was lying in his place.

 I had a father no more. (p 238)
Readers might be surprised to learn that the Hebrew calendar date of 18-19 Shevat, 5705 corresponds to February 1-2, 1945.  This gives credence to the idea that Abram Viezel's death is the model for the story And The World Remained Silent. The date in the original story for Father's death and the date of Buchenwald records for Abram's death concur.  This  leads me to question Elie Wiesel's personal knowledge of events at Buchenwald because why would he change the date to Jan. 28-29 if he knew the significance of Feb. 1-2?
Also, the death took place in Block 57, the report said, which would seem to be be next door to Block 56 where the famous Buchenwald liberation photo is said to have been taken.
3.   "Three days after the liberation of Buchenwald, I became very ill: some form of food poisoning. I was transferred to a hospital and spent two weeks between life and death." -Night, 2006 Marion Wiesel translation, p. 118
Also in Un di Velt Hot Gesvign (the original Yiddish story from which Night was taken), p.244:
"Three days after liberation I became very ill; food-poisoning. They took me to the hospital and the doctors said that I was gone. For two weeks I lay in the hospital between life and death. My situation grew worse from day to day."
Another question that occurs is: Of all the photos taken in Buchenwald after liberation, why don't we find even a single one with Elie Wiesel in it? Knowing he wasn't there at all may be why he liked the food poisoning/hospitalization story – it can explain why he doesn't show up in any pictures. But it totally contradicts the "evidence" of the Questionaire and of his being in the famous barracks #56 photo.
4.  Waltzer wrote in his article:
"He [Elie] was too weak at liberation on April 11 to leave his barracks  (hence he was photographed in a famous picture in the barracks on April 12 or 13),  and he came to understand he was free only days later."
Waltzer trapped himself again. The officially declared date of the photo is April 16, which is well established. Waltzer is simply trying to evade with lies the serious problem of Wiesel going into the hospital 2 days before the photo was taken. This is NOT how a respectable, responsible historian does things.
In addition, Waltzer is saying that the photograph was taken in the children's barracks #66, which is utterly wrong. The official description says it was barracks #56, for men, or possibly a sick barracks. If Abram Viezel was in a sick barracks when he died (#57), then #56 might also be an "infirmary" barracks.
5. Pavel Kun is on the transport list of Jan. 26, 1945 from Auschwitz to Buchenwald. He appears under the section Politische Slowakan Juden; his birth date is July 6, 1926, making him 18 when he died.
6.  Revisionist Carlo Mattogno concluded, after studying these documents, that Lazar Wiesel, Lázár Wiesel and Elie Wiesel are not the same person.
In conclusion, we can say that Elie Wiesel can be neither Lazar Wiesel, nor Lázár Wiesel, nor Lazar Vizel and that the ID number A-7713 was not assigned to him but to Lazar Wiesel, while ID A-7712 was not assigned to his father but to Abram (or Abraham) Viesel (or Wiesel).

The charge of identity theft raised against Elie Wiesel by Miklos Grüner does not concern Lazar Wiesel only, but Lázár Wiesel as well: from the former, he took the Auschwitz ID number (A-7713), from the latter the stay at Buchenwald and the later transfer to Paris. -http://revblog.codoh.com/2010/03/elie-wiesel-new-documents/#more-837
7.  Szalamo seems likely a Hungarian spelling for  Shlomo. Serena Feig is close but not Elie's mother's name, which was Sarah Feig. According to this card, Lazar had a father in the camp, something that was not mentioned by Nikolaus Grüner. Ken Waltzer will say this proves that Lazar Wiesel is Elie Wiesel, but what about the very wrong birthdate? Why don't we have a card for Szalamo too? These cards are kept at Bad Arolson, not at the Buchenwald Memorial Museum Archive; only people with special permission (like Waltzer) have access to them.