Posted on December 23, 2011 at 4:59 pm
by Carolyn Yeager
copyright 2011 carolyn yeager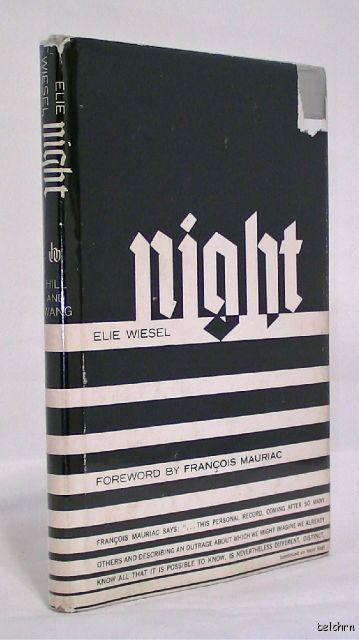 Why is Grandma Nisel not mentioned in Elie Wiesel's Night?
According to Hilda Wiesel's 1995 "Survivors of the Shoah" testimony, Grandmother Nisel (also spelled Nissel) went with the family to Auschwitz.
According to Elie Wiesel's 1995 memoir, All Rivers Run to the Sea1, Grandmother Nisel went with the family to Auschwitz.
But Grandma Nisel is not mentioned even once in Wiesel's 1958-60 supposedly autobiographical Night.2
Did Wiesel simply forget about his grandmother only 10 years after the event and then remember her again in the 1990's? Did he cut her out because he wanted to condense his book and she was peripheral to the storyline? Neither of these can be believed. In the first place, Wiesel makes it clear in All Rivers how important Grandma Nisel was to him and he writes affectionately about her. Secondly, by including his grandmother when he mentioned his mother and three sisters, he would not have added more than a few words to the deportation narrative, as we will see. Thirdly, Grandma Nisel, as a member of his family group that he says he lost at Auschwitz, could not with any decency be left out when writing about this momentous event.
And, in fact, he didn't leave her out of his memoir, nor did Hilda leave her out of her testimony. But Night is another story (pun intended).
There is no excuse or explanation that can be given for such a lapse, and none has ever been attempted. Not one of Wiesel's numerous interviewers, biographers, commentators or adulators have ever asked about it, or, if they did, they must have accepted without complaint a "no comment" from him. (I suspect that whenever Wiesel gives an interview or allows someone to write a book about him, he obtains an agreement in advance as to what can be discussed and what is off-limits. And I imagine probing questions about his family are off-limits … probably on the grounds that it is "too painful" for him. Wiesel is always treated with the softest of kid gloves.)
Who is Grandmother Nisel and why is she important?
Nisel Bash was the daughter of Moshe and Yehudit (or Mindil) Bash (or Basch). She was born in 1881 in Chust, Ruthenian-Czechoslovakia. She married Eliezer Vizel and lived with him in Sighet, Rumania … which later became Hungary. (This information is from the victim forms filled out for Yad Vashem by her nephew and grandson; see further below.) We don't know the date of her marriage, but her first child may have been born in 1900 when she was 19 years old. This first child of Nisel and Eliezer was probably a daughter, either Idiss or Giza. In 1903 their first son, named Shlomo, was born. After that came another son, Mendel; then two more daughters.
Below: YV forms for Shlomo Wiesel by Son Eli and cousin Yaakov Fishkovitz. (click on picture for larger image) Below that is the 1957 YV form for Mendel Wiesel by Yaakov Fishkovitz.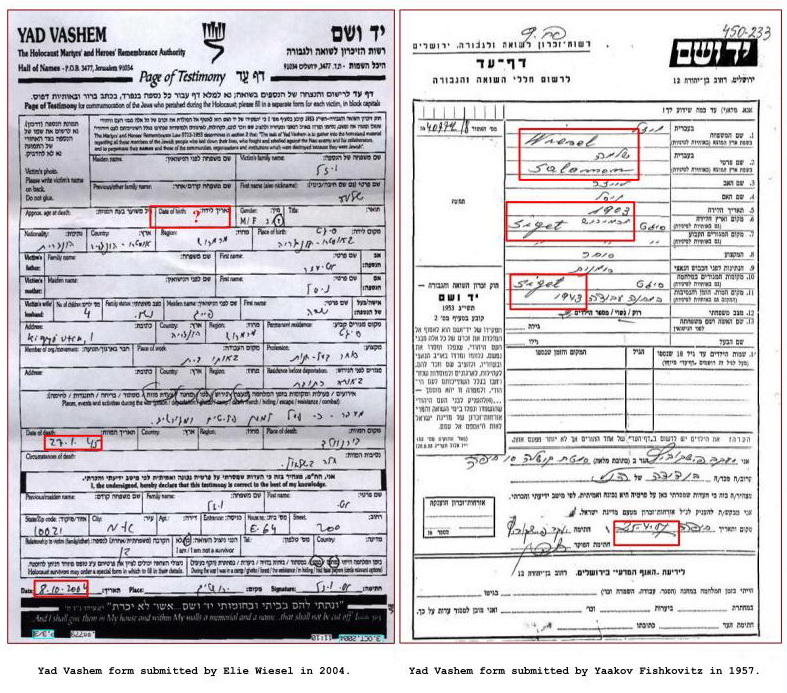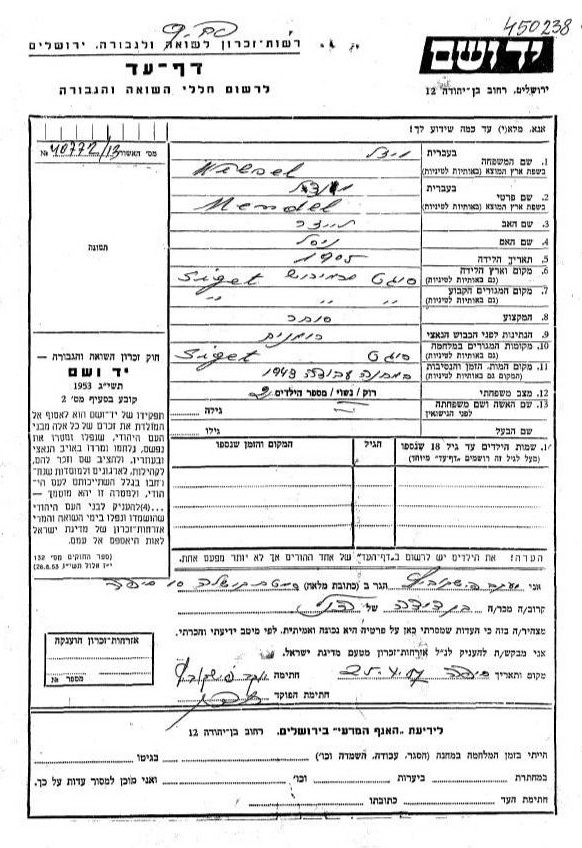 I have reconstructed the birth dates of Nisel's children as best I can since no reliable family genealogy has ever been made available. Sites like Rootsweb are completely useless for information about the Wiesel family. In All Rivers (p. 7), Elie Wiesel writes about his aunts:
"I also had two aunts in Czechoslovakia: Aunt Idiss in Slotvino and Aunt Giza in Ungvaer. Grandma Nissel's other two daughters lived in Sighet. Zlati, the youngest, was called an old maid behind her back. She married late, you see—at twenty-one."
The older of the two daughters who lived in Sighet is never named or described, yet she could not have died as a child since Wiesel speaks of her as living in Sighet when he was a boy. Did she disgrace the family in some way and so is not to be mentioned? Wiesel writes that Grandma Nisel sat at the cash register in his father's store, but also helped out at her son Mendel's store:
"Maybe (Grandma Nisel) was trying not to show favoritism toward any of her children. My father was the oldest, but she was just as close to my Uncle Mendel, who had a modest grocery store on the other side of town."
From this we can understand that Shlomo was the oldest of the two sons. Among Orthodox Hasidic Jews, males are in an entirely different category of importance and expectations than females, who are only required to find a good husband and have children. Mendel married Golda Feig, the sister of Sarah Feig, making for a tight-knit Wiesel-Feig family relationship.
Uncle Mendel Wiesel was born in 1905, according to cousin Yaakov (the only source we have) and died at the same time as Shlomo in 1943. He would have been only 38 years old! Yet in Night he appears in the story at the time of the deportation to Auschwitz—Elie Wiesel's family stays in his empty house in the small ghetto. On page 30:
"The people must have been driven out unexpectedly. I went to see the rooms where my uncle's family had lived. On the table there was a half-finished bowl of soup. There was a pie waiting to be put in the oven. Books were littered about on the floor. Perhaps my uncle had had dreams of taking them with him?"
Nisel lived in her own house that was close to her son Shlomo's home. Young Elie dropped in often to visit her and had quite a few stories to tell about that in All Rivers. Elie's namesake grandfather Eliezer had been killed in the First World War in his capacity as a stretcher-bearer. Nisel related to her grandson that when she was told of his death: "I learned what catastrophe meant, and I knew my mourning would never end." (All Rivers, p 8)
On page 9, Wiesel relates a story that when he returned to Sighet as an adult, he first went to the cemetery to find his grandfather's grave. He spoke to his grandfather's spirit about the deportation to Auschwitz thus: "Did you know, Grandpa, that Grandma Nisel was the only one in the family, almost the only one in the whole community, who guessed it all? She knew she would never come home. She left this wretched town in her funeral dress. Yes, she wore her shroud under her black dress. She alone was ready."
There are two other distinct mentions in All Rivers of his grandmother taking part in the deportation-to-Auschwitz process. On Page 70 he writes that on Tuesday, May 16, they were ordered out of their houses to be sent to the small ghetto. "There was another heat wave. My little sister was thirsty, and my grandmother too." Page 77, arriving at Auschwitz: "I stared intently, trying desperately not to lose sight of my mother, my little sister with her hair of gold and sun, my grandmother, my older sisters."
Yet in 20 pages in the book Night of detailed description of the pre-deportation events, the trip to Auschwitz and their arrival, there is no mention at all of a grandmother. Nowhere in the entire book is there a Grandma Nisel.
Other family members place Grandma Nisel at Auschwitz.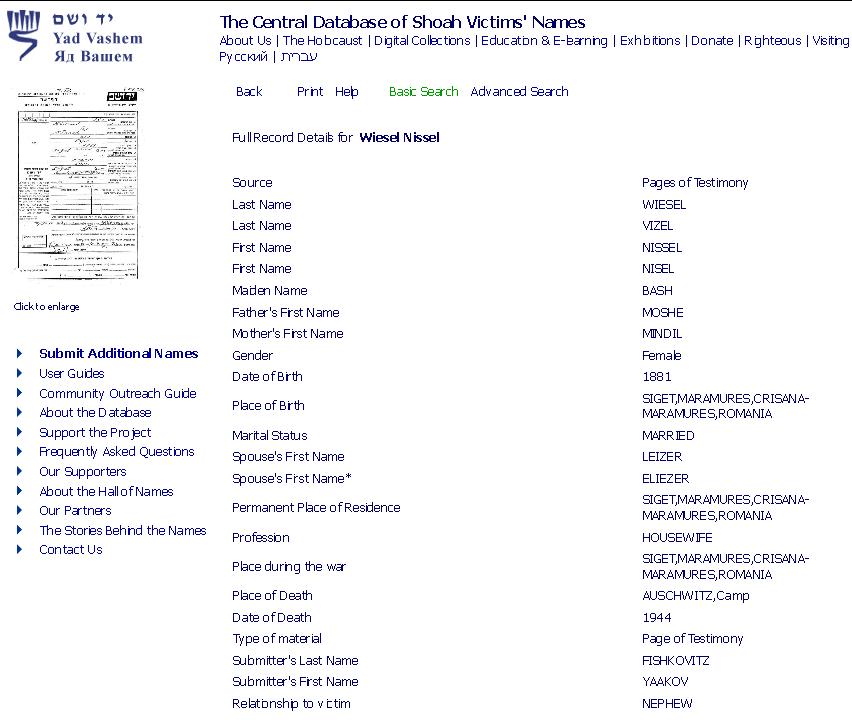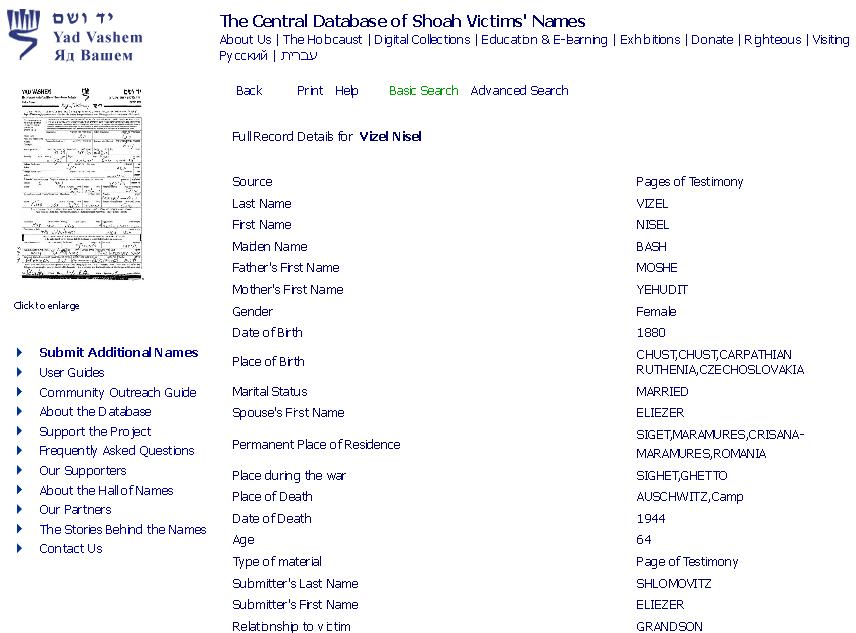 Her nephew Yaakov Fishkovitz in 1957 filled out a YV form (above top) stating she died at Auschwitz in 1944. Yaakov also filled out a form for his cousin Shlomo Wiesel. A grandson, Eliezer Shlomovitz of Los Angeles CA, filled out a Yad Vashem form for his grandmother Nisel Vizel too, many years later in 1994 or 1999 (hard to read), saying she died at Auschwitz in 1944 (above). But neither Elie nor his two surviving sisters acknowledged her death at Auschwitz in this way. Although Hilda said in her 1995 Shoah testimony: "… we were, myself and my sister, the one who was in Canada and is now deceased; my mother; my grandmother, that is my father's mother; and, oh . . . my little 10-year old sister."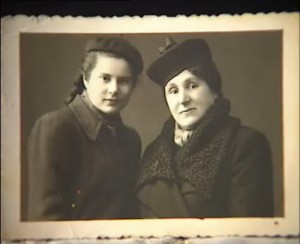 Hilda also said: "And my mother – died. She was 44 years old." She then repeated: "And my little sister – dead at age 10." These are assumed deaths. But if she is correct about her mother's age in 1944, then Sarah Feig was born in 1900. Could she have been 3 years older than her husband, born in 1903 according to his cousin Yaakov? Possibly, even considering what we know about Hasidic marriages, wherein the groom is usually no more than one year older, or the same age, as the bride.3 But Hilda, being the eldest, should know her mother's age. Right: Hilda, age 16, in 1938 with her mother Sarah Feig Wiesel, who would have been 38 in the picture if she were born in 1900.
The name Shlomo appears only once in Night at the end.
On the very first page of this famous novel it is written: "My father was a cultured, rather unsentimental man." Right here it would have been natural to write: My father, Shlomo Wiesel, was a cultured, rather unsentimental man. But no, and throughout the book this character continues to be known only as "my father," until page 103-4 when another prisoner, Meir Katz, addresses him by his first name. In the original edition it is spelled Chlomo; in the 2006 translation, the spelling is changed to Shlomo. The name of Wiesel also occurs only once, on page 51:
We had already been eight days at Auschwitz. It was during roll call. We were not expecting anything except the sound of the bell which would announce the end of roll call. I suddenly heard someone passing between the rows asking, "Which of you is Wiesel of Sighet?

The man looking for us was a bespectacled little fellow with a wrinkled, wizened face. My father answered him.

"I'm Wiesel of Sighet."

The little man looked at him for a long while, with his eyes narrowed.

"You don't recognize me—you don't recognize me. I'm a relative of yours. Stein. Have you forgotten me already? Stein! Stein of Antwerp. Reizel's husband. Your wife was Reizel's aunt. She often used to write to us … and such letters!"
Let's remember there were many Wiesel's (Vizel's) in Sighet, a town with a large Jewish population. For example, there are three Mendel Wiesel's from Sighet of around the same age in the Yad Vashem databank, and there are eight Shlomo Wiesel's recorded as succumbing in the camps. This doesn't include all the Wiesel's with other first names! So we can expect that the man Stein would have used the first name too, or Wiesel would have asked Stein which Wiesel he was looking for. This seems like another avoidance of using the name Shlomo, but it is strange that both the first and last name were used one time only.
On page 2, the sisters are named:
There were four of us children: Hilda, the eldest; then Bea; I was the third, and the only son; the baby of the family was Tzipora.
In the original Night (p 31), the family servant, a Christian from a nearby village, is named Martha. In All Rivers, she becomes Maria, and the name in the 2006 re-translation of Night is changed to Maria. Okay, it could have been an error.
The dust jacket on an original, hard-bound copy of Night reads: "The adolescent Elisha and his family, among hundreds of thousands of Jews […] are cruelly deported …" Elisha is not the name of the main character in the book; it is Eliezer. The first time that name is used is on page 86: "Let's hope that we shan't regret it, Eliezer." On page 92: "Don't let yourself be overcome by sleep, Eliezer." On page 96, Eliezer is addressed by his name twice by Juliek. On page 108: "Eliezer … my son … bring me … a drop of coffee…" Then, again, on pages 109, 110 and 112. Why is he called Elisha on the dust jacket? Elisha is the name of the main character in Wiesel's second novel, Dawn. A little mix-up there?
In Night, Father is 50 and little sister is seven.
In spring 1944, just arriving at Auschwitz, Eliezer's father declares that he is fifty years of age. Eliezer says he is "not quite 15." (p 40) In the new 2006 translation (p 30), Eliezer's age is changed to "15" but the father's "fifty" remains the same. "Not quite 15" doesn't equate to Elie Wiesel, whose birthday is Sept. 30, 1928, so that was an oversight in Night. Or it can also be seen as a similar situation as with Tzipora's age: Making the young victims even younger so they will appear more sympathetic to the reader, and making some adults older. Lying about their age is a tactic used by many "holocaust survivors" in their memoirs to explain how they escaped the "gas chamber." Arguably, this could have been done by Sarah Wiesel for Tzipora too—claiming her to be 14 instead of 10, since in the story Night, Eliezer made himself out to be 18 (3 years older that he really was) and got away with it.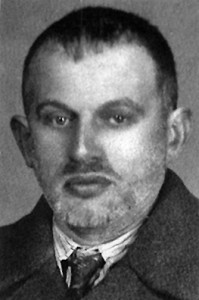 Why is the father in Night fifty? Shlomo Wiesel was certainly somewhere between 40 and 44 years of age in 1944. Actually, according to his cousin Yaakov, he wasn't even alive, having died in 1943! Moreover, Mendel died in 1943 also. One has to assume from this that they died together somehow. Yaakov filled out a form for Mendel at the same time as for Shlomo. The forms look exactly alike except for the different name and date of birth. Shlomo is shown to be born in 1903, Mendel in 1905. Keep in mind that in 1957 the book Night was not yet published in French or English and the name of Elie Wiesel was completely unknown, so Fishkowitz had no reason to lie to protect his relatives, as he might have had later.
Contrarily, on the Yad Vashem form Elie Wiesel filled out in 2004, no birth date is given for his father, nor the age at death. Did he not know? Is it possible for a son not to know his father's age?
This photograph (left) of Shlomo Wiesel was taken in 1942 according to Hilda Wiesel. At this time he would have been 39 years old.
Further, we have no information on these details for Wiesel's mother Sarah Feig either, and no family member (or anyone) ever filled out a YV Holocaust victim form for her or her youngest daughter who supposedly died with her at Auschwitz. (Can the reason be that they don't want to record an age/birth date for either one?) But, as I wrote above, Hilda Wiesel Kudler said in her Shoah testimony that her mother was 44 years old when she died, and her youngest sister was ten. Is Hilda a reliable witness?
On page 30 of Night, Eliezer says: "I looked at my little sister Tzipora, her fair hair well combed, a red coat over her arm, a little girl of seven." This is when the family was walking to the 'small ghetto' after being ordered out of their home in the spring of 1944, only a week or so before they arrived in Auschwitz. But Hilda said Tzipora was then ten years old. Which is correct? Or is neither? Some of my readers will tell me, "What does it matter?" Accuracy matters, because if a source is wrong in some things that can be determined as wrong, nothing from there should be depended upon.
Nowhere in All Rivers do we find Tzipora's age given by Wiesel, even though he mentions her many times. He only wants us to know that she was young or "a child." A ten-year-old girl is quite a bit more mature than a seven-year old. I venture to say she was given the age of seven in Night to make her appear more vulnerable, and her death even more of a barbaric crime. Also, if she were seven, there would be more reason to "exterminate" both mother and daughter, under the extermination thesis. But in truth, a 44-year-old-woman and her 10-year-old daughter could be quite useful in the labor force, and therefore could have gone on to meet some other fate. There may even be some private knowledge of that—which may be another reason no one has filled out a Yad Vashem Holocaust Victim report for these two, while two were filled out for 64- year-old Grandma Nisel.
That Shlomo Wiesel was 50 years old in 1944 can be ruled out by the fact that his mother was 64 years old in 1944, making her only 14 years older than a 50 year old. So this Father character cannot truly be the real Shlomo. The father is depicted as somewhat confused, a poor decision maker, and as having difficulty adjusting to camp life, both physically and psychologically. He appears more like a man of sixty. Eliezer is often shown to be his father's caretaker. "My father … was running at my side, out of breath, at the end of his strength, at his wit's end. I had no right to let myself die. What would he do without me? I was his only support." (Night, p 90)
A fifteen-year-old with a gold crown?
How many 15-year-olds do you know who have a crown on a tooth already? Thirty-one-year-olds may, the age Lazar Wiesel was in 1944. Or the following story could be totally fabricated. Wiesel writes in Night that when he was transferred to Monowitz (Buna), he was given a physical and a dental exam. The dentist wanted to remove his gold crown; Eliezer talked him out of it. One day his work foreman, named Franek, noticed the gold and told Eliezer he wanted it. Eliezer resisted, but eventually, after suffering a series of abuses, gave up his gold tooth to Franek. In this story, he is called out for his dental appointment by his number, "A-7713." (p 58) The number is used again on page 64 when the Kapo decides to give him a beating.
I felt the sweat run down my back.

"A-7713!"

I came forward.
Earlier, on page 51, the author wrote:
"The three "veterans," with needles in their hands, engraved a number on our left arms. I became A-7713."
Yet where is the number A-7713 on Elie Wiesel's left arm?
At Buna, he worked in an electrical warehouse alongside some Polish civilians and a few French women After his beating by the Kapo, one of the French girls came over to him, "wiped his blood-stained forehead with her cool hand," gave him a mournful smile and a bit of bread. Finally she spoke to him "in almost perfect German." Several years later he recognized her in the Paris Metro, and prodded her memory. They went to a terrace café and she revealed to him that she was Jewish, from a religious family, and during the occupation she obtained forged papers and passed herself off as an Aryan. She was enlisted in "forced labor groups" and deported to Germany. That's how she escaped the concentration camps.
These kinds of stories abound in Night and other holocaust-survivor books. No witnesses, no proofs, no names, just a bit of imagination. I will remind you again that the original Night was published in 1960 categorized as Judaica/Literature … in other words, fiction. When the new translation came out in 2006, it was changed to Autobiography/Jewish Interest. It is now an autobiography of Elie Wiesel, with his picture on the back cover and a special new Preface, written by him, which condemns the Germans and attempts to explain the changes he and his wife have made in the text.
Eliezer Wiesel is not necessarily Elie Wiesel
The author of the Yiddish book is Eliezer Wiesel. The author of Night is Elie Wiesel. There is only 2 years between the publication of Un di Velt Hot Gesvign in 1956 and the French La Nuit in 1958, but in that time the author's name had changed. When did Elie start being called 'Elie' rather than Eliezer or Liezer or Lazar or something else? According to some of his biographers, it was when he was still living at home with his family. As we know, there were many Eliezer Wiesel's (Vizel's) in Sighet, let alone in Hungary, at the time. Un di Velt Hot Gesvign, however, was written in Polish Yiddish, or at least it was published in that language. The final version of the book of 245 pages was edited by Mark Turkov who specialized in Polish Yiddish. Where the story came from, we really don't know. That's the bottom line. We have the preposterous story told by Elie Wiesel of writing it in a ship's cabin on his way to Brazil at a time that he was involved in a serious love affair and embarking on an important assignment for his newspaper. Equally preposterous is his claim to have handed an 862-page manuscript over to the stranger Turkov during a chance meeting on the ship, docked at Sao Paulo, without a copy for himself or a contract or any guarantee of return – just 'good faith.' Being an experienced journalist at that time, he would certainly have known better. Worse than that, he says he didn't even believe when he gave it to him that Turkov would publish it. (All Rivers, p 240-41)
We make a leap of faith to believe that Eliezer Wiesel has to be Elie Wiesel. It should also be pointed out that these survivor stories were all the rage within the Yiddish-speaking communities at the time. There were many of them in circulation, even before they were published. Elie Wiesel had cousins in Argentina whom he visited while he was there in April-May 1954; he mentioned them in All Rivers.4 It's very likely that he was introduced to these survivor stories, and Mark Turkov's publishing house, through these relatives and their circle. Was he attracted to a particular story by an author with his own name, Eliezer Wiesel?
More unlikely stories
Wiesel tells us another unlikely story in All Rivers (p 277) that in Dec. 1955, back in Paris, he received a copy of the published book, edited down to 245 pages, in the mail from Turkov. There are no witnesses to this. He only mentions telling one close friend, Israel Adler, who took him out for a coffee by way of celebration.(!) Shortly after that he moved to the United States. It appears from his writings that Wiesel forgot all about the manuscript he gave to Turkov until the book came to him in the mail, but he does add on that page that "they never did send back the manuscript"—to give himself a reason for not having it and not being able to say what was actually in it.
In contradiction to this story is the one wherein Francois Mauriac, whom Wiesel first meets in Spring 1955, encourages him to write about his concentration camp experiences. He doesn't tell Mauriac he has already done so, but acts like he will think about it, later accepting the guilt-ridden, elderly Catholic's help in getting the book published. Wiesel writes in All Rivers, p 319, that he sent a manuscript of what became La Nuit (Night) to Mauriac one year later, in 1956.
In 1957, during my convalescence, I received good news from Francois Mauriac: Jerome Lindon of Editions de Minuit was going to publish La Nuit (Night). The letter of confirmation opened a new chapter in the book of commentaries that is my life.

Lindon didn't like the orginal title: "And the World Remained Silent." He preferred a biblical phrase, perhaps something from the Book of Jeremiah. But after discussing various suggestions, we settled on La Nuit. Lindon also wanted me to tighten the text, given to him by Mauriac, though I had already pruned and abridged it considerably.
The text was given to the French publisher by Mauriac. In the following lines he says that he, Elie, was the one who made the drastic cuts in the original manuscript. When?!
He proposed new cuts throughout, leading to significant differences in length among the successive versions. I had cut down the original manuscript from 862 pages to the 245 of the published Yiddish edition. Lindon edited La Nuit down to 178.
What a tissue of lies. Never before had Wiesel written about the Yiddish book, but now, in 1995, he relates that it was he who cut the 862 pages to 245. Such a prodigious task would certainly not have gone unremarked upon by him! And now it is the publisher Lindon who did the final editing to 178 pages. One wonders just what part Elie Wiesel played in this group effort?
Wiesel continues with an unconvincing "explanation" of why the book's original ending was cut out, something that was made controversial by a certain Jewish scholar. He then says, "By the time Night was published in France, I was at work on another book." This rendition of how such an important book came about is so sloppy and insulting to the intelligence of his readers that it speaks for itself.
Both the USHMM and Wikipedia have the dates wrong.
At the United States Holocaust Memorial Museum Elie Wiesel Timeline: From 1952, it says Wiesel interviewed Mauriac in 1954 (it was 1955) and that Wiesel finished his "900-page Yiddish manuscript" in Brazil in 1955 (it was 1954). I believe it is backwards on purpose, in order to fit Wiesel's lies. But this is typical of the scholarship carried out at this totally Jewish-run, but partially government-funded museum. It reads:
1954
During an interview with the distinguished French writer, Francois Mauriac, Elie is persuaded to write about his experiences in the death camps.
1955
Elie Wiesel finishes a nearly 900-page manuscript in Yiddish while on assignment in Brazil. And the World Stayed Silent is published in Buenos Aires, Argentina.
1963
Elie Wiesel becomes an American citizen.
Wikipedia skips over the dates, doesn't give any dates for the writing of the books because they don't fit, but says that Wiesel moved to NYC in 1955.
"In 1955, Wiesel moved to New York City, having become a US citizen: due to injuries suffered in a traffic accident, he was forced to stay in New York past his visa's expiration and was offered citizenship to resolve his status."
Others say he moved to NYC in 1956. Since he was still in Paris in Dec.'55, one assumes he didn't leave for the U.S. until Jan. '56. Wiesel nowhere gives a date, which is the reason for the confusion — his biographers have to guess. But, while he received a U.S. "green card" sometime after recovering from his accident, he did not become a citizen until 1963. Wikipedia is known to change its information on Wiesel without notice. For example, it now spells his father's name Chlomo, whereas previously it was Shlomo.
Why did Wiesel start campaigning for the Nobel Prize the same year Mark Turkov died?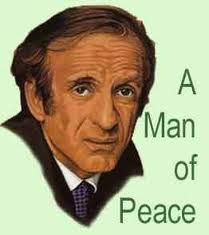 Mark Turkov, the publisher of Un di Velt Hot Gesvign (And The World Remained Silent), died in 1983, the same year Wiesel's supporters began their campaign to get him a Nobel Prize. It is a fact that Wiesel never spoke about the Yiddish book that was the precursor to Night until after Mark Turkov's death. As I wrote in "The Shadowy Origins of Night, Part III," this was the time Wiesel first began to speak of being the author of the Yiddish book, which he obliquely referred to in his Nobel Prize acceptance speech in 1986, when he said "the world did know and remained silent."
Another reason for bringing the previously ignored Yiddish book into the light is that Buchenwald survivor Myklos Grüner began, in 1987, to claim that a different Eliezer Wiesel was the author of Un di Velt Hot Gesvign, thus making it necessary for the first time for Elie to explain just how it got written … by him. That he botched the explanation so badly in his memoir is no surprise to those who have studied the man. From the article mentioned above:
Grüner writes in his book Stolen Identity (p 50), "My work of research to find Lazar Wiesel born on the 4th of September 1913 started first in 1987, to establish contact with the Archives of Buchenwald." He was also writing to politicians and newspapers in Sweden. This could not have failed to attract the notice of Elie Wiesel and his well-developed public relations network. Grüner tracked down Un di Velt Hot Gesvign as the original book from which Night was taken, and believed it was written by his friend Lazar Wiesel and stolen somehow by Elie. (p 43)
This could account for why Elie Wiesel suddenly began to speak and write about 'his' Yiddish book, published in Buenos Aires, Argentina in 1956. He deals with it in his memoir All Rivers, published in 1995, after Turkov and everyone else associated with it are dead. No witnesses.
Is it too far-fetched to believe that Turkov agreed to remain silent about the real author of Un di Velt Hot Gesvign, either by being bought off, threatened, or even voluntarily? And once Turkov was safely dead, Wiesel and his supporters could breathe more easily about claiming his authorship of the book.
It is a strange fact that the title Un di Velt Hot Gesvign (or, in English, And the World Remained Silent) does not appear on the long list of "books by Elie Wiesel" at the beginning of his memoir All Rivers, nor in the original or in the new 2006 translation of Night. It also does not appear in the complete list of his books at The Elie Wiesel Foundation for Humanity. It is, however, at the beginning of the list of his books on Wikipedia. Clearly, there is uncertainty about this book, perhaps a desire by publishers not to put down in writing something that could bring them a lawsuit … or perhaps a wish by Wiesel not to stimulate questions about that book.
Conclusions
1. The characters in Night are only loosely based on Elie Wiesel and his family. Therefore it can't be called an autobiography.
2. Elie Wiesel is the author of Night, written in French with the assistance of his editor and probably Francois Mauriac, but he is probably not the author of Un di Velt Hot Gesvign.
3. Elie Wiesel made arrangement while in Brazil/Argentina for Mark Turkov to mail him the book by Eliezer Wiesel as soon as there was a hard copy, or his relatives mailed it to him. (Elie received a copy in Dec. 1955, according to himself, but the book was not available to the public until 1956.)
4. In the winter and spring of 1956, in the United States, Elie adapted the book to a shorter version in French, which he mailed to Francois Mauriac in Paris. He inserted the names of his family members and personalized it, especially in the beginning chapters.
5. The secrecy of the birth and death dates among Wiesel's close relatives is to keep from contradicting what is written in Night, on which his fame and fortune truly rests. Without Night, Wiesel fades into just another Jewish-Zionist writer.
6. Elie Wiesel's failure to correct and clarify details of his family history (especially birth and death dates of his parents, sisters and other close relatives), and of the writing and publication of Un di Velt and La Nuit, mirrors his refusal to show the number A-7713 that he says is tattooed on his left arm.
7. The essential purpose for securing a Nobel Prize for Wiesel, in literature or peace, was to solidify his reputation in light of the fragility of Night as the basis of that reputation. Nobel prize recipients are a protected species by the entire "global elite," not just the Jews. Having himself falsely identified in the Buchenwald Liberation photo served the same purpose.
My challenge: I welcome any native Polish Yiddish speaker/reader who is also fluent in English to prove me wrong about what I have written above by providing an honest, accurate translation of Un di Velt Hot Gesvign into English so it can be compared with Night. Why hasn't this already been done? It's natural to be suspicious of what is kept hidden. Let's put everything on the table so that the questions I have raised can be cleared up.
Endnotes:
1. Elie Wiesel, Memoirs: All Rivers Run to the Sea, Alfred A. Knopf, New York, 1995. 418 pp.
2. Elie Wiesel, Night, Hill and Wang, New York, 1960. 116 pp. (Original edition)
3. "One day my father saw a beautiful young girl in a carriage and was so struck by her that he ran after her, calling out, 'Who are you?' Of course, she did not deign to reply, but that evening the driver gave him the answer. The girl was the younger daughter of Reb Dodye Feig, of the village of Bichkev. The following year they were married, and they had four children, three girls and a boy." (All Rivers, p 15)
4. "In Buenos Aires my cousins Voicsi and her husband Moishe-Hersh Genuth came to meet us. I gave them some articles for Yedioth Ahronoth, unaware they would be reprinted or quoted in the American Jewish press." (All Rivers, p 241)