Posted on October 25, 2011 at 10:11 pm
By Carolyn Yeager
…instead of the world's most famous Holocaust survivor?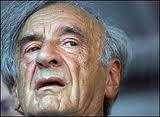 Just one year ago, Elie Wiesel gave a speech in Connecticut, while a jury was in session just miles away, calling for the death penalty to NOT be given to two men who had committed an appalling crime against a family of four. Wrapping himself in self-righteousness, he intoned "Death is not the answer" to the man, William Petit, who had lost his wife and two beautiful young daughters to a couple of amoral monsters, and to Petit's supporters.
The crime committed was so brutal and horrible, and senseless too,  that for this writer the death penalty is too good for these perpetrators. You can read about it here and here.
Did Elie Wiesel have the right to barge into this family's tragedy as some sort of "spiritual advisor",  for which he was not asked? Of course not. Did he have any right to bring his "holocaust experience" into their personal grief as some kind of Jewish lesson in humanity? No,  and it's in the worst of taste but he is used to flaunting his imaginary suffering to audiences who have been indoctrinated and conditioned to respond like Pavlov's dogs to his trite phrases.
The murderers of this family should not be given the death penalty, says Elie Wiesel.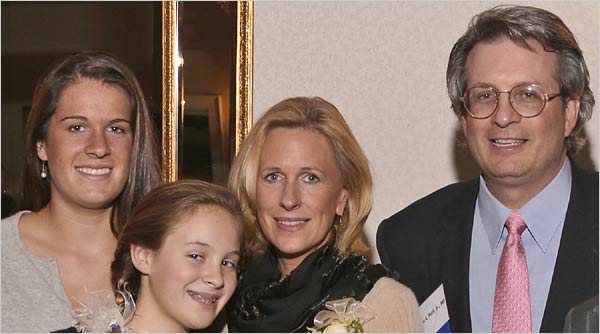 Left, Haley, 17 and Michaela, 11 with their 48 year-old mother Jennifer Petit–all torture-murdered. Sole survivor William Petit on right.
Wiesel tells them, "I know your pain … believe me, I know." Does he? He is oblivious to this man's pain when he tells him he should not desire the death penalty for those who committed such savage acts upon his loved ones.  We know exactly what happened to these three women with horrifying exactitude. We do NOT know what happened to Wiesel's mother, father and sister. With the Petits we have the bodies, and the manner of death and the culprits are forensically determined; not so with Wiesel's family and so many others–no bodies and no forensic evidence at all. Their deaths, especially in the manner assumed, remain conjecture.
It seems Wiesel wants to prevent Gentiles from getting  justice for evil done to them, while justice for Jews has always required full punishment … an eye for an eye. He recently called for bringing Mamoud Ahmadinejad to trial as a war criminal at the Hague simply because he has said he doesn't believe in the mythical Holocaust. Wiesel wants to make holocaust denial a crime in the U.S. and put "deniers" in prison. Yet he also wants these child rapists and souless murderers to remain in prison for life, being fed, clothed and given health care, side by side with holocaust deniers!
Is Elie Wiesel an evil force in the world or just a fool?
Iran has the death penalty. We need the death penalty to deter human trash like these two murderers. Wiesel's campaign to abolish the death penalty in the U.S. is part of the attempt to further destroy our society and beautiful, gifted white people.
"Death is not the answer" for men who tie girls to their beds, rape them, douse them with gasoline and set them on fire, says Elie Wiesel.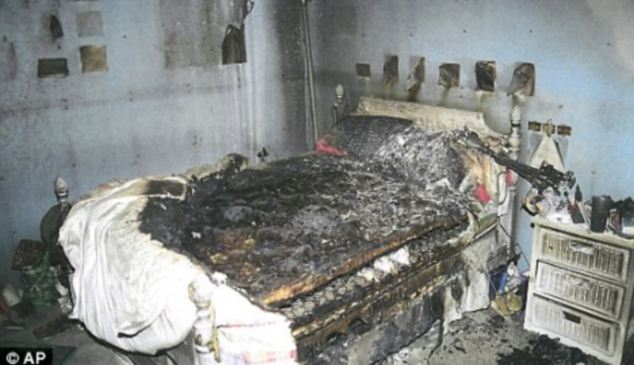 Haley's bed on which she was tied to be burned to death. The same was done to her younger sister.
What we know happened in Cheshire, Connecticut has no relation to what happened to Elie Wiesel's family in 1944 in Hungary and Poland. I believe it is the fire–the torching of the live bodies and of the house itself–that drew Wiesel's attention to this case. The religio/historical accounts written by Jews, such as in the Talmud, are suffused with stories of being burned (destroyed) by fire. Elie Wiesel himself coined the term "holocaust" to describe the expulsion, deportation and incarceration (not incineration) of Jews in concentration camps that took place in 1942-45. Even though many deaths did occur, none were by fire or burning. However, Jewish mythology demands fiery deaths.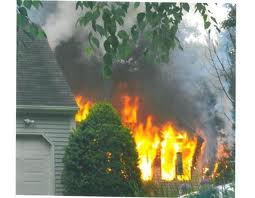 Left: The Petit family home set ablaze by the murderers to conceal their DNA.
In addition to his offensiveness to Petit and his sister and mother who attended the trial with him, Elie Wiesel is a hypocrite because he never said "Death is not the answer" when Germans were being put to death by the hundreds as "Nazis" and nazi collaborators. He never said "Death is not the answer" when Adolf Eichmann was sentenced to die by an all-Jewish court proceeding in Israel. He never said "Death is not the answer" as Israelis murdered Palestinians in secret prisons. But once he decided to make a reputation for himself as a humanitarian, he has taken up opposition to the death penalty.
Why the death penalty? Well, to prevent justice for families like the Petits, who are white and blonde. Their sufferings should never be taken as seriously as the 'holocaust of the Jews.' Wiesel has likened the death of a Jewish child as equivalent to, or greater in significance than, the death of Jesus Christ. The burning death of 11 year-old Michaela can never be allowed to compete with a Jewish child.~
Addendum (added Wed. Oct. 26)
Both of the murderers have been found guilty and one, Steven Hayes, has been given the death penalty. The younger man, Joshua Komisarjevsky is currently back in court for the penalty phase which began yesterday.  His attorneys plan to highlight Komisarjevsky's "troubled" childhood, and that he didn't get the "help" he needed.
Well, of course, people who do things like Hayes and Komisarjevsky did have "troubled childhoods;"  there is something wrong with them from birth. But all those who experience difficult childhoods don't do what they did. We cannot allow offenders to weasel out of paying an appropriate price for their destruction of other's lives and property; if we do, no one can be held responsible for anything … which is pretty much what has happened to our society.
Even if this sick person also receives the death penalty, which I hope he does, it will be years before either one of them faces what the jury recommended for them. In the meantime, Elie Wiesel will be doing all he can to help them weasel out of it.